Silvia Loeffler: Transit Gateway
Thursday 18 January – Sunday 4 March 2018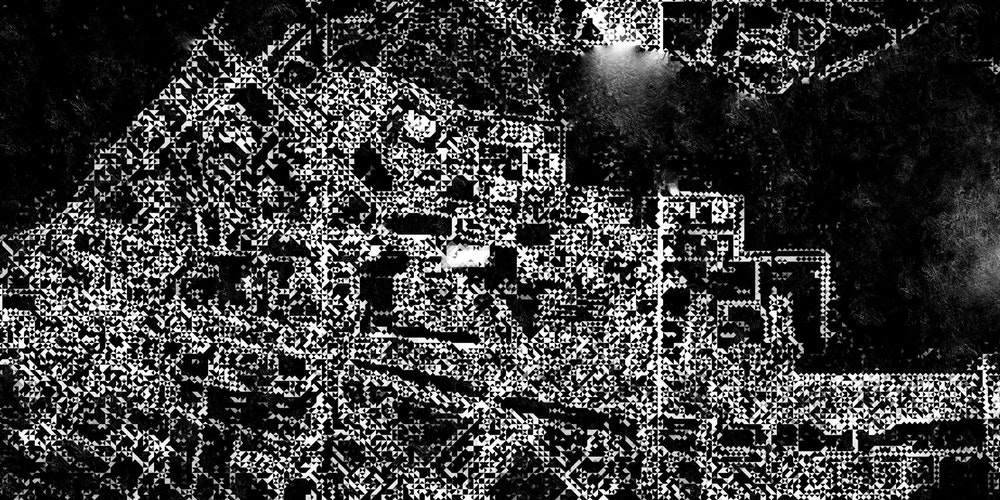 In 2017 Dublin Port Company commissioned new site-specific public artworks as part of Port Perspectives, its arts commissioning series aimed at strengthening the bond between Dublin Port and the City and bringing Dublin Port to new audiences through the arts. Following an open call for proposals from Irish and international based artists which attracted over 100 submissions, three projects were selected to include new works by Sheelagh Broderick, Silvia Loeffler and AEMI & Cliona Harmey. Silvia Loeffler's 'Transit Gateway: A Deep Mapping of Dublin Port' documented the transitional changes in the shape of Dublin Port, from its medieval shoreline to its modern day configuration.
For the past year, Silvia Loeffler has been deep mapping the changing face of Dublin Port since Medieval Dublin through to the present day. Based at Terminal 1 in Dublin Port, Silvia hand painted a series of 9 maps which have been on display to members of the public for the past year before coming here to the LAB on loan. At monthly seminars in the LAB, developed by Silvia to delve more deeply into the time period conveyed in the map, speakers including artists, marine archaeologists, historians, engineers, landscape historians and other experts in their fields presented their research and opened the floor to further discussions.
As well as commissioning new public artworks, Port Perspectives has included Port Life: Eugeen Van Mieghem, a four month exhibition at Dublin City Gallery The Hugh Lane with accompanying seminar, educational and outreach initiatives, as well as a community-based arts engagement programme curated by Declan McGonagle. A further strand of Port Perspectives in 2017 was Dublin Port's sponsorship of Jesse Jones at the 57th International Venice Biennale; an initiative of Culture Ireland in partnership with the Arts Council.
Port Perspectives builds on previous arts commissions by Dublin Port Company, including Starboard Home with the National Concert Hall – a new song cycle of Irish music and spoken word inspired by Dublin Port, Dublin City and the River Liffey; Cliona Harmey's "Dublin Ships" installation on the Scherzer Bridges in conjunction with Dublin City Council and the re-imagining of The Diving Bell on Sir John Rogerson's Quay.
Thursday 18 January – Sunday 4 March 2018
Foley Street, Dublin 1
Telephone: +353 1 222 7850
Opening hours / start times:
Monday to Saturday 10am – 6pm. We are currently closed on Sundays.
Admission / price: Free