Sibyl Montague: drop
Friday 10 February – Saturday 1 April 2017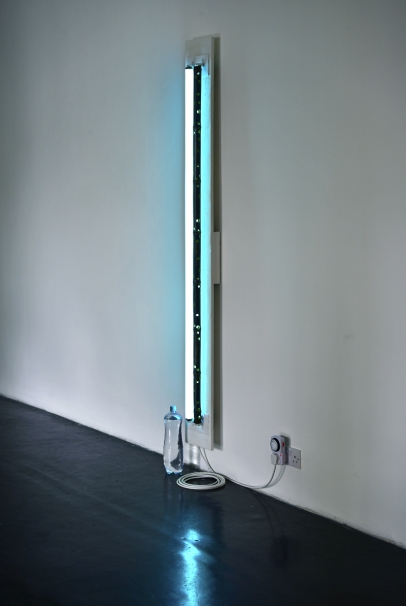 Working across sculpture, video and installation, Sibyl Montague's work foregrounds the primacy of material and its ability to perform. Using various strategies and techniques – appropriation, assemblage or 'hacking' objects, her work explores the core materiality and agency of objects and images that proliferate through systems of capital and open market economies.
Addressing the complexity of the human relationship with objects, her work combines craft based skills and processes with synthetic new media and technologies, to highlight aspects of form, usability and user experience. It places emphasis on a deskilling of the hand in terms of craft, increasingly fore-fronted by a virtual tactility that priorities gestural and seamless forms over evidence of the hand-made.
The lower atrium features a suite of energy drink sculptures, registering the 'super mundane' properties of liquid. Elevated into totemic sculptures they indicate their ability to create affect – in this case to hydrate, to stimulate etc. Equally the re-modified UV lamps reproduce the same sculptural properties of the soft drinks, underlining the agency and permeability of the material.
Atrium Space features TBG+S studio artists who are invited to exhibit their work in the Atrium of the TBG+S building. The intention is to create an active space outside of the studio and the gallery to exhibit finished work or work in progress. To view the current featured artist's work, visit the gallery between Tuesday and Saturday from 11am to 6pm and ask the invigilator for access to the work on show.
(i) balm I, II, III (2017) Energy drinks, Plastic, Plaster, Epoxy Resin. Dimensions Variable
(ii)violet (2016) Black Indonesian Bamboo, Ultra Violet bulb, Light Fittings, Timer, Wood, Sparkling Water
Sibyl Montague currently based in Dublin, completed a MFA from Chelsea College of Art, London in 2012. Recent solo exhibitions include: Beyond Violet, WAC Wexford Ireland (2016); Woman Flew Home, The Black Mariah, Cork Ireland (2014); Arm Around You, Oriel Davies, Wales UK (2012). Selected group exhibitions include: This is Public and Sexy, Studio 468, curated by RGKSKSRG, Dublin, Ireland (2016) What Does Nothing Do CCA Glasgow Scotland UK (2014).
She is the recipient of several awards including recent Laureate of the Institut Francais residency programme at Cité internationale des Arts, Paris (2017); TBG+S Project Studio Award, Dublin (2015-16); Emerging Visual Artist Award, Wexford Arts Centre IE (2012) and Oriel Davies Open Award UK (2011). Montague is co-founder and co-curator of PLASTIK, a biennale of Artists' Moving Image in Ireland in partnership with LUX (London), the Irish Film Institute and Temple Bar Gallery + Studios (2015, 2017).
Friday 10 February – Saturday 1 April 2017
5 - 9 Temple Bar
Dublin 2
Telephone: 353 1 671 0073
Opening hours / start times:
Tuesday 11:00 - 18:00
Wednesday 11:00 - 18:00
Thursday 11:00 - 18:00
Friday 11:00 - 18:00
Saturday 11:00 - 18:00
Admission / price: Free