Showcase Select
Saturday 8 December 2012 – Sunday 10 February 2013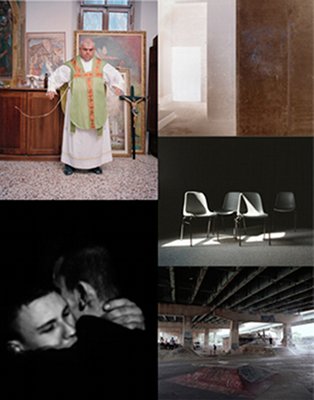 Gallery of Photography Ireland and The Copper House present the five best contemporary photographers in Ireland shortlisted for SHOWCASE 2012 – Ireland's Contemporary Photography Award. These exciting new talents were chosen by Ireland's top curators from over 180 submissions for the SHOWCASE 2012 Photography Award.
Alberto Maserin's dramatic portraits of priests highlight the transformative power of visual theatre in Catholic ritual.
Ann Marie Curran's beautifully restrained images transform unfinished buildings into meditations on space, surface and light.
Martin Cregg captures the quiet drama and telling details of the learning process in a finely judged portrait of a photography course.
Richard Gilligan celebrates an authentic, sculptural expression in the temporary skateruns constructed by skateboarders. The work celebrates the DIY aesthetic of this often misunderstood contemporary subculture.
Ciarán Óg Arnold's compelling, black and white images portray the harsh and tender dramas of ordinary life in a midlands town.
Though their work is very different in subject and style, the five photographers share a rigorous approach to the image making process, an attention to the theatre of life and the ability to see aesthetic potential in everyday subjects. Their work demonstrates the strength and vitality of contemporary photography in Ireland and will be accompanied by a Symposium on collecting photography. SHOWCASE SELECT is an opportunity to see – and be inspired by – cutting edge work in the most relevant visual medium of our time.
Showcase Symposium on Collecting: 26/1/2013
Showcase Solo winner announcement: 26/1/2013
Exhibition continues until: 10/2/2013
Please note: There will be only limited access to exhibitions during the weekend of Saturday 9th & Sunday 10th February due to Chinese New Year events taking place in Gallery of Photography.
Saturday 8 December 2012 – Sunday 10 February 2013
Meeting House Square
Temple Bar, Dublin 2
Telephone: +353 1 6714654
Opening hours / start times:
Tuesday - Saturday 11am - 5pm. Mondays by appointment for education, artists archiving and training. Closed Sundays
Admission / price: Free