Sheila Naughton: The Darkest Night
Tuesday 15 November – Saturday 3 December 2022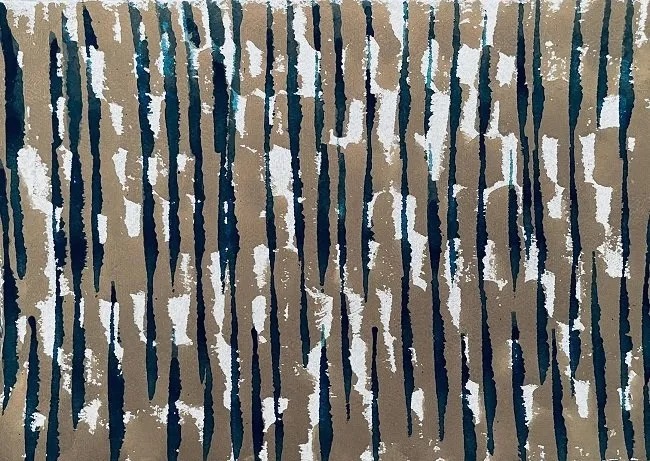 Official Opening at 6:30pm on Thursday 17 November by Valeria Ceregini, international visual arts curator and historian.
The show will also be viewable in our 3D Virtual Space.
The Olivier Cornet Gallery is delighted to present Sheila Naughton's first solo exhibition with us. Sheila is a member of our AGA group.
I am interested in the nature of human experience. Through abstract painting and drawing I try to convey meaning and sensation. I work mainly with watercolour and gouache on paper. The fluidity of water-based media exerts a strong appeal, due to the quality and spontaneity of the mark-making. The mark of the human hand is evident in my work and important to me – something individual to human identity when individuality is in crisis.  
The works in this exhibition have their roots in the universal lived experience of the past two years. The world has changed irrevocably. We are no longer an island on the edge of Europe but a tiny country connected to everywhere in the world. The overall theme of the exhibition is the current state of affairs in the world – pandemic, war and climate change. My work is concerned with our states of 'being' in the world, but is also about the act of painting itself as a way of processing events and a way of marking a particular time. 
 Since Covid, our perspectives on life have been changed dramatically. A new meaning has been brought to globalisation. Who could ever have envisioned that something invisible, originating on the other side of the world could wreak havoc and death and change our lives forever. In many ways we still haven't processed what has happened and the fall-out and implications it will have in the future. 
Having experienced a pandemic, we were shocked to see a war unfolding in Europe, creating a sense of darkness and foreboding. The impending sense of doom finally came to fruition with the attack on the Ukraine and precipitated the current state of affairs affecting numerous countries. We learned that every action from afar has consequences that are far-reaching. We no longer have the option to ignore events that might at first seem at a remove from our daily lives. Planet Earth and humanity seems to be under constant threat from various forces – pandemics, climate change, war and famine and more recently, possible nuclear annihilation. Our very existence seems to be precarious. We realise that we need to act individually and collectively to make changes. We have learned to prioritise that which is truly important in our lives. In the darkness there are glimmers of hope.
– Sheila Naughton, October 2022
Image: Sheila Naughton, Lockdown II, watercolour & gouache on handmade paper, 30x42cm
Tuesday 15 November – Saturday 3 December 2022
3 Great Denmark Street
(beside Belvedere College)
Dublin 1
Telephone: +353 87 2887261
Opening hours / start times:
Tues to Fri: 11am to 6pm (till 8pm on Thursdays) • Sat & Sun: 12 noon to 5pm • Closed on Mondays (or viewing by appointment only)
Admission / price: Free