Sean Molloy: Neo Pentimenti
Wednesday 18 November – Sunday 20 December 2015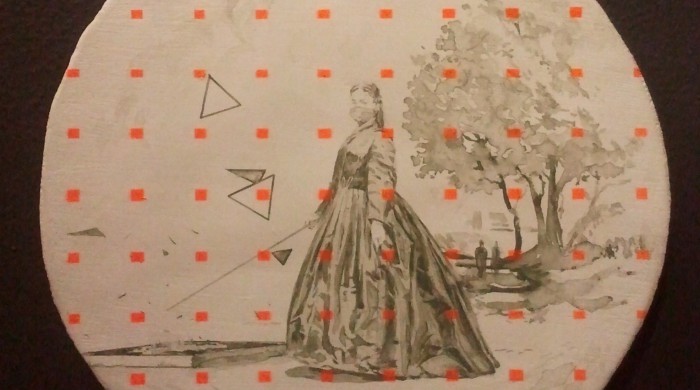 This body of work has emerged out of a twoyear process where Molloys key concerns have been to investigate the relevance of painting in a digitally mediated world. Molloy constructed the works by experimenting with a series of traditional baroque-inspired themes, spliced together with over-painted elements associated with digital-based imagery. The traditional elements have been appropriated from sources within the Dutch, Spanish, Flemish and French baroque painting canon, which he combined and juxtaposed to create a series of capriccio-type fantasy scenes and miniature Tondo portraits. The digital elements overlaying these have been inspired by a variety of sources including C.G.I. games, image manipulation software and glitch-art. Molloy is interested by questions surrounding medium-specificity.
In these works, he seeks to disturb the three-dimensional painterly illusion created by the brush-stroke, crafting visual interventions, which subvert the often-didactic reading that traditional figurative painting presents to the viewer. Parallels between digitally mediated imagery and the high baroque canon also intrigue Molloy: for example, the use of unifying codes to bind smaller elements and the opening up of spatial interactions between viewer/user and image. Iconoclasm also offers a rich theme, particularly in the resonances suggested by the image-file corruption phenomena, data bending.
In the extremes of the high baroque, viewers were offered an illusion of total immersion in a painted world, echoing the immersive opportunities presented at any moment today through a variety of digital portals. Molloys intention in these works is to offer the viewer/user an opportunity to re-examine the experience of immersion for themselves so they can subjectively interpret what it might constitute: escape, transcendence, engagement with political commentary – or something else.
Sean Molloy is a Dublin-based fine art painter and received a 1st class BA in Fine Art, Painting in 2011 followed by a MFA in 2013, both at National College of Art & Design, Dublin. Previous to this he studied at the University of Brighton and the Glasgow School of Art, 1998-2000. In 2011 the Irish Arts Review hailed him as one of Ireland's top painting graduates. Awards include the K&M Evans Painting Prize, RHA, 2014, long listing in Saatchi New Sensations, 2013 and the Thomas Dammann Jr. Memorial Trust Travel Grant, 2015 to assist part of his on-going research into the techniques of the European baroque masters. Selected group shows include; RHA Annual Exhibition, 2013-2015, New Living Art V, IMOCA, 2014, Lacuna 01, Taylor Galleries, Dublin, 2013, Carlow Arts Festival, Eigse, 2013 and Claremorris Open Exhibition, Mayo, 2011. His work is held in the collections OPW, AXA Insurance and DeBlacam Meagher architects.
Wednesday 18 November – Sunday 20 December 2015
15 Ely Place, Dublin 2
Telephone: +353 1 661 2558
Opening hours / start times:
Monday 11:00 - 17:00
Tuesday 11:00 - 17:00
Wednesday 11:00 - 19:00
Thursday 11:00 - 19:00
Friday 11:00 - 19:00
Saturday 11:00 - 19:00
Sunday 14:00 - 17:00
Admission / price: Free