Sean Lynch: For the Birds
Friday 12 September 2014 – Sunday 11 January 2015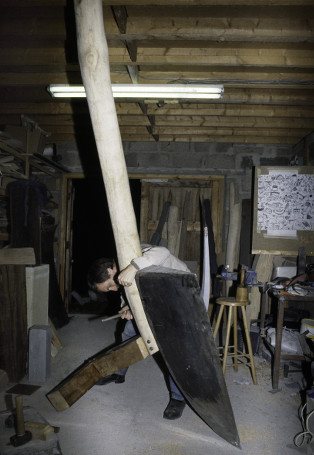 Opening Reception Saturday 13 September at 5:30pm
VISUAL present a major exhibition by Sean Lynch, Ireland's representative at the 2015 Venice Biennale. Over the last decade, Lynch's installations, sculptures and publications have explored the subjective layers of Irish history and offered alternative readings of the influences that shape our society today.
The exhibition includes a new work commissioned by VISUAL and the Local Authority Arts Office; For the Birds is based upon the medieval Irish myth of An Buile Suibhne, or the Frenzy of Sweeney. Cursed to be half-man, half-bird, Sweeney hopped throughout Ireland lamenting his woes in lyrical verse, until he reached a farmhouse in St. Mullins in Co. Carlow where he found a strange form of kindness – each evening he was invited to drink milk out of a bowl of cowdung. In collaboration with sculptor Tom Fitzgerald, Lynch reimagines this scene in the context of Carlow's contemporary agricultural industry.
An accompanying catalogue designed by Wayne Daly will feature an in-depth essay on Lynch by critic and lecturer Caoimhin Mac Giolla Leith.
Associated Events:
Carlow Farmers Market pop-up
Fri 19th September
11am – 6pm
Free
Come and celebrate the local farming harvest in VISUAL's gallery spaces
An Buile Suibhne and the St. Mullins connection
Heritage Centre St Mullins
Sat 4th October
2pm
Free
Walking tour of St Mullins with storyteller Aideen McBride, in partnership with Feile an Fomhair and the Carlow Walking Festival. For more information on the festivals, contact Carlow Tourism on 059 – 9130411. Places are limited, advance booking recommended
Women and the Modern Movement in Rural Ireland
Thurs 9th October
7.30pm
€5
Kindly supported by the ICA
Book Launch and Artists talk
Sean Lynch in Conversation with Caoimhín Mac Giolla Leith
Sat 22nd November
3.00pm
Free
Responses to Sweeney – Carlow Writers Co-op
GB Shaw Bar
Sun 16th November
3pm
Free
An afternoon of readings of new work by Carlow Writers Co-op in response to the themes of Sean Lynch's exhibition and the Sweeney myth
Image: Tom Fitzgerald at work, 1980s
Friday 12 September 2014 – Sunday 11 January 2015
Old Dublin Road, Carlow
Telephone: +353 59 917 2400
Opening hours / start times:
Tuesday 11.00 - 17:30
Wednesday 11.00 - 17:30
Thursday 11.00 - 17:30
Friday 11.00 - 17:30
Saturday 11.00 - 17:30
Sunday 14:00 - 17:00
Admission / price: Free
Remember to pay for the parking! Box office open, as well as times given, on day of theatre events from 6.30pm to show start.