Sean Lynch: Dear JJ, I read with interest… & Latoon
Friday 8 April – Saturday 11 June 2011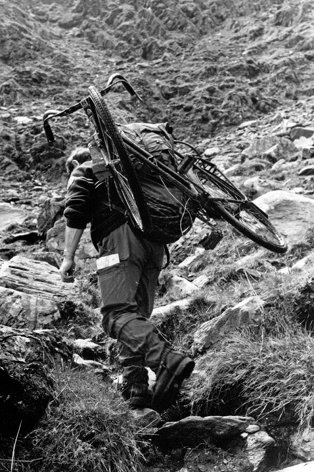 Opening Friday 8 April at 5:30pm
The artist will be in attendance to discuss his work on the evening of the opening.
Sean Lynch is an artist whose work uncovers and magnifies marginal and almost-forgotten histories. In a solo exhibition at The Dock he presents two artworks related to the Irish landscape. Since 2005 Lynch has been searching for the remains of a monument to writer Flann O'Brien in the Kerry Mountains. His findings will be presented as artefacts, slide projections and photographs in the gallery space. Also included in the show is Latoon, a 2006 video about the preservation of a whitethorn bush from the construction of the M18 motorway in Clare featuring folklorist Eddie Lenihan.
Sean Lynch was educated in fine art at the Stadelschule, Frankfurt, and Limerick School of Art and Design. He is represented by the Kevin Kavanagh Gallery in Dublin, and now divides his time between Berlin, Limerick and Dublin. Recently his work has been exhibited at Neugerriemschneider, Berlin, Camden Arts Centre, London, St. Paul Street Gallery, Auckland and the Royal Hibernian Academy, Dublin.
Friday 8 April – Saturday 11 June 2011
St. George's Terrace
Carrick-on-Shannon, Co. Leitrim
Telephone: +353 71 9650828
Admission / price: Free