Seamus Nolan: F**K IMMA │ What We Call Love
Sunday 20 December 2015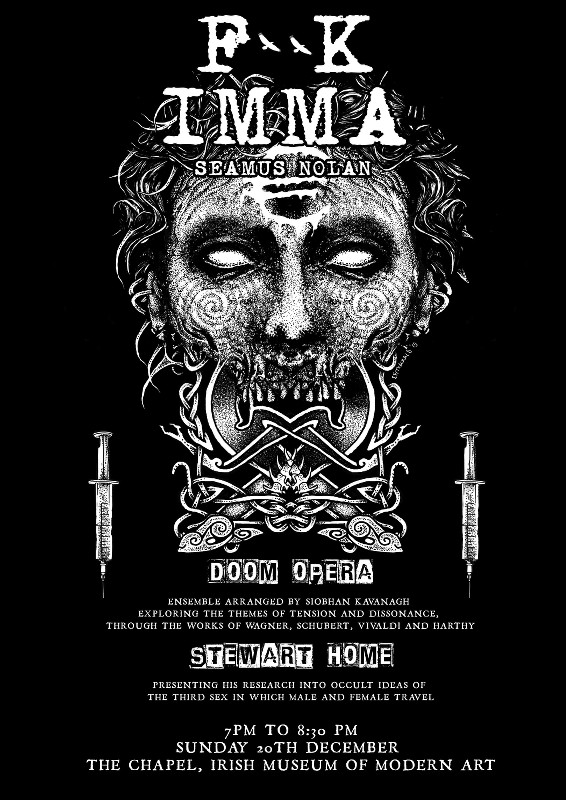 As part of the exhibition What We Call Love: From Surrealism to Now (12 Sep 2015– 7 Feb 2016), IMMA is delighted to present F**K IMMA (2015) a new commission by Irish Artist Seamus Nolan (Hotel Ballymun, 10th President).
Led by Nolan, F**K IMMA is the work of various artists operating within the terrain of dissent and negation, inhabiting the boundaries of classical and contemporary, of male and female, and of the formal and informal institute. This new work offers a political and provocative observation on the idea of love by examining the notion of community as an expression of love and the contrasts between formal and counter-cultural community spaces. Nolan's unique commission positions itself in a wholly immersive parallel to the meaning of 'love' in society. In employing the language and strategy of conflict and agitation, the title F**K IMMA, is a statement; an immaterial and linguistic appropriation.
Nolan's commission is presented in three parts. Working with a community of squatters in central Dublin, Nolan is first documenting their space, how they occupy it and how elements of it are delineated and decorated.
The second part invites a small group of the public to experience a unique live performance evening taking place in the historic surroundings of the IMMA Chapel on Sunday 20th December 2015. Through this live event, which will also be filmed, Nolan invites you to experience an unconventional and powerful performance by Dublin based collective Doom Opera that will challenge the conventional idea of love. Their set will respond to the theme of love and resolution taking the formal classical cannon of Vivaldi and Wagner and reinterpreting these works though progressive discord rock. Filmed live, this set will be followed by a performative presentation by Stewart Home, the English artist, filmmaker, writer, pamphleteer, art historian and activist, on his research on occultist theories of love.
The coming together of these films contrast formal space with informal, stained glass with graffiti, classical music with discordant doom metal, formal culture with counter culture. The resulting film will be exhibited in the Project Spaces from 6 January 2016 until 7 February 2016.
A limited audience is invited to be part of the live event which will be filmed and presented as part of the final artwork. If you would like to be a part of this special event please email your expression of interest to:

programme.exh@imma.ie

with the heading 'Seamus Nolan audience' by 5pm Tuesday 15 December.
Seamus Nolan was commissioned to create a new artwork for the exhibition What We Call Love: From Surrealism to Now which is part of an exciting new initiative, New Art at IMMA. Proudly supported by Matheson this strand allows IMMA to continue to support this vital work through programming that recognises and nurtures new and emerging talent, new thinking and new forms of exhibition-making. 
SEAMUS NOLAN
Seamus Nolan is a Dublin based artist whose work practice explores the legitimacy of its own appropriation, interrogating the fabric of our social and cultural make up, to reveal the narrative of identity formation within common materials and activities. The subject operates between object and performance, assimilation and participation. Works include '10th President' Temple Bar Gallery + Studios, a project which proposed the President of Ireland would temporarily hand over his office, 'The Trades Club Revival' which saw the revival of the traditional working man's club in Sligo. The attempted hijack of a Ryanair flight for St Patrick's day 'Flight NM7104'. A refusal to participate in Irelands international art event  Dublin Contemporary 2011, and an attempt to sell the derelict house of Barbara Luderowski the founder and co-director of The Mattress Factory Pittsburgh.
Other works include Corrib Gas Project Arts Centre, a solo show which looked at the Corrib Gas Pipeline and the North Mayo community affected by its development, 'every action will be judged on the particular circumstances' a collaboration with the 5 peace activists acquitted for disarming a military aircraft in Shannon Airport, and 'Hotel Ballymun' which saw the transformation of a residential tower block on the outskirts of the city transformed into a boutique hotel by a group of local participants and organisations.  
DOOM OPERA
Doom Opera is an ensemble conceived and arranged by Dublin based singer and performer Siobhan Kavanagh. Interpreting the works of Wagner, Schubert, Vivaldi and Harthy the ensemble combines classical and contemporary instrumentation to explore the themes of tension and dissonance relative to notions of love. 
STEWART HOME
English artist, filmmaker, writer, pamphleteer, art historian, and activist, Home will present his research on occultist theories about love and the balancing of male and female in partners in love… no longer the two sexes but the third in whose company male and female travel. Stewart Home, is best known for his novels such as the non-narrative 69 Things to Do with a Dead Princess (2002), his re-imagining of the 1960s in Tainted Love (2005), and earlier parodistic pulp fictions Pure Mania, Red London, No Pity, Cunt, and Defiant Pose that pastiche the work of 1970s British skinhead pulp novel writer Richard Allen and combine it with pornography, political agit-prop, and historical references to punk rock and avant-garde art. "Over the past 30 years I have worked across a variety of media including performance, music, film, writing, installation, graphics etc. Within these practices I have attempted to continually reforge the passage between theory and practice, and overcome the divisions not only between what in the contemporary world are generally canalized cultural pursuits but also to breach other separations such as those between politics and art, the private and the social."
SEAN FITZGERALD
Sean Fitzgerald is a freelance artist/illustrator and animator. His work is on t-shirts, record covers, badges, DVD's, on the net and anywhere punks reside. Designer and writer of Protestzine from 1989 to 2009, he has worked with bands such as Extreme Noise Terror, Phobia, Coldwar, Raw Noise, Abaddon Incarnate, Subhumans, Riistetyt, Coitus, Distrust, Death Dealers, Opposition Party and loads more. 
Stage Times, Sunday 20 December
Doom Opera 7:10 – 7:45
Stewart Home 8:00 – 8:30
Sunday 20 December 2015
Royal Hospital, Kilmainham
Dublin 8
Telephone: +353 1 612 9900
Opening hours / start times:
Tuesday 11:30 - 17:30
Wednesday 11:30 - 17:30
Thursday 11:30 - 17:30
Friday 11:30 - 17:30
Saturday 10:00 - 17:30
Sunday 12:00 - 17:30
Admission / price: Free
Bank Holidays open 12:00 – 17:30.