Séamus McCormack: Spike, an overlay
Friday 15 November 2013 – Saturday 25 January 2014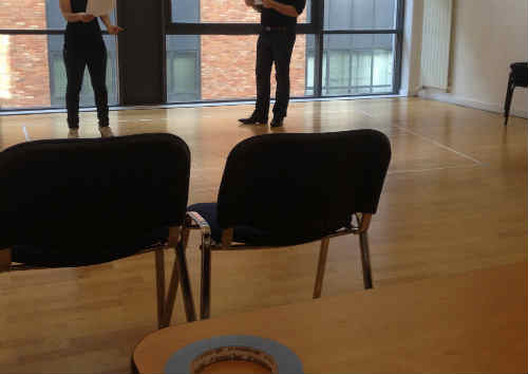 Opening Reception Thursday 14 November 6 – 8pm
In this, his third solo exhibition, Séamus McCormack's new installation, Spike, incorporates sound, drawing, performance and photography and is site-specific to the context of The LAB as a multi-faceted arts venue. The very particular architecture of The Cube Gallery, overlooked on one side by the mezzanine space, has been key in the conception of this new work. The artist has worked with actors at the LAB's rehearsal studios over a number of weeks to develop the project.
Borrowing elements and motifs from the theatre/cinema space, McCormack creates works that explore social performance and identity construction. Using acting spaces, actors and acting theory all as a metaphor, his interests lie in transitions and transformations, masquerade and play.
Often relating to script footnotes, stage directions, and other aspects of performance usually hidden from an audience, his works bring to light the artifice in the mise-en-scène of performance in a nod to Brechtian notions of 'showing that you are showing'.
The artist's new project has a particular focus on stage geography: the actor, the director and subsequently the viewer's interpretation and navigation of the playing space from a given text. The text, or 'script', devised by McCormack, reflects on his interests in meta-theatre/drama and on productions and writings that are aware of their own formation, development and production, a structure similar to that of a Pirandellian hall of mirrors with infinite reflections of itself.
During the course of the exhibition, elements of the installation will evolve, drawings and sounds will be overlaid, and actors will be invited to return and re-interpret the original script.
A newly commissioned essay by Seán Kissane accompanies the exhibition.
Artist Biography
Born in Mullingar, Co.Westmeath, Séamus McCormack was educated at the Dublin Institute of Technology and graduated in 2006 with a first class honours degree in Fine Art, receiving the Best Fine Art Student Award. In addition he was awarded the Gold Medal for Academic Excellence from the Faculty of Applied Arts, DIT. In 2011 he completed an MFA in Sculpture at the National College of Art & Design, Dublin. He has had previous solo exhibitions at Ballina Arts Centre (2010) and Signal Arts Centre (2006).
McCormack's work has been included in group exhibitions across Ireland including Catalyst Arts, Belfast; Éigse, Carlow; Tulca, Galway; Broadstone, Dublin; Galway Arts Centre; RUA Red, Dublin; TACTIC, Cork; The Cross Gallery, Dublin and Basic Space, Dublin. In 2010 he was one of the award winners at the Claremorris Open Exhibition, curated by Lisa Le Feuvre. In 2006 he received the Westmeath County Council Emerging Artist Award, leading to a commissioned artwork for their collection. Upcoming projects include group exhibitions at Occupy Limerick and TACTIC in Cork. www.seamusmccormack.com
Friday 15 November 2013 – Saturday 25 January 2014
Foley Street, Dublin 1
Telephone: +353 1 222 7850
Opening hours / start times:
Monday to Saturday 10am – 6pm. We are currently closed on Sundays.
Admission / price: Free