Sarah Longley: Sissinghurst Revisited
Friday 21 January – Saturday 12 February 2011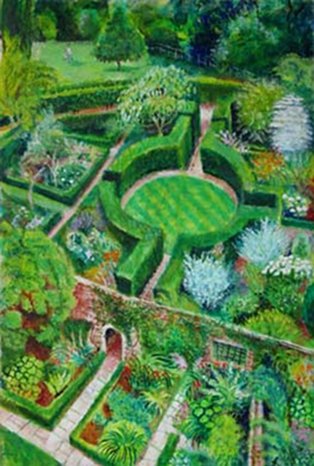 Peppercanister Gallery are pleased to present a series of new paintings by Belfast born Sarah Longley, depicting the historic gardens in England of Sissinghurst.
"Sissinghurst, in the Weald of Kent, is one of the world's most beautiful gardens. It is actually a miscellany of different gardens, created by Vita Sackville-West, together with her husband Harold Nicolson, during the 1930s. The gardens are formal, but also haphazard and unexpected. Laid out on the site of a ruined Elizabethan palace, and dominated by a distinctive tower, Sissinghurst seems a mysterious layering of flowers, foliage, brickwork and history.
My parents took me to Sissinghurst when I was eleven. I remember looking out over the gardens from the top of the tower on a sunny summer's day. After our visit, my father wrote a poem:
The White Garden

So white are the white flowers in the white garden that I

Disappear in no time at all among lace and veils.

For whom do I scribble the few words that come to me

From beyond the arch of white roses as from nowhere,

My memorandum to posterity? Listen. 'The saw

Is under the garden bench and the gate is unlatched.'

Michael Longley
"My second visit to Sissinghurst was in July 2009. Thanks to Adam Nicolson, Vita's grandson, I was lucky enough to stay in the house and sketch the gardens. I also sketched some interiors. I stayed at Sissinghurst for ten blissful days. On returning to Edinburgh, I completed a series of oil paintings based on the drawings. The paintings see Sissinghurst as patterns of lush growth, crumbling walls, meandering paths and maze-like hedges. The White Garden remains my favourite. Vita, a fellow insomniac, designed it so that the flowers would glow at night as well as in daylight. I hope I have suggested this garden's luminous and haunting qualities."
Sarah Longley, November 2010
Image: Sarah Longley: Tower View I, oil on board, 60 x 40 cm
Friday 21 January – Saturday 12 February 2011
3 Herbert Street
Dublin 2
Telephone: +353 1 6611279
Opening hours / start times:
Tuesday 10:00 - 17:30
Wednesday 10:00 - 17:30
Thursday 10:00 - 17:30
Friday 10:00 - 17:30
Saturday 10:00 - 13:00
Admission / price: Free
Closed Mondays and Bank Holiday weekends.