Sarah Long: Kingdom
Friday 13 September – Friday 11 October 2019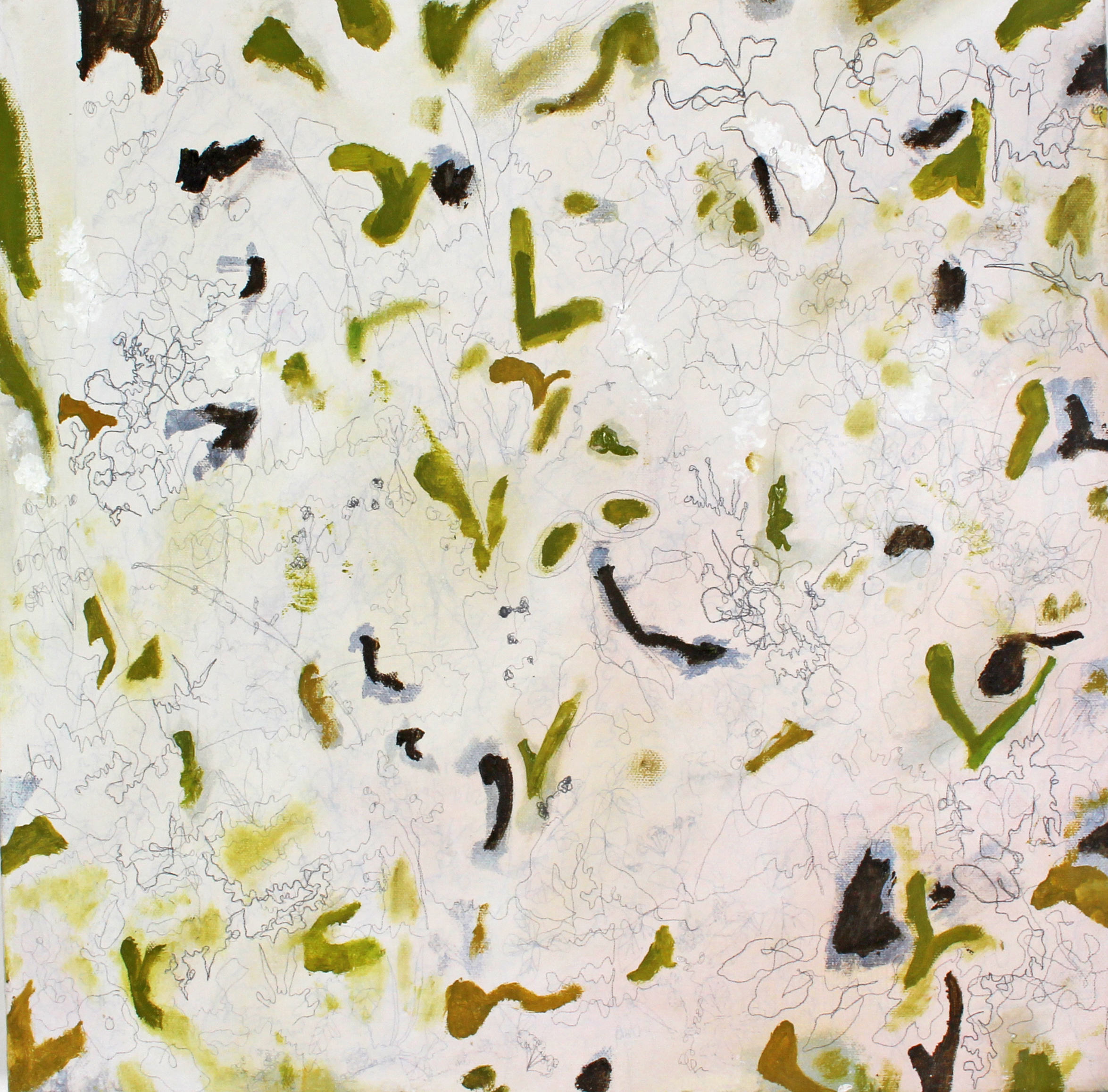 In all art forms the landscape is emblematic of human activity. In Ireland, especially, the idea of a national identity is rooted in the land and landscape. The exhibition, Kingdom, explores the idea of the Irish landscape as a place of cultural identity and cultural memory. Hedgerows of wild plants are reimagined as a green network that both creates and shapes the land. Time passes across this web of lines, corridors and enclosed spaces. Every physical boundary bears witness to the country's history thus becoming a source of cultural memory. Working in the mediums of painting and drawing the artist attempts to visualise the layers of memory, as well as plants commonly found in Irish hedgerows. The landscape is simultaneously depicted as a natural phenomenon and a cultural creation. An accompanying text, I can recall, further reflects on Irish cultural memory.
Sarah Long's art practice has always been focused on the landscape. For her the landscape has proven to be a captivating and flexible subject, inspiring both figuration and abstraction. She sees the landscape as a mass that surrounds her: a scene, a backdrop, a panorama, a view, a site, a setting, a background, a stage and a destination. She sets out to create a world that is both fantastic and familiar, contrasting the Romantic idea of the landscape with its physical reality.
Sarah Long graduated from CIT Crawford College of Art & Design (CCAD) in 2018 with a BA (Hons) Degree in Fine Art. Following See/Saw, the CIT CCAD Degree Show, Sarah was shortlisted for the RDS Visual Arts Awards and was recipient of the Sternview Gallery exhibition prize, the Ciarán Langford Memorial Bursary from Backwater Artist Group (6 months studio bursary and solo exhibition) and purchase prizes from OPW, Eli Lilly and PM. Other exhibitions include Painters and Makers SO Fine Art Gallery (2019), Alternative Views Blue House Gallery (2019), The Present Past CIT Wandesford Quay Gallery (2017) and Murmurations The Village Hall (2016). Since graduating Sarah has filled the position of project Intern at Uillinn: West Cork Arts Centre for the Coming Home: Art & the Great Hunger exhibition (2018) and has contributed to the art magazine Bloomers (2019).
Image: Sarah Long: Feverish Forms, oil and mixed media on canvas, 40x40cm, 2019
Friday 13 September – Friday 11 October 2019
Backwater Artists Group
Wandesford Quay, Cork
Telephone: +353 21 4961002
Opening hours / start times:
During exhibitions: Tuesday to Friday 10am – 1pm, 2pm – 5pm
Admission / price: Free