Sarah Devereux: Fun-erable
Thursday 8 March – Saturday 17 March 2018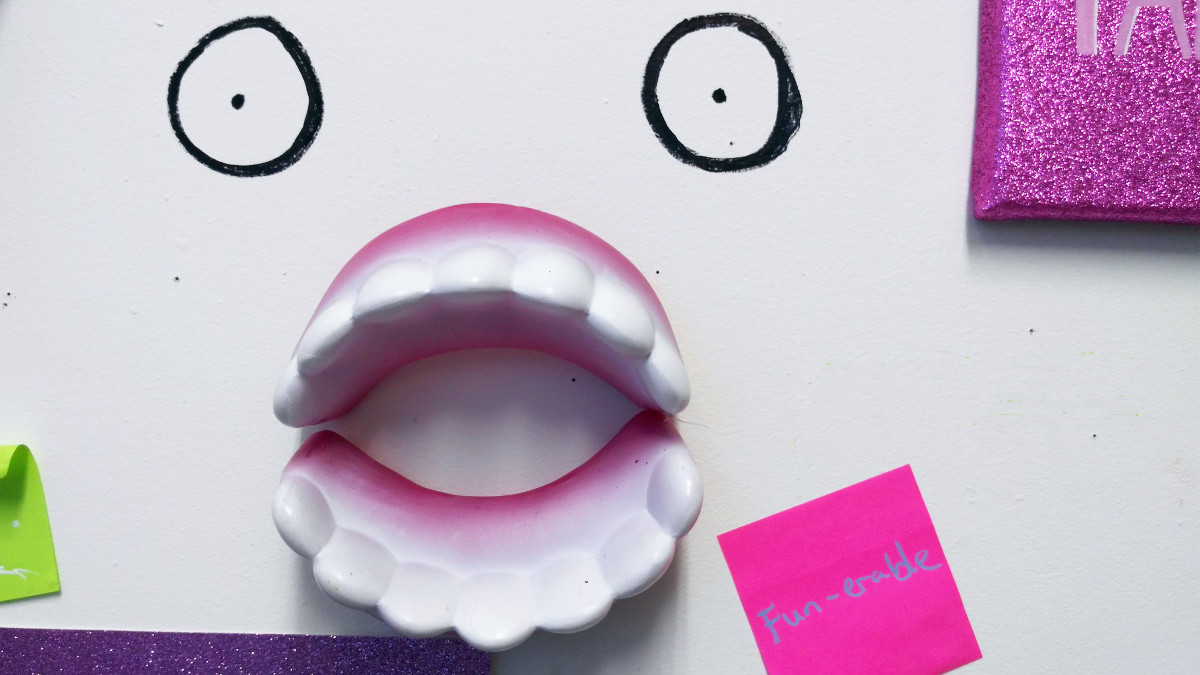 Artist Talk & Exhibition Tour Thursday 15 March, 7:30 – 8:30pm
JUST READ THE ELEVATOR PITCH*
I'm lying
on the floor of the studio,
with my legs up in the air
hoping that the blood
willflowtomybrain
and stimulate
a clue
as to what to write about this exhibition.
So far it has not (given me a clue)
and I hate
that
I
have
blood
so will move on now.
I have stumped myself.
I thought that I had a very clear idea of what this exhibition was all about. But now I'm lost in the layers I've self imposed.
I guess that makes sense though as it is co-inciding with what I am labelling to be "the mild to moderate identity crisis of 2k18".
I'm trying to connect
and reconnect,
with myself
and yourself
and the part that's
inbetween.
To figure out and get clear by going murky with my worky.
(Imagine if you could snorkle through your darkness?
Imagine if you couldn't.
Because you can,
but there's not enough oxygen for it all,
you're going to die without seeing the coral live.
I don't want to scuba dive.)
I'm rambling a lot now and that is half the point.
Maybe less.
Are you still with me?
The exhibition is approaching, and I need to GET MY SHIT TOGETHER. But, I want to do it all. I NEED TO DO IT ALL.
Ah yes, the perceived eternal stress of life. It's been a recurring theme in my gallery-type art-art work – and in my Real Life – so was prevelant in my brainstorming of ideas for this proposed solo show. As was a burning need to go in every direction, follow every route, take every opportunity – the FOMO (Fear Of Missing Out) and the FONDATTYWTD (Fear Of Not Doing All The Things You Want To Do)… these can be perhaps perceived as an inability to be fulfilled creatively, as much as being seen as a positive, adventurous , "she'll-try-anything" approach. Perception. There's a good, weighted word – there'll be perception in this show. Yes! (she says with a nervous twitch in her eye).
But what is for me?
And what is for you?
What do I want from me?
What do you want from me?
What can I give to me?
What can I give to you?
Of course I will somehow incorporate googley eyes.
*ELEVATOR PITCH: It's a lot to do with negative inner dialogue and challenging control, the work on the walls were created with a forced (over three weeks I allocated power hours with paper/ pens etc) unfiltered flow. I also need this to be fun/humourous.
Sarah Devereux cartwheels over, dances on, and kicks dust at the line separating Art & Life, and this sometimes induces fear and anxiety! Working in a wide range of disciplines including, drawing, sculpture, paint, performance and video, her work could be described as extreme honesty dressed up in glitter. Her sculptures and drawings are crude but intelligent, disturbing but endearing, 'fabulous' but anxious, and immediate but considered. Her performance work moves between traditional performance art, video art, interventions and cabaret. Her work is explicitly political, and often tackles themes of female body autonomy, lack of opportunities caused by the recession, boredom and fear, whilst remaining playful, absurd, and accessible.
Exhibition Tour & Artist Talk
Wednesday 7 March 7:30pm – 8:30pm
Thursday 8 March – Saturday 17 March 2018
St Joseph's Parade
Off Upper Dorset Street
Dublin 7
Opening hours / start times:
Fri : 12pm – 6pm
Sat: 1pm – 6pm
Sun: 1pm – 4pm
Accessibility
Our gallery is wheelchair accessible.
Our toilets are gender neutral.
Our toilets are accessed via a flight of stairs which may provide difficulties for people with movement impairments.
If you are interested in attending an exhibition or event at A4 but may have some concerns, please get in touch and we can help facilitate your visit.
Admission / price: Free
General Opening Hours
Mon- Fri: 12pm - 6pm (Performance 5pm daily)
Sat: 1pm - 6pm (Performance 5pm)
Sun: 1pm – 4pm (No performance)