Sarah Browne: Diabolic Loop
Friday 7 December 2012 – Sunday 27 January 2013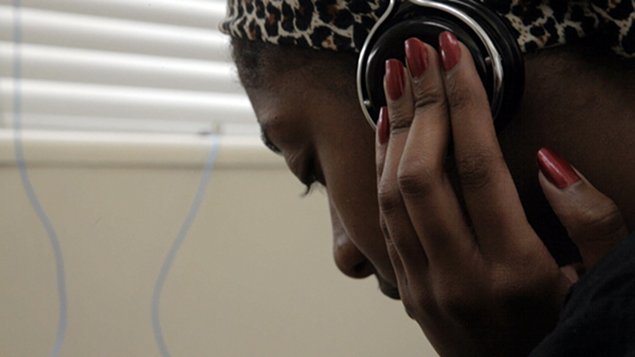 The title of the exhibition, Diabolic Loop, refers to an economic theory that proposes the model of a negative feedback loop as a way to explain the aggravated relationship between weakened European banks and sovereign states. The works in the exhibition attempt to unpack and make material some of these analogies derived from technological processes.
Browne's 16mm film Second Burial at Le Blanc (2011–2012) follows a procession through Le Blanc, a small French town where local merchants continued to accept French francs for goods and services until 17 February 2012. Central to the film's plot is the artist's bespoke 'ticker-tape countdown clock', which printed both a live currency feed and a countdown of the time remaining of the franc's usage in the town. The film documents an invented ritual around this object, appropriating traditions such as the ticker-tape parade and the 'second burial' (a ceremony in Madagascar where a corpse is exhumed and paraded around the village before a second, final farewell). This mystery of faith – in the franc, and in the idea of a nation defined by its economic protocols – is set against present-day insecurity surrounding the future of the euro. A religious temporality in which salvation or satisfaction is continually deferred overlaps with a financial sense of time. A newsprint publication that weaves together historical and anthropological references in the work is distributed freely in the gallery and in Le Blanc.
Browne's approach is rooted in documentary, operating from a principle of 'critical proximity' and adopting methods from the social sciences. Flexible in form, the work invokes a variety of problematic documentary strategies, communicating the role of emotion and affect in the development of new forms of social imagination.
The Cognitive Radio (2012) is a film made in collaboration with members of Ikon Gallery Youth Programme in Birmingham, produced through a year-long residency titled Scarcity Radio and distributed online. Explicitly informed by contexts of government cuts to education and austerity measures, the project partly investigates how pirate radio stations of the 1980s were connected to periods of recession and social unrest, exploring what the contemporary resonance of this might be with a group of young people without the memory of these events. Filmed in a quiet geology museum, The Cognitive Radio addresses links between mining and telecommunications in order to tackle our understanding of so-called scarcity economics. Significant objects in the film include the black mirror of a smartphone and a primitive radio made with a lump of pyrite. A working version of this radio is presented in the gallery as the sculpture, How to Use Fool's Gold (2012).
Second Burial at Le Blanc is co-produced by Project Arts Centre, Dublin, Ikon Gallery, Birmingham and Contemporary Art Gallery, Vancouver. Project Arts Centre gratefully received funding from the Arts Council to bring the work of Sarah Browne on tour to The Highlanes Gallery, Drogheda and Galway Arts Centre. The Cognitive Radio is made in collaboration with members of Ikon Youth Programme at Ikon Gallery, Birmingham as part of Slow Boat 2012. Slow Boat is supported by Paul Hamlyn Foundation, Canal & River Trust and Sandwell Council.
Friday 7 December 2012 – Sunday 27 January 2013
47 Dominick Street
Galway
Telephone: + 353 91 565 886
Opening hours / start times:
Monday 10:00 - 17:30
Tuesday 10:00 - 17:30
Wednesday 10:00 - 17:30
Thursday 10:00 - 17:30
Friday 10:00 - 17:00
Saturday 10:00 - 14:00
Admission / price: Free