Sara Baume: so sick and tired
Sunday 21 June – until end of 2020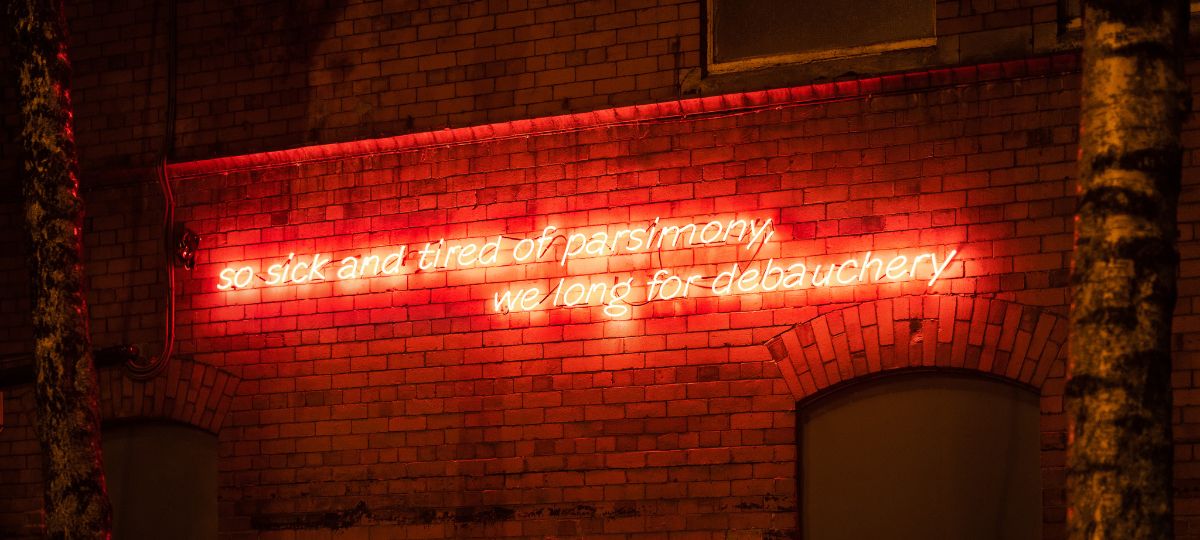 ――― Viewable outdoors ―――
so sick and tired is a new textwork by artist and writer Sara Baume specifically commissioned by the National Sculpture Factory for Cork Midsummer Festival's Midsummer Moments, reflecting on the times and context that we are presently in.
"This fragment of a sentence was drawn from a series of notes I made throughout the spring and early summer of 2020. I have lived my entire adult life under certain constraints, practically all of them self-imposed. This line is trying to express the longing for some dramatic kind of deliverance from my boring, consoling habits."

– Sara Baume
This new textwork by Sara Baume, which will hang publicly on the front facade of the National Sculpture Factory's building, will become illuminated at 11pm on Sunday 21 June – into the last hour of daylight on the evening of the Summer Solstice. The illumination of the artwork will be live streamed from the venue to watch it light up the remainder of the year.
Sara Baume is a writer and artist based in West Cork. She is the author of two novels and a non-fiction book called handiwork. Since 2014 her writing has won multiple awards and been widely translated. In 2018 she had her first solo exhibition with the support of Culture Ireland.
Sunday 21 June – until end of 2020
Albert Road, Cork City
Telephone: +353 21 4314353
Admission / price: Free