Sandro Chia: Dipinti e Acquerelli
Thursday 1 May – Saturday 31 May 2014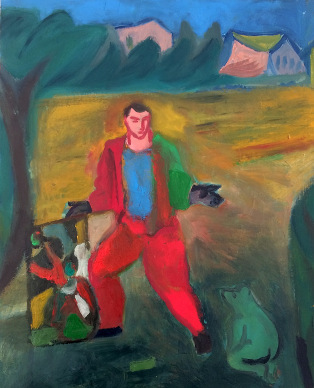 Opening Reception Thursday 1 May, 6 – 8pm
Sandro Chia has been a luminary of the international art world since the 1970s. He has long been associated with the Transavaguardia movement that emerged in the late 1970s and with friends and contemporaries such as Enzo Cucchi, Mimmo Paladino, Francesco Clemente, Julian Schnabel, David Salle, Georg Baselitz, Markus Lüpertz and others. Art commentators, critics and curators love the convenience of placing artists in groups and movements, and while there are undoubtedly similarities and shared concerns between Chia and the aforementioned artists, much is often lost in such an approach. Chia is not unlike the nomadic heroic figures that traverse the bucolic imagery of his joyful canvases and does not belong to any movement in the art historical sense.
Chia draws freely on the art of the past to create a style that is entirely personal, yet is enriched by the echoes of its sources; heroic figures imbued with an enigmatic sense of mission are Chia's main protagonists as manifestations of his own identity. Rich in allegory, emotion and humour, their drama rendered in great colour and painterly expression, Chia's paintings are filled with wide-ranging cultural references, borrowing from the past, mythology, religion, philosophy and the everyday world in an exploration of the metaphysical implications of ordinary existence. These are highly personal works of art, as he remarks "what I'm trying to put into my work is what I am. Culturally, anthropologically…" On more than one occasion he has said that it is an atmosphere or creation of an aura in the painting that is of significance not any explicit message.
Chia's work forms part of some of the world's most important collections including the Museum of Modern Art (MoMA), New York, USA; Tate Gallery, London, England; Art Institute of Chicago, USA; Museum of Fine Arts, Boston, USA;; Boca Raton Museum of Art, Florida, USA;; Basel Kunstmuseum, Switzerland;; Kitakyushu Municipal Museum of Art, Japan; Setagaya Art Museum, Japan; Fukuyama Museum of Art, Japan; Utsunomiya Museum of Art, Japan; The Museum of Art, Kochi, Japan; Stedelijk Museum, Amsterdam, Netherlands; Groninger Museum, Netherlands; Neue Nationalgalerie, Berlin, Germany; Stadtisches Museum Abteiberg, Mönchengladbach, Germany; FAE Foundation, Musee d'Art Contemporain, Lausanne, Switzerland; Tel Aviv Museum of Art, Israel; Castello di Rivoli, Museo d'Arte Contemporanea, Turin, Italy; MART, Museo d'Arte Moderna e Contemporanea di Trento e Rovereto, Italy; Senato della Repubblica Italiana, Palazzo Madama, Rome, Italy.
Image: Sandro Chia: Practical Test, oil on canvas, 60 x 50 cm
Thursday 1 May – Saturday 31 May 2014
49 Parnell Square West
Dublin 1
Telephone: +353 1 8788242
Opening hours / start times:
10.30 am – 5 pm (Mon – Fri), 10.30 am – 3 pm (Sat)
Admission / price: Free