Sandra Hickey: Where Two Styles Meet
Thursday 3 January – Friday 1 March 2019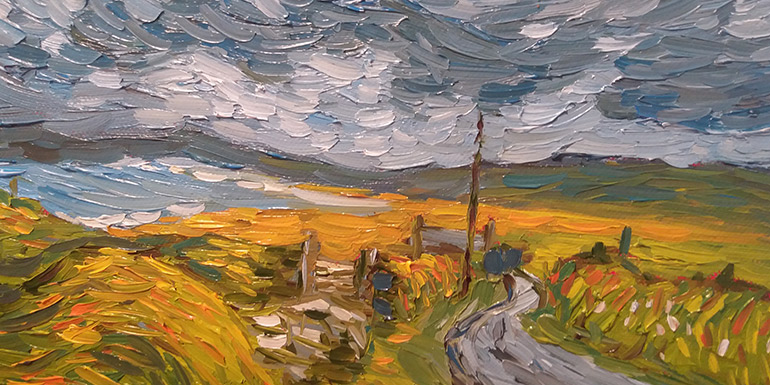 This exhibition will contain two bodies of work by Cork based artist Sandra Hickey. The first style of work is inspired by her time working on Oscar nominated Loving Vincent, where she and 124 artists hand painted over 65,000 frames in the style of Vincent Van Gogh.
Opening: Thursday 3 January at 6pm, followed by screening of Loving Vincent film at 8pm • Book tickets for screening »
'We painted so intensely and for long hours in the style of Vincent Van Gogh and trained in mastering his painting style. After finishing the production, I couldn't help but see a Van Gogh style painting in every landscape I encountered, and in every changing sky. My response was to paint it.'
These paintings are mainly urban and rural landscapes.
The second body of work is a style Hickey has been developing for years and was making in the lead up to Loving Vincent. These works are very different from her Van Gogh inspired paintings. They are abstract and figurative. They are all about the body and its beautiful imperfections. Three of these works were painted in Gdansk, Poland, while working on the animation and were shown in a group exhibition of fellow Loving Vincent artists.
Hickey has been working on these two bodies of work for over two years and she finds they both inform each other and spark new ideas, despite being very different in content.
Thursday 3 January – Friday 1 March 2019
14A Tobin Street
Cork City
Telephone: +353 21 4272022
Opening hours / start times:
Monday–Thursday 4–9pm
Friday–Sunday 11am–6pm
Admission / price: Free