Samuel Walsh: The Odyssey
Friday 18 February – Sunday 27 March 2022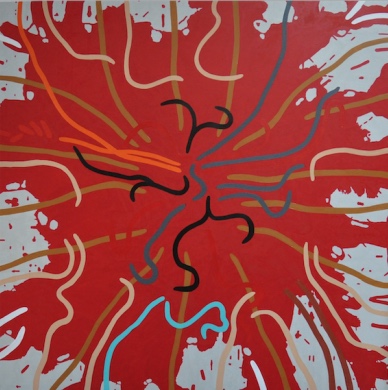 We are delighted to present, for the first time, a new series of work by Samuel Walsh based on Homer's Odyssey. Walsh has used literary texts before as an armature on which to develop paintings, one such suite being Dante's The Divine Comedy from 2005. This current series started its development during a residency in Berlin in 2018.
It is also quite germane that we open this exhibition on the centenary of the publication of James Joyce's Ulysses, that great literary epic derived from the same Homeric source.
Twenty paintings and eleven drawings relate to the characters and the places of Homer's epic tale. Walsh's abstraction is calculated compositionally and tonally to evoke the atmosphere of the story, never to illustrate it. The exhibition also underscores the strength of abstraction as a strategy for encounter in an age of images where fixity and its subsequent polemics seem to be the order of the day.
The exhibition is accompanied by a fully illustrated catalogue with an essay by Robert O'Byrne that contextualises and investigates these dynamic paintings.
Additional Event
Talk: The Odyssey exhibition and much of what came before, 1pm, Friday 25 February. Book your free ticket HERE.

Samuel Walsh was born in Wimbledon, London to Irish parents, his mother from Limerick and his father from Ennis. He was educated in London and also in Limerick at Villiers Secondary School. He lived in Limerick from 1968 to 1990 and he now lives and works in Co. Clare. He studied art at the Limerick School of Art and Philosophy at Mary Immaculate College of Education, Limerick. He took his MFA. at the National College of Art & Design, Dublin.
He is closely associated with the beginnings of the Limerick Exhibition of Visual Art (EV+A / eva international) and was the founder of Quadrant, an annual exhibition for young artists held in the Belltable Arts Centre, Limerick which ran from 1993 until 2007.
Walsh is an ardent promoter of contemporary drawing and to this end, he founded in 1987 with support from friends, the National Collection of Contemporary Drawing that was gifted by him to the Limerick City Gallery of Art in 1991. The collection has continued to grow as new works are added to it on a regular basis and also contains drawings on permanent loan from the Arts Council of Ireland's drawing collection. In 2021 he selected an exhibition for Limerick City Gallery of Art from the collection to acknowledge it's 30 year anniversary.
In 1997, he was elected a member of Aosdána and served as a member of Aosdána's Toscaireacht from 2007-2009, 2015-2016 & 2018-2020. He is a Fellow of the Ballinglen Arts Foundation, Ballycastle, Co. Mayo. He taught Life Drawing at the Limerick School of Art & Design from 1987 to 1997. In 2005 he was the Professor of Drawing for the Autumn semester at the Pont-Aven School of Contemporary Art, Brittany, France. He has also been a visiting lecturer to the National College of Art & Design, Dublin and the Burren College of Art, Co. Clare and taught on the Drawing Studies Course at the National Gallery of Ireland, Dublin, annually between 2008-2010.
Image: Samuel Walsh, The Battle, 2020, acrylic and oil on canvas, 150 x 150cm, image courtesy of the artist.
Friday 18 February – Sunday 27 March 2022
15 Ely Place, Dublin 2
Telephone: +353 1 661 2558
Opening hours / start times:
Monday 11:00 - 17:00
Tuesday 11:00 - 17:00
Wednesday 11:00 - 19:00
Thursday 11:00 - 19:00
Friday 11:00 - 19:00
Saturday 11:00 - 19:00
Sunday 14:00 - 17:00
Admission / price: Free