Samuel Levack: The Earth Like Tea
from Thursday 19 May 2022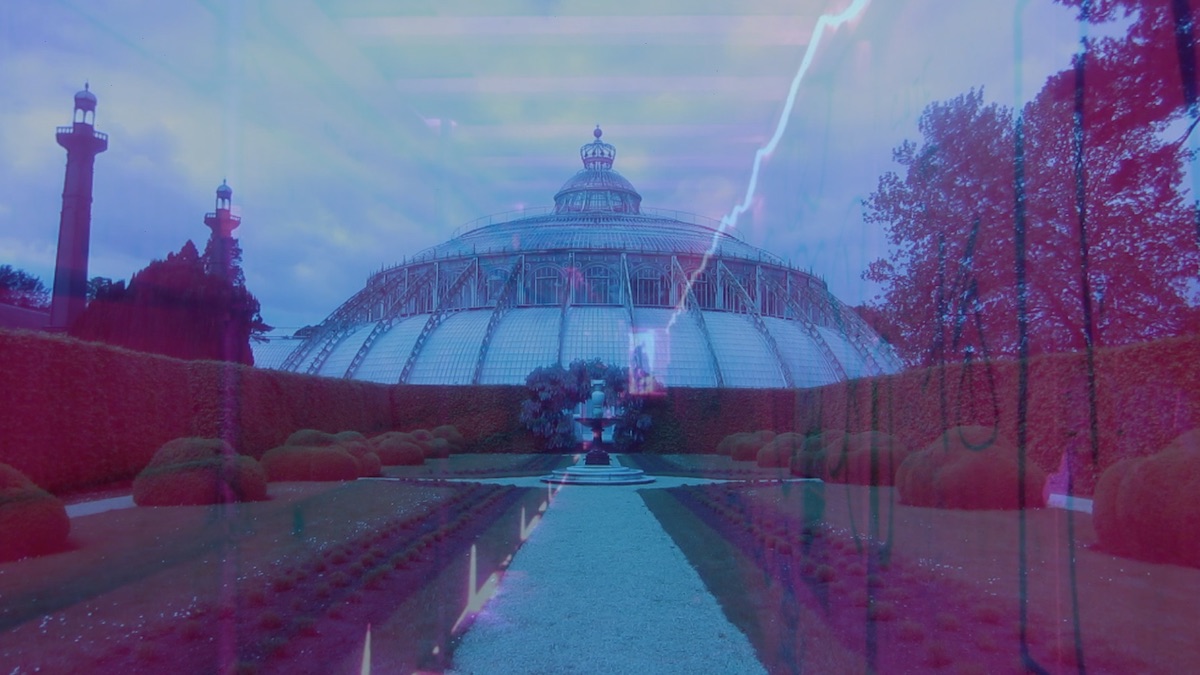 ――― In venue ―――
Samuel Levack is a London-based artist who often collaborates with Jennifer Lewandowski. Their practice spans film, performance, photography, text, and music, and explores themes of utopia and spiritualism. They use image making and storytelling techniques to create dreamlike visions of territories, whether rural or urban, that operate as poetic meditations on nature and social life. Specifically, Levack deals with forms of community building, and his work often depicts urban scenarios.
The Earth Like Tea, 2020 emerged from a residency at Mendes Wood DM, Brussels, in 2019. During his time in Brussels, Levak captured footage of the urban scenario while walking around the city. Specifically, he addressed the architecture and ambiance of the Royal Greenhouses of Laeken, creating documentation that includes striking colors and collage techniques.
The Royal Greenhouses of Laeken resonate with places such as Kew Gardens in London, and the colonialist foundations to these structures are addressed through the ghostly and haunting lexicon of poetic readings and music soundings. The title addresses how the tea trade relates to the British colonial enterprise and its extremely damaging impact in the Global South.
At one point in the film, an overlaid image depicts a greenhouse with what appears to be a diagonal strike through its middle. This produces a rupture in the familiarity that we perceive in these scenes, pointing to traces in the territory of the relationship between colonialism and botany.
The work is a critical inquiry into seeing and being seen in spaces of multispecies voyeurism. It also displays wealth and power through the different depicted architectural styles, ranging from the nineteenth century to modernism, all of which are haunted by the ghosts of colonial domination.
Samuel Levack and Jennifer Lewandowski have had solo shows at French Riviera, London (2019); Evelyn Yard, London (2015); and Grey Area, Paris (2010), and their work has been widely featured in exhibitions, festivals, and events in England and overseas. They also play together as the band Das Hund, whose albums include For Freedom(2018); and cofounded and run French Riviera, a gallery in London, and the record label French Riviera Records.
SIRIUS Digital features work commissioned by SIRIUS that is permanently accessible for free viewing on the SIRIUS Vimeo channel. Artists who have contributed to, or are currently participating in, SIRIUS Digital include Natasha Bourke, Ofri Cnaani, Aikaterini Gegisian, Yurika Higahshikawa, Salomé Lamas, Samuel Levack and Jennifer Lewandowski, Helena Gouveia Monteiro, Gina Peyran Tan and Softday. SIRIUS Digital is initiated and produced by SIRIUS.
Image: Samuel Levack, The Earth Like Tea (still), 2020. HD video, color, sound, 6:05 min. Courtesy the artist
from Thursday 19 May 2022
The Old Yacht Club
Cobh, Co. Cork
Telephone: +353 21 481 3790
Opening hours / start times:
Wednesday – Saturday, 11:00 – 16:00
Admission / price: Free