Salomé Lamas: Gaia: What If the Meteorites Would Talk
from Wednesday 16 February 2022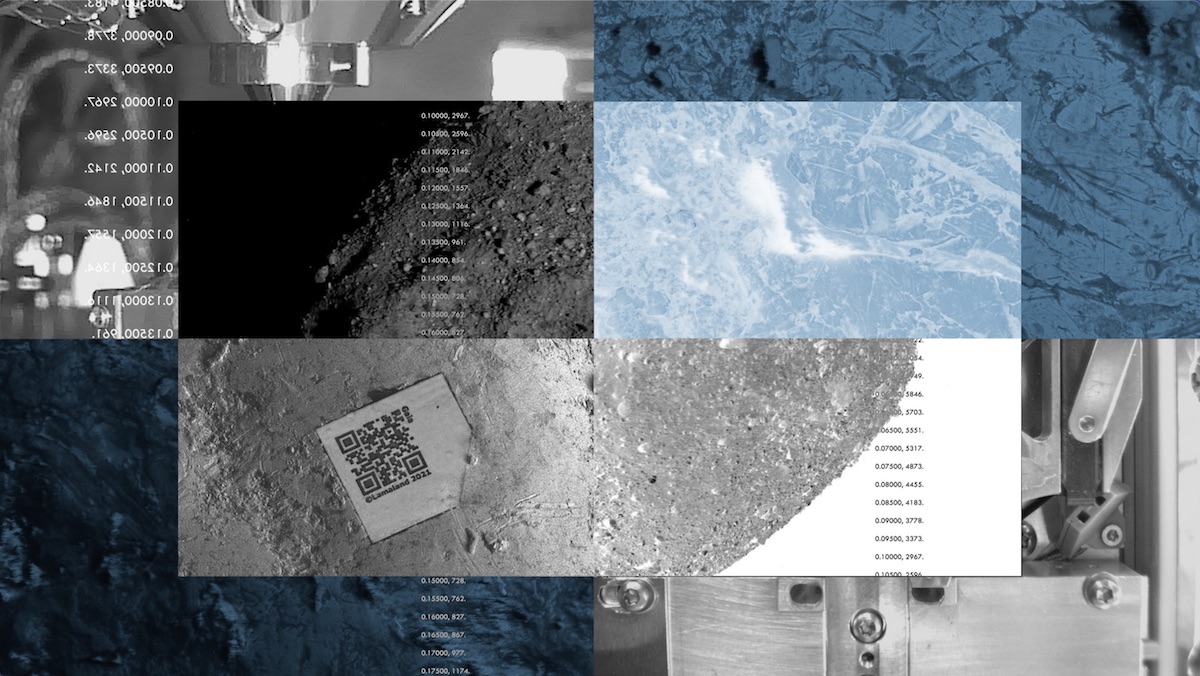 ――― Online only ―――
Commission Launch
Salomé Lamas (b. 1987, Portugal) is a filmmaker, artist, and researcher. She makes work in a variety of media, from film to installation, photography, sound, and printed matter. She uses methods of parafiction to disrupt the notion of truth and excavate realities underrepresented in the collective unconscious, the media, popular culture, and mythology. Her films employ an ethnographic approach, whether based on storytelling or dramatization, to delve into history and memory. The subject matter may include colonial violence, climate change, war, and global capitalism.
The project GAIA investigates bodies of rock by tracing mythological, scientific, and aesthetic observations. The artist purchased a meteorite on eBay. According to a certificate of authentication, it originates from Campo del Cielo, a crater in Argentina containing iron masses dating back 4200 to 4700 years ago. The Spanish military first reported the existence of a group of meteorites in this region in 1576, although local Indigenous populations were already familiar with them far earlier, and named the site Piguem Nonralta.
The notion of Gaia was popularized by the British scientists James Lovelock and Lynn Margulis in the late 1960s. It postulates the planet as a living, self-regulating organism where all matter is interconnected. The phenomenon of meteorites falling to Earth ruptures the idea of Gaia as a single unit separate from outer space, and instead proposes a permeable membrane where matter in the cosmos may enter the planet's atmosphere.
Gaia: What If the Meteorites Would Talk 2022
This film overlays an image of the meteorite with Earth's sediments as a form of communication between cosmic and terrestrial bodies of rock. It shows this representation of a meteorite dizzyingly spinning on its axis and a mechanical gaze zooming in to the complex grooves and pores of terrestrial bodies of rock.
In the crevices of this meteorite image lies a QR code that facilitates an online connection with a set of sound pieces (also compiled as a vinyl record) made by twelve musicians with whom Lamas collaborated. Concurrently, there are views of shooting stars, landscapes, technical equipment, and other information.
This representation of the meteorite serves as the background for a text written by Lamas in dialogue with the philosopher Fédéric Neyrat. Here, the artist introduces and elaborates on the term "atopia," which suggests an idea, a place, or a state situated between utopia and dystopia. Lamas uses it to mean a space in which living beings can enact care in the building of a multispecies community.
The film suggests how our understandings of borders, interconnectivity, and affectability communicated by a nonhuman agent, which has traveled from the cosmos, could explain such concepts through different spatial and temporal arrangements and principles. It also puts forward unlikely connections between cosmic matter, pre-Columbian knowledge, and capitalist e-platforms to evidence how fluctuating temporalities ranging from Deep Time and rapid, extractive capital can meet through matter.
Salomé Lamas, Gaia: What If the Meteorites Would Talk, 2022
Salomé Lamas is based in Lisbon. She studied cinema at the University of Lisbon and art at the Sandberg Instituut in Amsterdam, and is now a doctoral candidate in art studies at the University of Coimbra, Portugal. The Institute of Contemporary Arts, London, presented a survey of her filmic output in 2021. Her work has also been presented at festivals and museums such as Berlinale; Locarno Film Festival; Museo Nacional Centro de Arte Reina Sofía, Madrid; the Museum of Modern Art, New York; Museo Guggenheim Bilbao; Museu de Arte Contemporânea de Serralves, Porto, Portugal; and Haus der Kulturen der Welt, Berlin.
SIRIUS Digital features work commissioned by SIRIUS that is permanently accessible for free viewing on the SIRIUS Vimeo channel. Artists who have contributed to, or are currently participating in, SIRIUS Digital include Ofri Cnaani, Aikaterini Gegisian, Yurika Higahshikawa, Salomé Lamas, Levack Lewandowski, Helena Gouveia Monteiro, Gina Peyran Tan and Softday. SIRIUS Digital is initiated and produced by SIRIUS.
Image: Salomé Lamas, Gaia: What If the Meteorites Would Talk (still), 2022. Video, colour, sound, 2:18 minutes. Courtesy the artist
from Wednesday 16 February 2022
The Old Yacht Club
Cobh, Co. Cork
Telephone: +353 21 481 3790
Opening hours / start times:
Wednesday – Saturday, 12:00 – 17:00
Admission / price: Free