Ruth McDonnell: Dark Palaces
Friday 14 June – Saturday 13 July 2013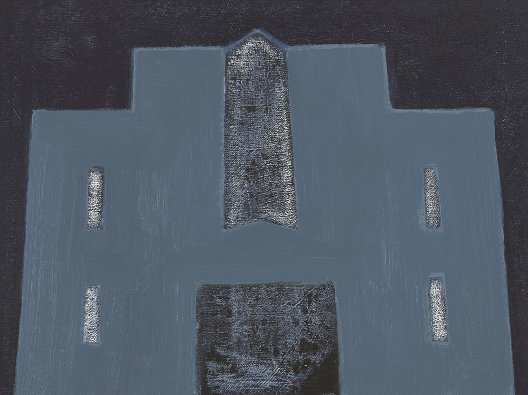 Opening Reception Thursday 13 June, 6 – 8pm
Taylor Galleries is delighted to present Dark Palaces, an exhibition of recent work by Ruth McDonnell which opens at the gallery with a private view on Thursday 13 June 2013 from 6 to 8pm. The exhibition is McDonnell's first solo show with the gallery, which is celebrating its 35th anniversary this year.
Although many cinemas are no longer used for the purposes for which they were built, they remain part of our collective memory. By focusing upon them in these paintings, Ruth McDonnell calls the surviving buildings as witnesses to a universal interest in storytelling.
In these new paintings and drawings McDonnell has selected cinema buildings that have personal significance for her and close associations with her life. The work is informed both by her professional background in film and television production and a personal passion for cinema. For most of the last century these buildings, carrying such evocative names as the Majestic, Stella, Regal, Ritz and Broadway, were woven into urban and rural communities and streetscapes across Ireland.
These cinemas stood for glamour, their dim and luxurious interiors representing the possibility of a temporary and pleasurable release from sometimes humdrum lives. Inevitably, then, they also came to represent something illicit, attracting the attention of nationalists made anxious by the exotic images carried on cinema screens up and down the country; and of conservative moralists articulating what Sean Rothery has called a 'puritanical disapproval of romanticism and escapism' (in Ireland and the New Architecture, 1900-1940, 1991, Lilliput Press, Dublin, p194).
In juxtaposing these instantly recognisable buildings against the cinematic representations taking place each day in their shadowy interiors McDonnell explores our love and pursuit of glamour and romance as a temporary escape from the texture of our everyday lives. And more: McDonnell's paintings, with their emphasis on surface, pose an oblique question – to what extent did these buildings deliver on their beguiling promises?
McDonnell's materials – oil on linen and oil on wood panels – also carry filmic resonances, echoing as they do the plywood construction of film sets. She carries these cinematic associations through to the very size of these paintings, each of which mirrors film frame format and draws on her previous experience in film and television production.
Ruth McDonnell studied at the NCAD and the Medway College of Design Kent, where she received diploma in Design. Ruth worked within the Design department in RTE for many years. In 1996 she began a Fine Art Diploma in IADT then studied at DIT where she was awarded a BA in Fine Art in 2002.
Ruth has undertaken a number of residencies. Awards include an RDS Student Printmaking Award, Thomas Dammann Junior Memorial Trust Award, Arts Council Bursaries and Cavan County Council Arts Awards. She has participated in a diverse range of selected group exhibitions including RUA Belfast, Éigse Carlow Arts Festival, Iontas, the RHA Annual Exhibition. Her work is featured in public and private collections. This is Ruth's forth solo show.
Image: Ruth McDonnell: Dark Palace x11, 2013, oil on panel
Friday 14 June – Saturday 13 July 2013
16 Kildare Street, Dublin 2
Telephone: +353 1 676 6055
Opening hours / start times:
Monday 10:30 - 17:30
Tuesday 10:30 - 17:30
Wednesday 10:30 - 17:30
Thursday 10:30 - 17:30
Friday 10:30 - 17:30
Saturday 11:00 - 15:00
Admission / price: Free