Ronnie Hughes: Zygotic Tendencies
Saturday 31 March – Saturday 19 May 2012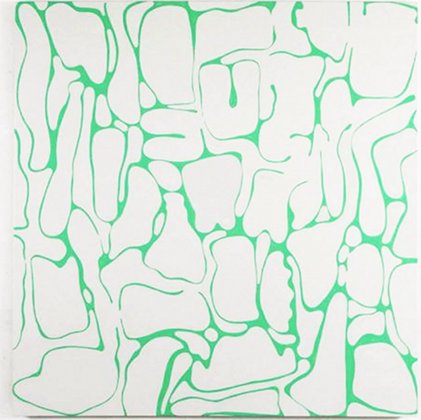 As a painter, Ronnie Hughes is most interested in plasticity; not only with regard to inherent formal qualities and processes, but also in terms of material and, primarily, meaning. His works take the form of corrupted abstractions that investigate, and at times conflate, various dichotomies such as: natural/synthetic, order/entropy, abstraction/mimesis, and nature/nurture. Hughes strives for his paintings to become signifiers for a myriad of simultaneous, yet sometimes contradictory, ideas and reference points. The body of work produced by Hughes over the past number of years has largely consisted of paintings and drawings that playfully refer to various cultural and scientific models or theories. The realized pieces are comprised of synthetic forms which take their cues from nature, but which resonate with cultural associations.
Hughes' concern with the scientific is revisited in this exhibition, Zygotic Tendencies, which features a number of pieces that have evolved from diverse starting points. The title of this show reveals much about his working process. Just as a pearl grows around grit, or stalactites develop through a process of aggregation, Hughes regards his practice as organically evolving individual pieces of work, in parallel to zygotic development. The earliest stage of development in fertilization is when two cells fuse to produce a single zygote. This newly formed cell becomes both a determinant, and a subject of the sequential processes that contribute to the creation of the resultant organism. For Hughes, the starting point for each visually striking piece begins with something seemingly arbitrary – a geometric or natural pattern, an image, or even protrusions on the weave of a canvas. From its point of departure, each work follows its own path until it forms a unique entity. A result of this process is that each series of work contains pieces that are quite distinct from one another in appearance.
In Zygotic Tendencies, the assorted, abstract compositions are comprised of lines, dots, shapes, patterns and geometric elements that have all been distorted to produce a final image. References to the science of Physics, Chaos Theory, and a preoccupation with examining structures and processes in pattern are evident in this exhibition. An interest in Moiré, and the deliberate and unconscious generation of patterns has informed the work. Each composition is dependent on Hughes' instincts and sensibilities over time, judged to hover between having a specific pattern and being completely incidental. Work such as Viscera, 2011, was developed from organic shapes referencing the body, but reconfigured into mutations that form an amalgam reminiscent of both biological diagrams and psychedelic art. When evaluating the paintings, Hughes' intends the viewing experience to mirror his work: oscillating between order and collapse.
Saturday 31 March – Saturday 19 May 2012
10 St. Stephen's Green
Dublin 2
Telephone: +353 1 670 8055
Opening hours / start times:
Tuesday 12:00 - 17:00
Wednesday 12:00 - 17:00
Thursday 12:00 - 17:00
Friday 12:00 - 17:00
Saturday 12:00 - 17:00
Admission / price: Free