Rivane Neuenschwander: A Day Like Any Other
Wednesday 16 November 2011 – Sunday 29 January 2012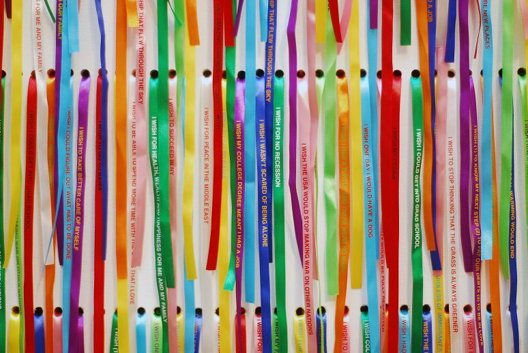 Opening Reception Tuesday 15 November at 6pm
A major mid-career survey of the work of leading Brazilian artist Rivane Neuenschwander opens to the public in the New Galleries at the Irish Museum of Modern Art (IMMA) on Wednesday 16 November 2011. Covering the period since 2000, Rivane Neuenschwander: A Day Like Any Other highlights the artist's unique contribution to Brazilian Conceptualism and reveals a wide-ranging interdisciplinary practice, which includes painting, photography, film, sculpture, collaborative actions and participatory events.
A variety of elements inform Neuenschwander's work – the nature of time, the fragility of life, cycles of existence and the delicacy of human exchange. Motifs such as circles and ovals are of primary importance, together with drops of water, bubbles, hole-punched confetti, constellations and cascading zeros. These act sometimes as soundtracks or symbols of fragility, trail markers or life sources, symbols of the natural world or the feminine principle. Much of her oeuvre is about measuring passing time, in calendars that both mark the past and anticipate the future. Her maps, whether tracking visitors' paths through the exhibition or presenting the blurred boundaries exposed to the elements during the rainy season, are about creating new geographies for new explorations.
Throughout her career, Neuenschwander has created participatory art and the exhibition includes three installations involving participation by visitors. The first, I Wish Your Wish, 2003, is based on a tradition at a church in Salvador, Bahia, Brazil, where the faithful tie silk ribbons inscribed with their wishes to their wrists and to the gates of the church. According to custom, their wishes are granted when the ribbons wear away and fall off. At IMMA hundreds of ribbons printed with visitors' wishes from the artist's past projects will hang from the gallery walls. Visitors are invited to remove a ribbon, tie it to their wrist, and replace it with a new wish written on a slip of paper, in turn generating new ribbons and wishes.
The role of literary sources in Neuenschwander's work can be seen in another participatory work, First Love, 2005, which takes its title from Samuel Beckett's novella of the same name. In Neuenschwander's version a police sketch artist sits with visitors and listens as they describe the faces of their first loves; the sketch artist then produces portraits of these "first loves" to adorn the walls of the gallery for the duration of the exhibition. For the third installation, Walking in Circles, 2000, small halos of adhesive are applied to the gallery floor to pick up dirt from visitors' shoes, creating a map of the exhibition's traffic patterns.
The exhibition also contains several series of new paintings and the film The Tenant, 2010, following the journey of a soap bubble as it wanders through a deserted house in a permanent state of suspension. It also includes sculptures made by customers during conversations at bars and restaurants in Brazil.
Rivane Neuenschwander was born in 1967 in Belo Horizonte, Brazil, where she currently lives and works. She has exhibited internationally over the past 20 years, including solo exhibitions at the South London Gallery; Palais de Tokyo, Paris; the Walker Center, Minneapolis; Portikus, Frankfurt, and Museu de Arte da Pampulha, Belo Horizonte. She had also shown in a number of group exhibitions in Europe and the US, and in a number of biennials, including the Liverpool Biennial in 1999, the Havana Biennial in 2006, the Venice Biennale in 2005 and the São Paulo Biennial in 2006.
The exhibition is curated by Richard Flood, Chief Curator at the New Museum, New York, and is organised by the New Museum in collaboration with IMMA.
In Conversation
At 5.00pm on Tuesday 15 November Rivane Neuenschwander will discuss the exhibition with Richard Flood and its installation at IMMA, the final venue on its tour. This will take place in the Chapel at IMMA. Admission is free but booking is essential on www.imma.ie/talksandlectures.
A fully-illustrated catalogue accompanies the exhibition.
The exhibition originated at the New Museum, and has also travelled to the Mildred Lane Kemper Art Museum, Washington University in St Louis, Missouri; Scottsdale Museum of Contemporary Art, Scottsdale, Arizona, and Miami Art Museum, Miami, Florida.
The exhibition continues in the New Galleries until 29 January 2012. Admission is free.
Image: Rivane Neuenschwander: I Wish Your Wish, 2003, Silkscreen on fabric ribbons, Dimensions variable, Detail, Miami Art Museum, Miami, Florida, EUA / USA, Photo by Chocolate Milk, Photography, Courtesy the artist, Fortes Vilaça Gallery, São Paulo; Stephen Friedman Gallery, London; Tanya Bonakdar Gallery, New York. Collection Thyssen-Bornemisza Contemporary Art Foundation, Viena; Juan e [and] Patricia Vergez, Argentina
Wednesday 16 November 2011 – Sunday 29 January 2012
Royal Hospital, Kilmainham
Dublin 8
Telephone: +353 1 612 9900
Opening hours / start times:
Tuesday 11:30 - 17:30
Wednesday 11:30 - 17:30
Thursday 11:30 - 17:30
Friday 11:30 - 17:30
Saturday 10:00 - 17:30
Sunday 12:00 - 17:30
Admission / price: Free
Closed Mondays and 24-27 December; bank holidays open 12noon - 5.30pm
Bank Holidays open 12:00 – 17:30.