Rita Duffy: Severance
Saturday 2 April – Saturday 30 April 2011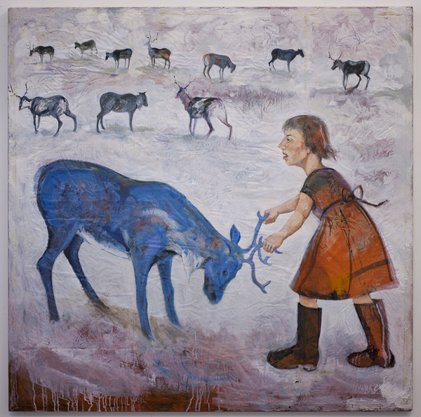 Severance is a collection of paintings by Rita Duffy inspired by a short residency in Tromso, Norway.
The imagery travels into the space of dark fairy tales, psychological territory, laden with strange narratives. Her sustained interest in myths and legends was nourished by the spell in Norway and she has been invited back to do a longer residency in the Nordic Artists Centre in Dalsasen. She is fascinated by the similarities in Nordic and Irish stories and revels in the human dramas of fear and courage.
Rita Duffy's work has evolved out of a Belfast context heavily inscribed by the visual components of social, political and national affiliations where meaning is not neutral. Duffy's work renegotiates aspects of language, local narratives, and symbols to produce the possibility for new meaning. She has continued to place work in situations where physical and human geographies overlap. The work has been evolved for contexts where space is encountered not only as a physical but also as a psychological condition.
Rita Duffy was born in 1959 in Belfast. She received her BA at the Art and Design Centre and her MA in Fine Art at the University of Ulster. She is one of Northern Ireland's groundbreaking artists who began her work concentrating primarily on the figurative/narrative tradition. Her art is often autobiographical, including themes and images of Irish identity, history and politics. Duffy's work has grown and evolved but remains intensely personal with overtones of the surreal. Homage is paid to the language of magic realism and always there is exquisite crafting of materials. She has initiated several major collaborative art projects and was made an Honorary Member of the RSUA for her developmental work within the built environment. Her work is increasingly shown in solo and group exhibitions around the world. She is an associate at Goldsmiths College, London and worked on an artistic exchange between Argentina and N.Ireland, looking at the role art has in post conflict societies. Her Belfast studio practice continues to develop and her public art projects are increasingly preoccupied with international themes.
Duffy's work is being increasingly collected at home and abroad with work in numerous public and private collections. Currently she holds a Leverhulme Fellowship with the Transitional Justice Institute, developing an art project with marginalized young people in Northern Ireland.
Image: Photo: Chris Martin
Saturday 2 April – Saturday 30 April 2011
Corracanvy
Cavan
Co. Cavan

Telephone: +353 49 436 1627
Opening hours / start times:
Tuesday 11:00 - 17:00
Wednesday 11:00 - 17:00
Thursday 11:00 - 17:00
Friday 11:00 - 17:00
Saturday 11:00 - 17:00
Admission / price: Free
Check website for directions.