Riin Kaljurand: New Work
Thursday 4 October – Sunday 4 November 2018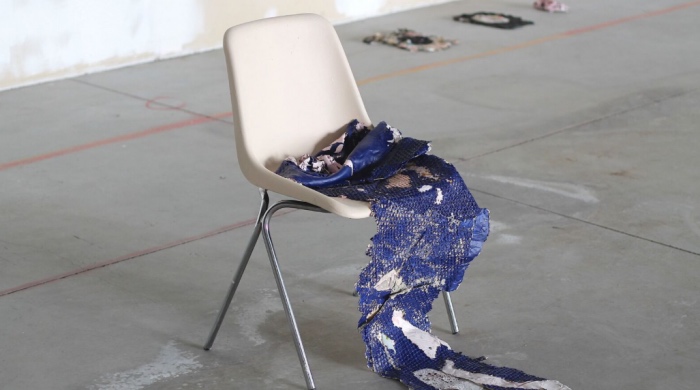 Riin Kaljurand is a painter who celebrates the material qualities of paint by eliminating the traditional canvas support to create paintings without restrictions. There is a sculptural element to her works, but it is far more about form, materiality and the versatility of paint. Gender politics and its paradoxical relationship to medicine, is one of the concerns the artist seeks to address. She responds to this critique through exploring paints materiality and seeking to echo its skin like qualities. In these works, she seeks to create a tension between the paint and its tangibility. She tries to use paint, as a form-able, tangible, almost sculptural medium ripe for manipulation. Her paintings are collaged from dried layers of acrylic or household paint which she manipulates at different stages of drying – by scraping, folding, cutting, drawing into and building up. Her work is distinguished by a palpable use of surface textures cast as paint. She often manipulates the context of mass-produced materials and converts them into artworks. The paint in this way becomes the surface as well as the medium. Some of her paintings are built up by collaborating collage techniques and traditional handcraft, such as basket weaving, knitting and crocheting.
Public Event
19 October, 5.30pm: Ashford in Conversation, Riin Kaljurand with Exhibitions Curator, Ruth Carroll.
Born 1979 in Estonia, Riin Kaljurand is currently undertaking an MFA in the National College of Art and Design, after graduating a BA from NCAD. Her work has been in numerous group exhibitions and she has completed resdencies MART Gallery, Dublin, 2015 and Cill Rilaig Artist Residency, Kerry, 2016. This will be Kaljurand's first solo exhibition.
Instagram account: Riin_Kaljurand
Thursday 4 October – Sunday 4 November 2018
15 Ely Place, Dublin 2
Telephone: +353 1 661 2558
Opening hours / start times:
Monday 11:00 - 17:00
Tuesday 11:00 - 17:00
Wednesday 11:00 - 19:00
Thursday 11:00 - 19:00
Friday 11:00 - 19:00
Saturday 11:00 - 19:00
Sunday 14:00 - 17:00
Admission / price: Free