Remco De Fouw RHA: Tales of Hyperborea
Friday 11 February – Sunday 6 March 2022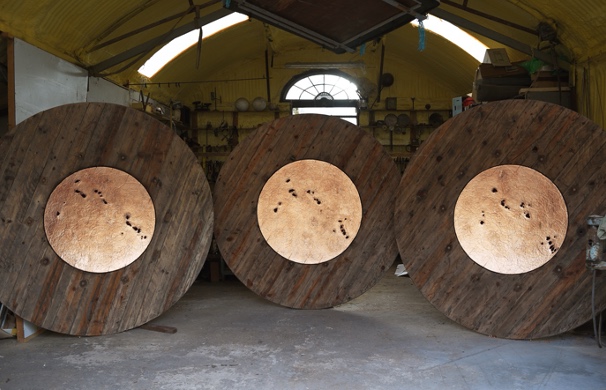 In this, his first exhibition, in the RHA Ashford Gallery, Remco de Fouw RHA, displays his range of skills in many media. Sculptural objects, photography and kinetic objects are all deployed to evoke a glimpse into the mythology of the Hyperborea – a term from classical times that referred to a legendary people from beyond the most northern point of Europe that lived in a paradise sheltered from the wind and ice.
Speaking of this body of work the artist comments "Tales Of Hyperborea plays with notions of truth and representation, a constant push and pull between the mythic and the actual. By inviting many unlikely elements to coincide, I like to consider the current scientific hegemony as relatively recent and perhaps another transient phase on our continuing journey around our Sun."
He elucidates "In looking back to our perception of phenomena and the numinous through folklore and mythology I try to develop a nonlinear open-ended narrative across time that explores an evolution of where we find ourselves today. My aim is to evoke a number of possible tensions and associations, in collaboration with the viewer who is an integral part of this exchange. I aim to explore some of these references through sculpture, installation and photographic processes."
De Fouw was elected a full member of the RHA in 2018. In 2017 he won a competition for a series of major outdoor artworks for the National Children's Hospital Group on which he will start work in the near future. He currently lectures part-time on the IT Carlow Art Course.
Remco de Fouw, BA, MFA ANCAD, RHA has had several solo exhibitions to date including Reservoir at the project arts Center, 1994, Undercurrent at Temple Bar Galleries, 1997, Overflow at the Model Arts Center and Amnesiac Dreams at the Kevin Kavanagh Gallery in 2002.
Awards Include: The Alexandra Wejchert Sculpture Award 1998, The Curtin O'Donohue Photography Award at the RHA 2013, The Royal College of Surgeons/Irish Times Sculpture Award and commission 2016, Arts council Bursary for the Visual Arts 1992, 1994, 2003 and 2019.
He is a member of the 'Nine Stones Artists' who have exhibited at many Eigse Carlow events including two commissioned exhibitions at Visual Carlow The Possibilities of Place, 2016, and The Book Project, 2019. He has completed numerous public and private commissions both in Ireland and in the UK.
In 2017 he won a competition for a series of major outdoor artworks for the National Children's Hospital Group on which he hopes to start work in the near future.
De Fouw was elected as a full member of the RHA in 2018. He currently works as a part-time Lecturer on the IT Carlow, Art Course, which is soon to become part of the University of the Southeast.
Since Graduating in the early 90's, his gallery work has consistently straddled the disciplines of sculpture, installation and photography, and he has often returned to working outdoors at night in the remote rivers and in streams, with photosensitive materials. His camera-less photographic work produced on homemade light sensitive paper has been exhibited regularly, including a substantial series of 1.2 meter long photograms from below the surface of the mountain stream at Borris House for a curated show at Visual Co Carlow, titled Constellations in 2013.
Ongoing research in this elemental method of imaging has recently found its latest expression in works such as Winds of Change and Written in the stars I II III and Hyperborean Somersaults I II which was exhibited at the RHA Annual, Rua Red and Lexicon galleries in 2019/20/21.
Image: Remco De Fouw, Fire Wall, 2021, Communications Cable Reels, Copper Leaf, 250 x 250 x 8cm each, Photography Lar O'Toole, Image courtesy of the artist.
Friday 11 February – Sunday 6 March 2022
15 Ely Place, Dublin 2
Telephone: +353 1 661 2558
Opening hours / start times:
Monday 11:00 - 17:00
Tuesday 11:00 - 17:00
Wednesday 11:00 - 19:00
Thursday 11:00 - 19:00
Friday 11:00 - 19:00
Saturday 11:00 - 19:00
Sunday 14:00 - 17:00
Admission / price: Free