Reframing the Border
Tuesday 10 April – Saturday 19 May 2018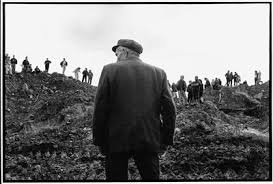 Reframing the Border is curated by Gallery of Photography Ireland for Remote Photo Festival.
Weekend of talks and events: 11 – 13 May
The border in Ireland is one of the most important issues affecting the island of Ireland. As we approach an uncertain Brexit and the centenary of partition, the prospect of moving from a diffused border to a hard border prompts intense and critical reflection. The prospect of reinstating physical barriers only recently viewed as 'gone forever' raises concerns about the impact of the border on local communities, the people of this island and its wider impact in the EU.
Reframing the Border presents work by established and emerging Irish-based photographers who explore the diverse physical, social, psychological and imagined spaces of the borderlands in Ireland.
Main Gallery 1:
David Farrell – Innocent Landscapes;
Sean Hillen Artist – LondoNewry & Irelantis;
Anthony Haughey – Disputed Territory;
Dragana Jurisic – Fields of Gunnera
Donovan Wylie – Watchtowers
Main Gallery 2:
Kate Nolan – Lacuna
New Gallery & Front Gallery:
Enda Bowe – Fire's Love Song & Searching for North,
Ciaran Dunbar – Diesel,
Kevin Fox – Drum: Portrait of a Village,
Paddy Kelly – Land of Milk and Honey,
Raymond B Newman – An Unsettled Border,
Aidan Pedreschi – Pillboxes,
Nigel Swann – Black Pigs Dyke,
Installation: Tony O'Shea Border Roads
Special projection event – Four Thousand Holes Film by Jackie Nickerson, audio: composer John Luther Adams, edited by Carolina Aguirra.
Event programme highlights:
Friday 11 May
6.00pm Welcome address: Remote Photo Festival Director Paul McGuckin
6.30pm – 8.15pm – Reframing the Border
Illustrated talk by Sean O'Hagan, writer and critic, Guardian & Observer exploring photographic representations of the border.
Panel discussion chaired by John Duncan, editor Source Photographic Review with artists Sean Hillen Artist, Anthony Haughey, Kate Nolan, Donovan Wylie.
Saturday 12 May
11.30 -12.45 pm
Reframing the Border – How does the past to inform the future: precedent, protocols and the Irish Border?
Panel discussion chaired by Dr. Conor Mulvagh, UCD School of Art History & Cultural Policy, UCD Career Development Centre (University College Dublin) with Dr. Katy Hayward, Queen's University Belfast (TBC) and Dr. Peter Leary, University of Oxford (TBC) and Caroline Carr, Donegal County Museum.
1.30pm – 2.45pm
Arts Across borders – How do the arts respond to social and political challenges facing the border region? How can the arts maintain and develop cross opportunities to meet the challenges created by Brexit?
Marie Louise Muir, BBC Arts presenter (TBC) will chair a discussion with Orlaith McBride (SH), Director, Arts Council Ireland , Roisin McDonagh (TL), Director, Arts Council of Northern Ireland/Cian Smyth/Creative Programmer, board member Arts Council Northern Ireland, Declan Sheehan, Curator, Nerve Centre Derry/Londonderry and Somhairle Mac Conghail, Monaghan County Arts Officer.
2.45pm – 3.45pm
Reframing the Border – Creative Opportunities for the Future
Opening address by Heather Humphreys TD, Minister for Business, Enterprise and Innovation. Followed by panel discussion chaired by Michael Tunney, Local Enterprise Office and Pauline White, Western Development Commission (TBC) representative who discuss how best to encourage and develop Creative Entrepreneurship programme in Donegal and across the borderlands.
6.30pm
Nerve Visual Gallery Centre, Ebrington, Derry/Londonderry
A Lost Moment? Curator's exhibition tour with Sean O'Hagan
The exhibition will focus on the short period between the Caledon squatting protest in June 1968 and the killing of civilian John Gallagher in Armagh in August 1969. His death marked a psychological turning point in the peaceful struggle, announcing both the intransigence and unaccountability of the state and the growing loss of faith by Nationalists in peaceful protest.
Discussion event 7pm
Panel include: Sean O'Hagan and Bernadette McAliskey.
Sunday 13 May
2.30pm
Welcome by Joe McHugh TD Minister for State, Chief Whip
Chief Executive Donegal County Council
Reimaging the Borderlands
Introduction by Shirley Clerkin, County Monaghan Heritage Office.
2.30pm
National Geographic named Donegal as the coolest place on the planet for 2017. The National Geographic Traveller Cool List "reveals the culture capitals, hipster hotspots, wild escapes and places generally keeping it cool"
James Welford Talk, Photo Editor of National Geographic Magazine (formely Newsweek Magazine) will give an insight into the creative use of photography by this leading international magazine. He will also discuss his recent commissioning of an editorial piece on the border with commissioned photographer Seamus Murphy.
Supported by: Regional Cultural Centre, Letterkenny, Local Enterprise Office Fingal; Donegal County Council; Department of Foreign Affairs and Trade Reconciliation Fund; The Heritage Council of Ireland;Department of culture, Heritage and the Gaeltacht; Gallery of Photography Ireland is supported by Arts Council Ireland and Dublin City Council.
Remote Photo Festival:
Remote Photo is a unique festival dedicated to photographers creating work in a remote or rural context. Based in Donegal, the festival is an invitation to the international photographic community to come together in a unique location, away from the usual distractions of large urban areas, but with its own bedrock of resilient artistic endeavour.
Most photography festivals take place in major cities, but in reality they become a series of fragmented events spread across a sprawling area. Remote Photo resembles a music festival, where people from all walks of life come together to form a unique community of locals and visitors, during the festival's core weekend.
Our main venue, the Regional Cultural Centre in Letterkenny, is a world class facility, housing multiple gallery spaces, workshop spaces and an auditorium.
We also work with other high-quality venues, including:
Artlink in Fort Dunree,
Donegal County Museum
An Grianan Theatre
and the Nerve Centre's Gallery 80/81 (formerly the Turner Prize gallery during City of Culture).
Our principal funders are:
Donegal County Council Regional Cultural Centre, Letterkenny
Local Enterprise Office Donegal (Creative Coast Programme)
Gallery of Photography
Partners & Supporters:
Donegal County Museum; Nerve Centre Derry; Source Photographic Review; Kinnegar Brewing; An Grianan Theatre; Artlink Fort Dunree; Donegal Diaspora
Letterkenny Institute of Technology
Arts Council Ireland
Tuesday 10 April – Saturday 19 May 2018
Port Road, Letterkenny
Co. Donegal
Telephone: +353 74 912 9186
Opening hours / start times:
Monday closed • Tuesday 11:00 - 17:00 • Wednesday 11:00 - 17:00 • Thursday 11:00 - 20:00 • Friday 11:00 - 17:00 • Saturday 13:00 - 17:00 • Sunday closed Admission is free