Reframing 100: Invitation to participate
ongoing, 2021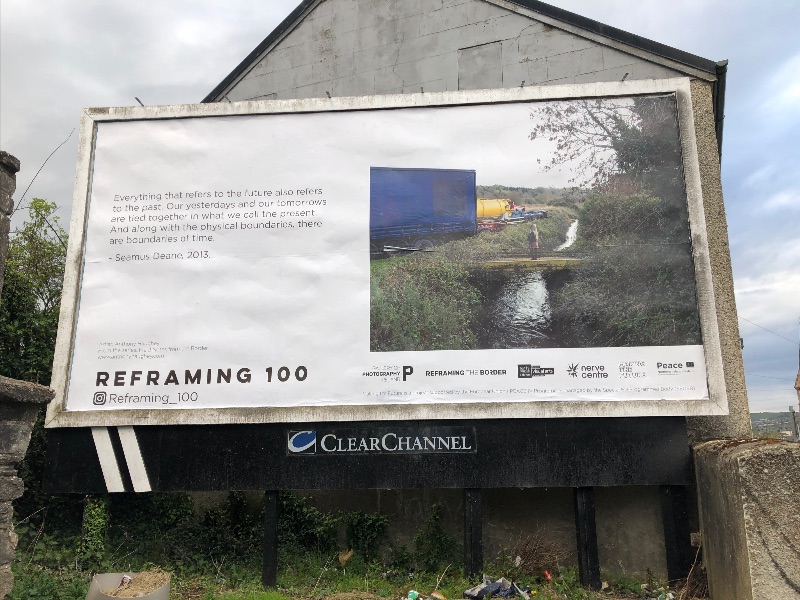 ――― Online only ―――
Reframing 100: Photographic installations along the border 100 years after partition • Invitation to participate & share your photos.
You are invited to participate in Reframing 100 – a new cross-border collaboration between the Nerve Centre in Derry~Londonderry and Gallery of Photography Ireland.
Reframing 100 aims to connect and inspire people by sharing artists' photographs of the borderlands 100 years after partition and the formation of Northern Ireland.
Artists billboards
In May billboards featuring the work of 9 contemporary artists have been installed at sites straddling both sides of the border. The artists are: Enda Bowe, Ciaran Dunbar, Kevin Fox, Anthony Haughey, Seán Hillen, Dragana Jurišić, Kate Nolan, Brian Newman and Nigel Swann.
Share your photos – get featured on @Reframing_100
You are invited to share your photographs with the project's @Reframing_100 instagram to create a real time archive. To have your say and share your story:
simply search and follow #Reframing100
add the hashtag to your own photos and tag the project page @Reframing_100.
Reframing 100 is delivered in partnership with the Nerve Centre's Making the Future project and
Gallery of Photography Ireland's Reframing the Border project – a 5-year programme exploring the diverse geographical, psychological and imagined spaces of the borderlands to offer creative insights into the issues affecting border communities. This important visual record will showcase and reflect on how the last 100 years have shaped our identities and our landscapes.
With special thanks to:
the late Seamus Deane for his kind permission to feature his text on the Anthony Haughey artwork.
John & Pat Hume Foundation for permission to include the quote by the late John Hume on the Enda Bowe artwork
"Making the Future provides opportunities for people to engage with our heritage in new and innovative ways, while using their creativity to use their voice and to have a say. We're delighted to continue our partnership with the Gallery of Photography Ireland and to work on a cross-border basis on this unique initiative that will help to spark discussion and debate about the impact and legacy of the last 100 years."
Niall Kerr, Making the Future Project Manager at the Nerve Centre
Reframing the Border is a 5-year arts programme exploring the diverse geographical, psychological and imagined spaces of the borderlands in Ireland. Begun in 2017, a programme of exhibitions, public arts events, commissions, talks, workshops and installations shares the work of the programme with communities on both sides of the border. It has supported a series of 10 exhibitions featuring work by leading Irish and international artists and includes: Kate Nolan – Lacuna, Krass Clement – The Light Gleams an Instant; The Lost Moment – Civil Rights, Protest and Northern Ireland 1968-69; Kevin Fox – Drum: Portrait of a Village; Enda Bowe – Love's Fire Song and the Field Notes from the Border and Reframing the Border group shows. Reframing the Border is organised by Gallery of Photography Ireland in partnership with the Nerve Centre Derry~Londonderry, Regional Cultural Centre Letterkenny; Monaghan County Heritage & Arts Office, Remote Photo Festival and Donegal County Museum. It is supported by the Department of Foreign Affairs – Reconciliation Fund; Department of Tourism, Culture, Arts, Gaeltacht, Sport and Media – Co-operation with Northern Ireland Scheme.
Gallery of Photography Ireland is the national centre for photography in Ireland. We are committed to the promotion and development of photography as a uniquely democratic and creative artform. We curate a broad ranging programme of exhibitions by leading Irish and international photographers, complemented by artists' talks, workshops and events. We publish monographs and photobooks by an exciting range of contemporary photographers, and operate one of Europe's largest photography bookshops. The Gallery is funded by The Arts Council and Dublin City Council.
Making the Future is a cross-border cultural programme empowering people to use museum collections and archives to explore the past and create a powerful vision for future change. The regional programme is being delivered by a consortium of leading cultural organisations including the Nerve Centre, National Museums NI, Public Record Office of Northern Ireland and Linen Hall Library, supported through €1.82m of EU funding under the PEACE IV Programme, managed by the Special EU Programmes Body (SEUPB).
The Special EU Programmes Body is a North/South Implementation Body sponsored by the Department of Finance in Northern Ireland and the Department of Public Expenditure and Reform in Ireland.It is responsible for managing two EU Structural Funds Programmes, PEACE IV and INTERREG VA which are designed to enhance cross-border co-operation, promote reconciliation and create a more peaceful and prosperous society. The Programmes operate within a clearly defined area including Northern Ireland, the Border Region of Ireland and in the case of INTERREG VA, Western Scotland. The PEACE IV Programme has a value of €270 million and aims to promote peace and reconciliation in Northern Ireland and the Border Region of Ireland. For more information on the SEUPB please visit www.seupb.eu
The Nerve Centre is Northern Ireland's leading creative media arts centre with sites in Derry~Londonderry and Belfast. More than 120,000 people a year benefit from the Nerve Centre's wide-ranging programme of arts events, cutting edge projects, creative learning centres, training opportunities and state-of-the-art production facilities. www.nervecentre.org
Image: From the series 'Field Notes from the Border' by Anthony Haughey,
@anthony_haughey
 #Reframing100; text extract courtesy: Seamus Deane
ongoing, 2021
Gallery of Photography
Dublin &
Nerve Centre
Derry~Londonderry
Admission / price: Free