Rebecca Crowell: Places Within
Friday 19 September – Saturday 11 October 2014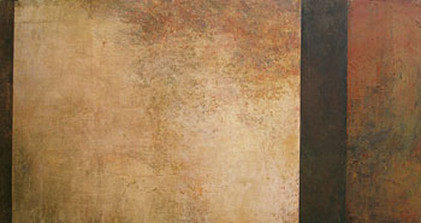 Gormleys is delighted to present an exhibition of new works by U.S. Wisconsin based artist Rebecca Crowell.
The works in the exhibition are the results of the artist's fellowships at the renowned Ballinglen Arts Foundation, County Mayo in 2013. Here Crowell depicts Ireland in her distinctive atmospheric and abstract style.
Since graduating from Arizona State University in 1985 with an MFA in painting, Crowell has worked from her studio in Western Wisconsin along with taking time out to travel and paint in Ireland, England, Spain and across North America. Crowell is well-established in North America and has exhibited widely throughout the U.S and Canada. Crowell has completed several residencies in Ireland including the Tyrone Guthrie Centre in 2011, Cill Rialaig Project in 2012 and Ballinglen Arts Foundation in 2013.
"Much of the work in the exhibit is inspired by sensory memories of the seacoast, bogs, ancient sites and rainy atmosphere that I experienced during my residencies in Ireland. My painting approach is one of building up rich textures and veils of colour (through layering of oil, cold wax medium, powdered pigments and other material.) This technique has seemed well suited to expressing my response to the visually compelling aspects of the Irish landscape." Crowell uses a kind of "memory mapping" to create her works which, although visually quite abstract, often still retain faint echoes of landscape and nature. For Crowell, rugged textures, earthy colours and a feeling of light, open spaces reveals her subliminal interest in the colours, mark-making and abstraction of at least a "memory" of landscape.
Although Crowell's work is generally quiet, orderly and meditative in its finished form, the production of the work can be quite violent with sharp tools and aggressiveness but coupled with periods of careful editing and decisiveness.
Crowell's process of working in multiple layers, cutting, scratching and digging back brings to mind the observation by Louis le Brocquy: "The painter, like the archaeologist, is a watcher, a supervisor of accident; patiently disturbing the surface of things until significant accident becomes apparent, recognising it, conserving this as best he can while provoking further accident. In this way a whole image may with luck gradually emerge almost spontaneously".
The exhibition will open in our Dublin gallery, 25 South Frederick Street on Friday 19th September and run to the 11th October 2014. The exhibition can also be viewed online at www.gormleys.ie.
Friday 19 September – Saturday 11 October 2014
27 South Frederick Street, Dublin 2
Telephone: +353 1 6729031
Opening hours / start times:
Monday 10:00 - 17:30
Tuesday 10:00 - 17:30
Wednesday 10:00 - 17:30
Thursday 10:00 - 19:00
Friday 10:00 - 17:30
Saturday 10:00 - 17:30
Admission / price: Free