Raphaël Dallaporta: Observations
Wednesday 9 April – Thursday 15 May 2014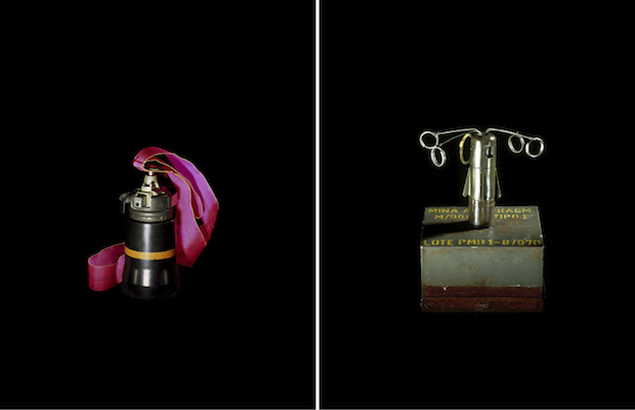 Opening Reception: Tuesday 8 April at 6:30pm. The artist will be present.
Raphaël Dallaporta (b. France, 1980) is an exciting and provocative voice among a new generation of international photographers. He has garnered widespread acclaim for thoughtful projects that examine warfare, violence, power and the fragility of life.
This exhibition at the Gallery of Photography marks Dallaporta's first showing in Ireland. At its heart is Anti-Personnel, the artist's compelling series on landmines. These exquisitely constructed instruments of death are photographed as if they were the latest luxury item. Accompanied by terse captions – name of device, country and date of manufacture – the pictures build up a chilling portrait of man's twisted ingenuity.
The series Ruins continues the artist's study of technology by recreating the gaze of unmanned drone flights over Afghanistan. Like his other projects, Ruins was made in collaboration with experts from different fields – in this case, a French-Afghan archaeological team. With Domestic Slavery he worked with writer Ondine Millot, to explore the complex role of photography as evidence. In Fragile he and a forensic pathologist showed us the hidden recesses of the human body.
Dallaporta has consistently used the medium to reveal what we could not otherwise see. His work refuses sensationalism, cynicism or hand-wringing despair: it advocates instead the profound importance of bearing witness.
Exhibition Events: Raphaël Dallaporta will give a Public Talk on Wednesday April 9 at 1.15pm. Admission is free.
Artist's Books: A limited number of signed copies of Anti-Personnel and Ruins are available in the Gallery Bookshop.
This exhibition is supported by the French Embassy in Ireland www.ambafrance-ie.org
Image: Raphaël Dallaporta: Left: F1_France, Right: M966_Portugal, from the series Anti-Personnel, 2004, © Raphaël Dallaporta
Wednesday 9 April – Thursday 15 May 2014
Meeting House Square
Temple Bar, Dublin 2
Telephone: +353 1 6714654
Opening hours / start times:
Tuesday - Saturday 11am - 5pm. Mondays by appointment for education, artists archiving and training. Closed Sundays
Admission / price: Free