Rachel Daly: I'll Be Seeing You
Thursday 16 June – Thursday 28 July 2022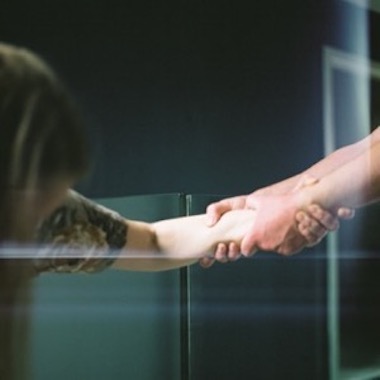 ――― In venue ―――
Backwater Artists Group is proud to present I'll Be Seeing You, an exhibition of new work by Rachel Daly at Studio 12. The exhibition is presented as part of Rachel Daly's Moving Image Bursary, awarded to the artist in 2021 by Backwater Artists Group.
Tours: Every Thursday at 1pm during the exhibition
The show considers the themes of love, relationships and abuse, and the seeks to highlight the underlying tension in the traditional idea of home as a secure space. The multifaceted work includes photography, moving image and projection, transforming the exhibition space. The viewer is presented with striking visual fragments, and invited to interpret the work in their own way.
There are free, regular lunchtime tours of the exhibition on Thursdays at 1pm led by Backwater Artist Group
Programme & Outreach Coordinator Aoife Hegarty. Please email aoife@backwaterartistsgroup.ie to book a place for you or a group, and for more information.
Artist Statement
Our interior lives are rooted to the spaces we live in, places of private psychologies of desire and anxiety. Challenging the traditional idea of home as a secure space, this work ruptures these aspirations and highlights the friction between surface appearance and underlying tension. Themes of love and abuse are considered through the lens, voice, and perspective of a female.
I'll Be Seeing You, explores discomfort and artificiality within intimate spaces through the combined elements of photography, film, and installation. The work investigates unease and the darker side of relationships through photographic, musical, and cinematic tropes. Through bodily gesture, these constructed images depict intimate scenes of figures teetering on the verge of dysfunctional moments.
Through the combined elements of installation, the work plays with the perceptions of the viewer in dislocating domestic space. The viewer is not provided with a full narrative but is instead presented with visual and transient fragments.
Read more about Rachel Daly here.
The Backwater Moving Image Bursary is awarded to a graduating moving image artist from MTU Crawford College of Art & Design, who demonstrates talent and ambition in their work practice. It provides the graduate with a studio at Backwater for 6 months, training from Cork Film Centre, mentorship from an appointed moving image professional and access to the audio-visual equipment at Backwater. The Bursary is in collaboration with Cork Film Centre and MTU Crawford College of Art & Design.
Thursday 16 June – Thursday 28 July 2022
Backwater Artists Group
Wandesford Quay, Cork
Telephone: +353 21 4961002
Opening hours / start times:
During exhibitions: Tuesday to Friday 10am – 1pm, 2pm – 5pm
Admission / price: Free