Prix Pictet | SPACE
Friday 16 November 2018 – Sunday 10 February 2019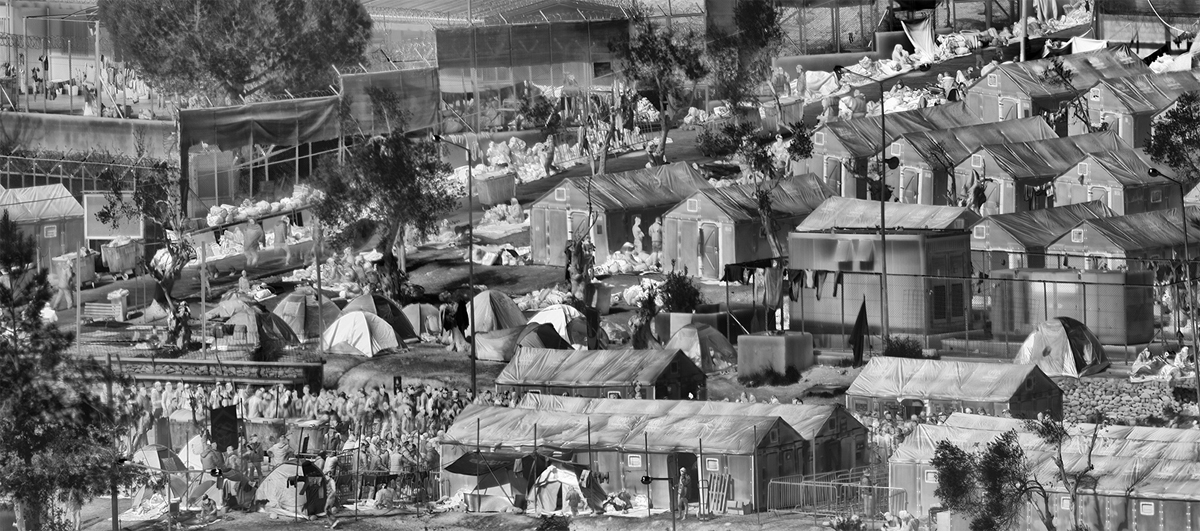 The most recent edition of the Prix Pictet – the global photography prize – was won by the Irish artist Richard Mosse. An exhibition of his winning work, and that of 11 other leading international artists has thrilled audiences on its extensive global tour.
The exhibition presents a unique opportunity to view artworks of outstanding quality that tackle burning global issues of our time.
Drawing on the theme of 'Space', the 12 shortlisted photographers explore subjects as far-reaching as marine pollution, migration, overpopulation and the planet's great wilderness.
Work from 'Heat Maps', the winning series by Richard Mosse, is shown for the first time in Ireland. Mosse's epic panoramas of refugee camps and staging sites in Europe are made using a military-grade thermographic camera designed to detect and identify humans from their body heat from as far away as fifty kilometers, day or night. The work is sinister and objectifying, while also being deeply empathetic and strangely intimate. It provokes powerful and complex responses in the viewer.
The Prix Pictet is an award of 100,000 Swiss Francs (approx €92,000) and is unique in its commitment to harnessing the power of photography to deepen our understanding of changes taking place on a global scale. Taken together the finalists' works present a powerful testament to the fragile state of our planet.
Prix Pictet – Space features work by the twelve shortlisted photographers:
Mandy Barker [b. 1964, UK], Saskia Groneberg [b. 1985, Germany], Beate Gütschow [b. 1970, Germany], Rinko Kawauchi [b. 1972, Japan], Benny Lam [b. 1967, Hong Kong], Richard Mosse [b. 1980, Ireland], Sohei Nishino [b. 1982, Japan], Sergey Ponomarev [b. 1980, Russia], Thomas Ruff [b. 1958, Germany], Munem Wasif [b. 1983, Bangladesh], Pavel Wolberg [b. 1966, Russia], and Michael Wolf [b. 1954, Germany]
---
Opening events Thursday November 15
5.00pm: Richard Mosse – Artist's Talk. This is a Gallery Members' event, advance booking required. Click here for details on Gallery of Photography Membership.
6.00pm: Irish launch of Mosse's 'The Castle' – MACK Books: booksigning. All welcome, no advance booking required.
6.30pm: Official launch of the Prix Pictet | SPACE exhibition
8.00pm: Outdoor projection programme
Exhibition continues until January 20 2019
Prix Pictet – SPACE is brought to Ireland with the generous support of Pictet. Gallery of Photography Ireland is supported by The Arts Council.
For further information, see www.prixpictet.com
Image: Moria, Lesbos, Greece (detail), from the series 'Heat Maps' © Richard Mosse, courtesy Jack Shainman Gallery and Prix Pictet
Friday 16 November 2018 – Sunday 10 February 2019
Meeting House Square
Temple Bar, Dublin 2
Telephone: +353 1 6714654
Opening hours / start times:
Tuesday - Saturday 11am - 5pm. Mondays by appointment for education, artists archiving and training. Closed Sundays
Admission / price: Free