Prix Pictet: Growth
Saturday 3 December 2011 – Sunday 15 January 2012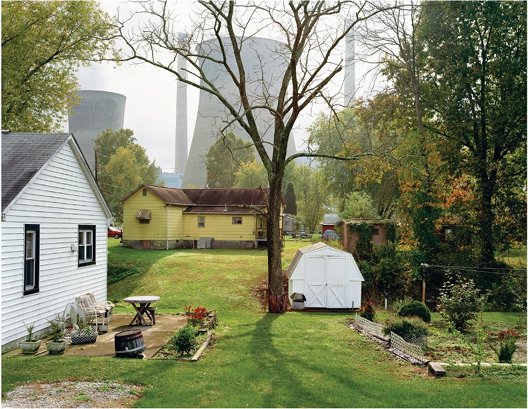 Opening Reception Thursday 8 December at 6:30pm • The exhibition will be formally launched by Michael Benson, Director, Prix Pictet
The Prix Pictet has rapidly established itself as the world's leading prize in photography and sustainability. It has a unique mandate – to use the power of photography to communicate vital messages to a global audience. The theme for the third cycle of the Prix Pictet is Growth. Mitch Epstein was awarded the third Prix Pictet for his series American Power. Chris Jordan was awarded the Prix Pictet Commission.
Growth is at once a blessing and a curse. From the dizzying expansion of our cities with their ever increasing dependency on scarce natural resources to the relentless growth of populations growth presents one of the great conundrums facing humanity in the early decades of the 21st century. We now face a global crisis in land use and agriculture that could undermine the health, security, and sustainability of our civilization. So growth is a paradox. Just as growth threatens to bring environmental catastrophe, so it improves the health and living standards of untold millions around the world.
The exhibition features work by the 12 outstanding artists shortlisted for the third cycle of the Prix Pictet: Christian Als, Denmark; Edward Burtynsky, Canada; Stéphane Couturier, France; Mitch Epstein, USA (Winner); Chris Jordan, USA (Commission); Yeondoo Jung, South Korea; Vera Lutter, Germany; Nyaba Leon Ouedrago, Burkina Faso; Taryn Simon, USA; Thomas Struth, Germany; Guy Tillim, South Africa and Michael Wolf, Germany.
Gallery Talk: Thursday 8 December at1.15pm,
Michael Benson, Director, Prix Pictet and Francis Hodgson, Photography Critic with the Financial Times, and photography adviser to the Prix Pictet, will discuss how photography can raise awareness of environmental issues. Admission is free, booking is advisable (please contact info@galleryofphotography.ie).
'Growth', a book cataloguing the third Prix Pictet and 'Ushirikiano' a monograph featuring Chris Jordan's photographs for the Prix Pictet Commission, both published by teNeues, are available for purchase.
Image: BP Carson Refinery, California 2007, © Mitch Epstein, Prix Pictet Ltd
Saturday 3 December 2011 – Sunday 15 January 2012
Meeting House Square
Temple Bar, Dublin 2
Telephone: +353 1 6714654
Opening hours / start times:
Tuesday - Saturday 11am - 5pm. Mondays by appointment for education, artists archiving and training. Closed Sundays
Admission / price: Free
Christmas Opening hours:

Open Saturday 24 December (Christmas Eve) 11am-4pm

Closed Christmas Day, Stephen's Day, 27 December and 28 December.

Open Thursday 29, Friday 30 and Saturday 31 (New Year's Eve) open 11am-4pm

Closed New Year's Day

Open Tuesday 3 January, Wednesday 4 January, Thursday 5 January, and Friday 6 January 2012 open 11am-4pm

Business as usual from Saturday 7 January 2012