Prime Years | Bealtaine Festival
Saturday 30 April – Thursday 26 May 2011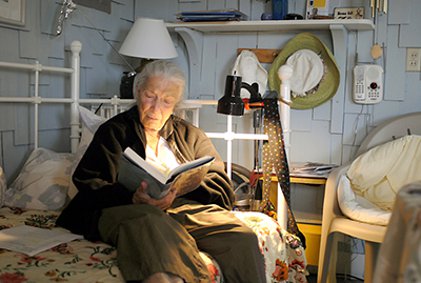 Launch Sunday 8 May at 3pm
Presented as part of Bealtaine, the national festival celebrating creativity in older age, Prime Years explores the many aspects of ageing through images made from the individual perspectives of 12 artists from around the world.
From the editorial to the personal, the work in Prime Years depicts centenarians, artists, relatives, and other individuals enjoying, enduring, and living their lives beyond the age of 60, reflecting the values of individual artist's culture and their own personal idiosyncrasies.
'Prime Years provides a vision of ageing that will positively inspire ageing and non-ageing people. The exhibit moves from idiosyncratic ways of depicting elderly people to straight forward documentation. The twists and turns in perspective of the exhibit attempt to match but do not exhaust the complexity of the ageing process itself.'
Fernando Castro R., Curator, Houston Center for Photography
Artists include: Cynthia Morgan Batmanis (US); Miloushka Bokma (The Netherlands); Edmund Clark (UK); Kaylynn Deveney (US); Theresa DiMenno (US); Norma Holt (US); Eileen Kennedy (US); Margot Quan Knight (US); Gaby Messina (Argentina); Blake Ogden (US); Jane Paradise (US); and Mark Story (US). Prime Years was curated by Houston Center for Photography, Texas, US.
Bealtaine, the national festival celebrating creativity in older age, is coordinated by Age & Opportunity and includes events organised by hundreds of partner organisations. Bealtaine festival May 1 to 31 2011 – all over Ireland. For further information on the Bealtaine festival please contact T. +3531 805 7709 or email Bealtaine@ageandopportunity.ie or visit www.bealtaine.com
Image: Jane Paradise: Nighttime Reading , from the series Norma Holt: Still Busy After All These Years © Jane Paradise 2007
Saturday 30 April – Thursday 26 May 2011
Meeting House Square
Temple Bar, Dublin 2
Telephone: +353 1 6714654
Opening hours / start times:
Tuesday - Saturday 11am - 5pm. Mondays by appointment for education, artists archiving and training. Closed Sundays
Admission / price: Free