Positions: New Video Works by Brian Duggan and Aoife Desmond
Friday 20 January – Saturday 28 January 2012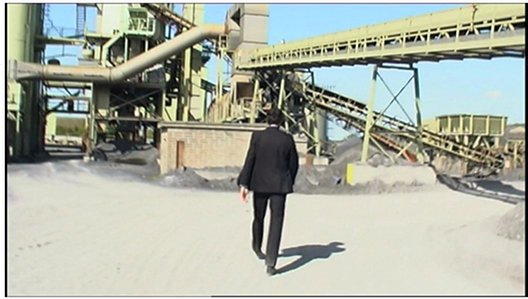 Presented by Gaia Projects in association with the National Sculpture Factory and CIT Wandesford Quay Gallery
Brian Duggan:juxtaposes both historical and recent events with newly built elements, to examine and unpick both systems of influence, and embedded expectations. An interest in accidents, and 'when things go wrong' underline his projects. Abandoned sites of activity, fairground archives, Cinema, slapstick scenarios, original arcade gaming and re-created installations, are utalised as a strategy for finding and asking key questions.
He has received several awards from the Arts Council of Ireland and awards from Culture Ireland, and South Dublin County Council. Recently selected for the ARP artists residency program in the The Irish Museum of Modern Art 2011.His work is included in the collections of the Irish Museum of Modern Art and Dublin City Gallery: The Hugh Lane. Upcoming exhibitions include Hugh Lane, RuaRed, Unit H Bangkok, Crawford Gallery Cork and CCA Glasgow and a special joint commission for Eigse and Visual Carlow.
tHE MEASURE:
[19;06 minutes]
16:9 widescreen
French with english subtitles
2011
tHE MEASURE maps a curious journey by two characters through a 44km topographical section of Fingal in north Dublin, using samples from a number of sources including E.M. Forster`s 1909 short novella The Machine Stops as a guide. Starting on one end on Colt Island, Skerries and the other at the Huntstown quarry, specific landmarks from Fingal ground the story in tangible fixed points but without fixing the time. The Huntstown quarry in north Dublin is where much of the film is set,and the film took place within a greater context of the boom in Ireland collapsing over the course of the 3 years when the film was made.However the film doesn't explicitly address this, but more considers 'post and pre-something' scenarios within a disjointed but coherent narration.
As the story develops the narrator brings forth multiple tales from underground cities, lost connections, desires and dreams from the past, and for the future. On closer listening we begin to hear multiple narrative strands weaving in and around contemporary circumstances. In some lights a melancholic search for a connection between two characters, searching a strange depopulated land, society is absent, either by design or after an event. A kaleidoscope of elements has informed this new digital film, from Nicholas Roeg's The man who fell to earth, and Walkabout, the Poet W.H. Auden, the letters of Vincent Van Gogh,E.M. Forster`s The Machine Stops and the black and white 1966 BBC series of the same name. The fractured nature of the piece finds a resolution of sorts, in a dramatic sequence in the largest quarry in Dublin.
Aoife Desmond: is an artist who works with photography, film, drawing, sculpture, installation and performance. She is committed to making art works that question how we live in the urban environment and natures role in the city. Wasteland areas and derelict sites are often the focus of her enquiry. She has exhibited frequently both in Ireland and abroad. Recent exhibitions include 'Conquested' Temple Bar Galleries, 'En Dessous du Visible' Galerie Fin Avril, Paris, 'Holding Together' Douglas Hyde Gallery, Dublin, 'On the Edge' Tulca 2010, Galway and 'Matters' EV+A 2010 Limerick. She has participated in several artist residency programmes including the Centre Culturel Irlandais, Paris, The Land Foundation, Thailand and Space Delawab, Belfast. She has received numerous awards from The Arts Council. She has a Masters in Visual Arts Practice from IADT.
Orchard Revisited:
The short film work Orchard Revisited (4 mins) was filmed in 2010 at the community garden on South Circular Road I had planted 12 white flowering trees (mainly apple) in the garden in 2007 that had been a part of my exhibition 'Temporary Refuge' at Four Gallery on Burgh Quay, Dublin. In 2010 I re-visited both the physical orchard and the idea of the orchard for the exhibition 'Collective Dreaming' curated by artist Seoidín O'Sullivan in Exchange Gallery, Temple Bar. In 2010 I filmed the trees in autumn using super 8 film and my reading led me to look at the philosopher Martin Heidegger and his writings on 'authentic dwelling' in relation to the orchard. The film footage was badly damaged as the camera that I used had stopped reading light correctly. In 2010 I exhibited an installation including drawings, text and a bough from one of the apple trees. In 2011/12 I decided to use the footage that I could salvage and interviewed Dr Sarah Barry a member of a Heidegger 'Being and Time' reading group that I am apart of about Heidegger for the soundtrack. I also recorded audio from the garden.
SCREENING TIMES:
BRAIN DUGGAN–
FRIDAY 20TH / FRIDAY 27TH JANUARY 3PM – 6PM.
AOIFE DESMOND–
SATURDAY 21ST / SATURDAY 28TH JANUARY 3PM – 6PM.
THE MEZZ @ NATIONAL SCULPTURE FACTORY, ALBERT ROAD, CORK.
Last admittance: 5.50pm close at 6pm
(works being shown as part of the CRAWFORD 100/ POSITIONS exhibition running until end of January 2012 at C.I.T Wandesford Quay Gallery)
Image: Brian Duggan: tHE MEASURE, digital video still; tHE MEASURE was a public art commission funded by Fingal County Council
Friday 20 January – Saturday 28 January 2012
Albert Road, Cork City
Telephone: +353 21 4314353
Admission / price: Free