PORTFOLIO: Furniture
Friday 22 May – Saturday 4 July 2015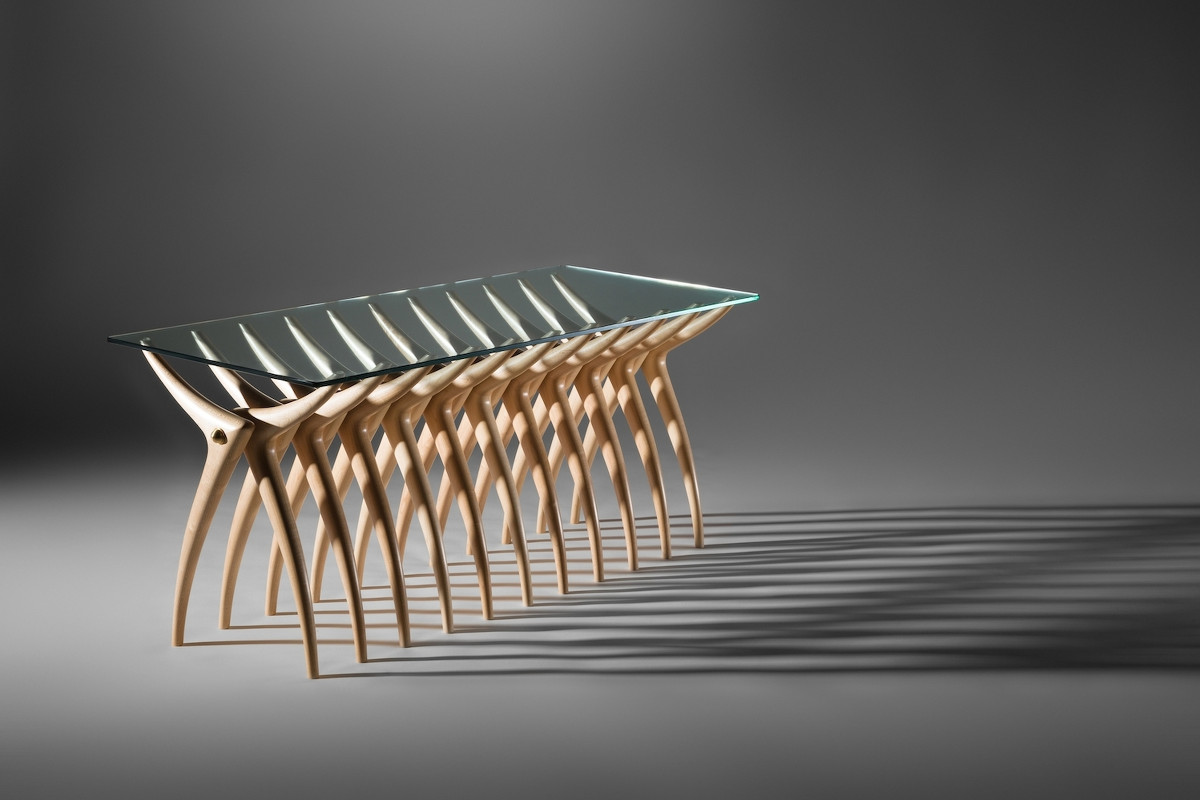 Solomon Fine Art, in conjunction with the Design & Crafts Council of Ireland (DCCoI), Irish Design 2015 (ID2015) and The Doyle Collection are pleased to host an exhibition of bespoke and contemporary FURNITURE by Ireland's most renowned artists and makers.  The exhibition has been co-curated with LyonsKelly architects and interior designers.
PORTFOLIO: Furniture will present over 60 innovative pieces by over twenty highly regarded furniture makers working in a centuries-old continuum.  Featured artists include Zelouf + Bell, Tricia Harris, Klimmek & Henderson, Dunleavy Bespoke, John Lee and Shane Holland. 
PORTFOLIO: Furniture will transform the two galleries into fully furnished 'room' sets, complete with additional lighting, rugs, textiles, art and sculpture – all curated by architect John Kelly and interior designer Eoin Lyons from LyonsKelly.  John has 15 years experience designing high-end residential projects in Ireland and abroad and Eoin became an interior designer following a successful career as a journalist and writer, having produced two best-selling source books on design in Ireland. The LyonsKelly practice is based in Dublin city centre and offers architecture, interiors and landscape as a single integrated vision. They regularly collaborate with other designers and crafts people to produce unique designs for their projects.
PORTFOLIO: Furniture will be held in both Solomon venues: Solomon Fine Art and their new PORTFOLIO @ Solomon space – the stunning new 60m2 dedicated design & craft gallery located at the main entrance to The Westbury Hotel and Mall on Balfe Street, just a few steps from Solomon Fine Art's existing gallery and a stone's throw from Grafton Street.
PORTFOLIO: Furniture is part of a twelve month schedule of exhibitions in the new Solomon space which aims to showcase the DCCoI's PORTFOLIO programme of over 100 of Ireland's most renowned designers and makers in the following disciplines: Ceramics, Glass, Jewellery, Metals, Paper, Textiles, Calligraphy, Furniture, Woodturning and Basketry.  All artworks on display in PORTFOLIO @ Solomon will be available to purchase, providing visitors and collectors with a unique opportunity to acquire one-off or limited edition pieces from internationally collected and emerging practitioners working to the highest standards of design, quality and technical skill.
PORTFOLIO: Furniture
Cillian Ó Súilleabháin Furniture
Connolly & Company
Tim & Sean Dunleavy  / Dunleavy Bespoke
Fergal O'Leary / Horizon Furniture
John Lee
Klimmek & Henderson Furniture
Martin Gallagher Furniture
Rocker Lane Workshop
Shane Holland Design Workshops
Simon Doyle Design
Stephen O Briain Furniture
Tricia Harris Designs
Robert Hennessy & Barry Archer / Wedge
Zelouf & Bell
and 
Andrew Ludick – ceramics / rugs
Ceadogán – rugs
Cara Murphy – metalwork
Agnes de Vlin – textiles
Róisín de Buitléar – glass
Jennifer Slattery – linens
Friday 22 May – Saturday 4 July 2015
Balfe Street, Dublin 2
Telephone: +353 86 814 2380
Opening hours / start times:
Tuesday 10:00 - 17:30
Wednesday 10:00 - 17:30
Thursday 10:00 - 17:30
Friday 10:00 - 17:30
Saturday 11:00 - 16:00
Admission / price: Free