As Above, So Below: Portals, Visions, Spirits & Mystics
Thursday 13 April – Sunday 27 August 2017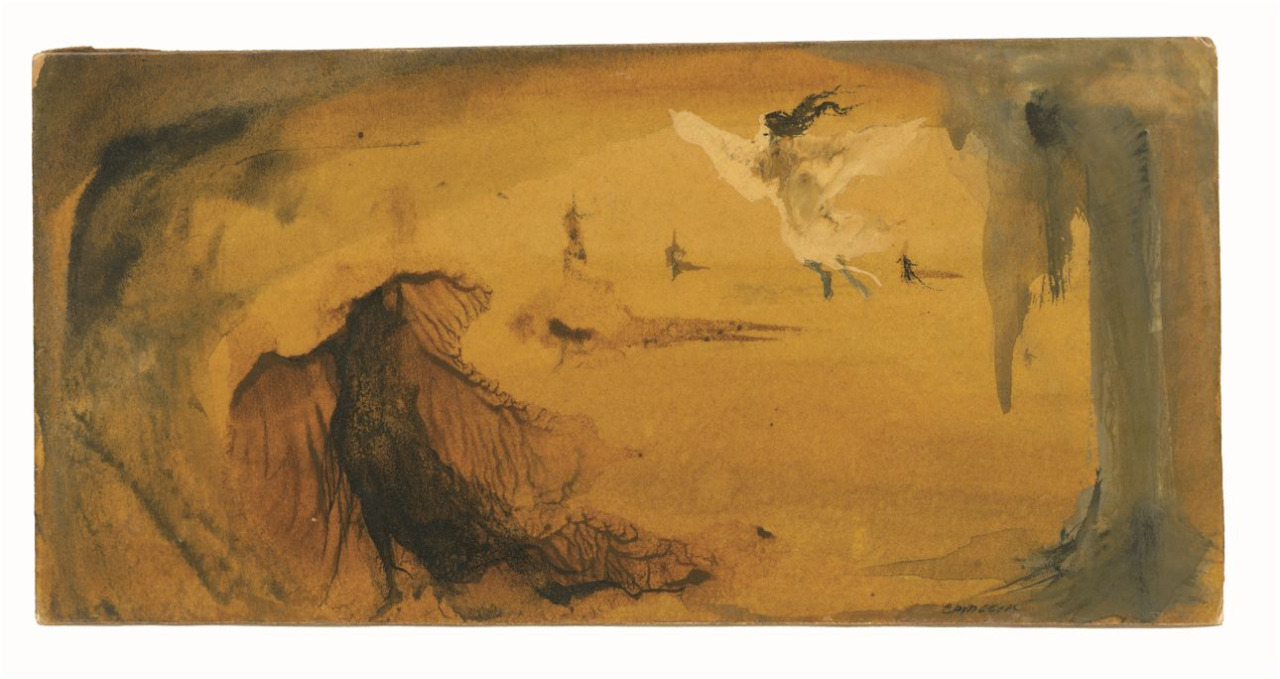 Featuring an exciting selection of modern masterworks, contemporary art and new commissions, IMMA presents a major international exhibition that looks at the role of spirituality in visual art. In particular, it considers the role played by certain spiritualist and alternative doctrines in the creation of abstract painting from its origins to the present digital age.
The arc of this exhibition spans a hundred years from the abstract masterworks of Kandinsky, af Klint and Kupka to contemporary work by Steve McQueen and Bruce Nauman and new commissions by Alan Butler and Linder Sterling among others. As Above, So Below resists becoming a comprehensive survey that traces the role of art and spirituality however. Instead, it presents perspectives on spirituality from a range of unique viewpoints in over 180 works, many of whom have never exhibited in Ireland before
The title, As Above, So Below, echoes an often quoted saying, employed by artists, poets, writers and astrologers alike, as a means to describe and understand the mysterious but familiar world around us. To look at spirituality in such secular times is a provocation in itself, as the exhibition traces and questions the genesis of deep religious, mystical and occult beliefs that continue to shape the ideas of contemporary artists today.
Transcending the limitations of what is perceived as spiritual, this exhibition embraces the occult, the otherworld, human consciousness, mysticism and ritual, creating a space to reflect and explore these gateways to wonder.
It will breathe and evolve, expanding from the gallery floor to include live events, performances, talks and other interventions. Ultimately, As Above, So Below will use the space of the museum to forge an open ended engagement between artist and audience.
Selected artists within the exhibition include Hilma af Klint, Kenneth Anger, David Beattie, Nora Berman, Annie Besant, Agnieszka Brzezanska, Alan Butler, James Lee Byars, Cameron, Marcus Coates, Ira Cohen, Ithell Colquhoun, Matt Copson, Stephan Doitschinoff, Hayden Dunham, Stephen Dunne, Susan Hiller, Koo Jeong A., Alejandro Jodorowsky, Wassily Kandinsky, Rachid Koraïchi, Emma Kunz, Frantisek Kupka, Paul Laffoley, Liliane Lijn, Linder, Josiah McElheny, Steve McQueen, Henri Michaux, Pascale Montandon-Jodorowsky, Pádraic E. Moore (curatorial advisor), Bruce Nauman, Austin Osman Spare, Sigmar Polke, The Propeller Group, Patrick Pye, John Russell, Eoghan Ryan, Aura Satz, Suzanne Treister, Grace Weir, amongst others.
Associated Events

A programme of talks, performances and participatory events will take a fresh look at the role of spirituality and transcendence in our global and sceptical present. Details to be announced.
Curator's Lunchtime Talk Series
Friday 19 May, 1.15-2pm, Drop-in
Meeting Point/Main Reception, Free
Join Rachael Gilbourne, Curator Exhibitions, IMMA, for an insightful walkthrough of this exhibition.
Exhibition fee applies.

Image: Marjorie Cameron, Untitled (Mystical Landscape with Spirits), undated. Watercolour, ink and varnish on posterboard 36.8 x 47 cm. Courtesy Cameron Parsons Foundation and Nicole Klagsbrun. Photo: Christopher Burke Studio.
Thursday 13 April – Sunday 27 August 2017
Royal Hospital, Kilmainham
Dublin 8
Telephone: +353 1 612 9900
Opening hours / start times:
Tuesday 11:30 - 17:30
Wednesday 11:30 - 17:30
Thursday 11:30 - 17:30
Friday 11:30 - 17:30
Saturday 10:00 - 17:30
Sunday 12:00 - 17:30
Admission / price: Free
Bank Holidays open 12:00 – 17:30.