Pieter Hugo: Thirteen Works
Saturday 25 June – Sunday 21 August 2016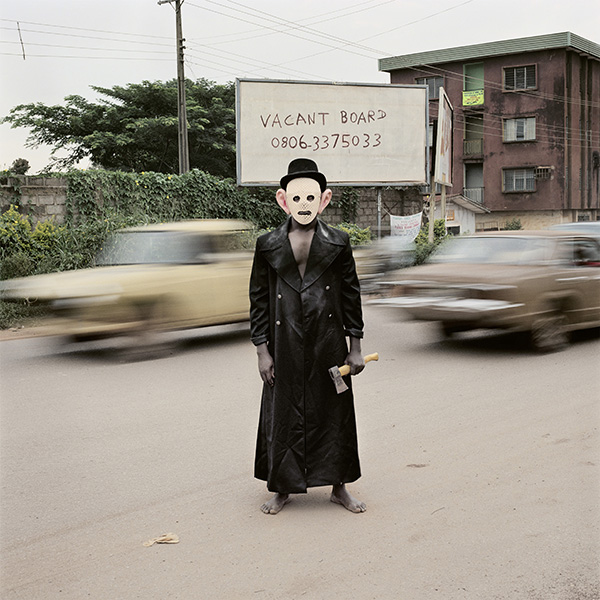 Internationally acclaimed photographer Pieter Hugo engages with documentary and art traditions to create intense and challenging images. Blurring the boundaries between documentary and fiction, his portraits can be read as a comment on identity, belonging and self-expression in post-colonial Africa.
This exhibition brings together three of Hugo's most compelling series of works:
"The Hyena and Other Men" (2005-07) Many myths surround the "Hyena Men" – itinerant minstrels who haunt the peripheries of Nigeria's cities. Accompanied by hyenas, rock pythons and baboons, these men earn a living by performing before crowds and selling traditional medicines. Hugo's extraordinary portraits of their liminal existence reveal a world of complex, codependent relationships, where familiar distinctions between dominance and submission, wildness and domesticity, tradition and modernity are constantly subverted.
Nollywood, (2008) explores the multilayered reality of the Nigerian film industry – the third largest in the world. Nollywood produces movies on its own terms, building on the rich African tradition of story-telling. Stars are local actors; plots confront the public with familiar situations of romance, comedy, witchcraft, bribery, and prostitution. The narrative is melodramatic – the aesthetic is loud, violent, and excessive. Dissatisfied by attempts to photograph on actual film sets, Hugo took his interpretation of these staged realities into another realm by assembling a team of actors and assistants to recreate the stereotypical myths and symbols that characterise Nollywood productions.
In "Permanent Error" (2009-10), Hugo captures the people and landscape of Agbogbloshie, an expansive dump of obsolete technology in Ghana. In this wasteland, referred to by locals as Sodom and Gomorrah, people and cattle co-exist on mountains of motherboards, monitors and discarded hard drives, far removed from the benefits accorded by the unrelenting advances of technology. The inhabitants survive largely by burning the electronic devices to extract copper and other metals. The resulting electronic waste contaminates rivers and lagoons with devastating ecological consequences.
Organised in partnership with MAC, Belfast. The works on show were originally produced for the exhibition I will go there, take me home – curated by Gregory McCartney as part of MAC's Guest Curator Programme in 2015. With thanks to Pieter Hugo, Deslynne Hill at Stevenson, Cape Town and to Hugh Mulholland, MAC Belfast.
Image: Escort Kama. Enugu, Nigeria, 2008 © Pieter Hugo. Courtesy of Stevenson, Cape Town / Johannesburg and Yossi Milo, New York
Saturday 25 June – Sunday 21 August 2016
Meeting House Square
Temple Bar, Dublin 2
Telephone: +353 1 6714654
Opening hours / start times:
Tuesday - Saturday 11am - 5pm. Mondays by appointment for education, artists archiving and training. Closed Sundays
Admission / price: Free