'Photography and Ireland' by Justin Carville
Thursday 17 November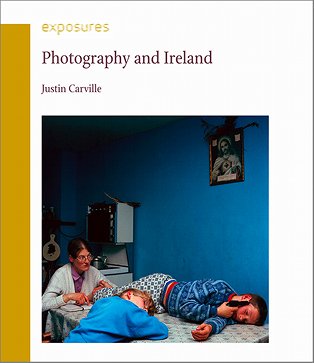 Gallery of Photography and Institute of Art, Design and Technology, Dun Laoghaire are pleased to invite you and your guest to the official book launch launch of
Photography and Ireland by Justin Carville
@7pm on Thursday 17th November 2011
Introduction: Dr Annie Doona, President, Institute of Art, Design and Technology, Dun Laoghaire
Guest speaker: Fintan O"Toole, Writer, Journalist, Political Commentator.
Photography has been part of Irish cultural life since 1839 but little is known of its long and sometimes complex history. Outside Ireland there has been scant attention given to Irish photography beyond picturesque tourist views of the Irish landscape and photojournalistic representations of "The Troubles". This book changes the picture, casting its focus between these polar, and often clichéd, extremes to address the political upheavals, social transformation and geographical re-imaginings of Ireland as a colony, a nation, a province and a sovereign state.
As Justin Carville demonstrates, photography has not only documented these transformations but has also helped shape how Ireland is viewed, both by itself and the rest of the world. Photography and Ireland explores the role of the photographic image in colonial and post-colonial visual cultures of Ireland from the nineteenth-century to the present day. Furthermore, it emphasises the trans-national dimensions of photography in Ireland, discussing foreign photographers who have contributed to cultural imaginings of Ireland as well as indigenous Irish photographers. Beginning with a brief history of photography in Ireland the book discusses the tensions between colonial and global representations of Ireland and the formation of an indigenous photographic culture. Featuring commercial portraits and landscapes, as well as ethnographic photography, photojournalism and documentary works, it explores Ireland's photography through a number of interrelated themes.
Accessibly written and accompanied by a wealth of images, Photography and Ireland is essential reading for all those interested in photography history, as well as Irish history and culture.
About the author: Justin Carville is a lecturer in the history and theory of photography at the Institute of Art, Design and Technology, Dun Laoghaire, Ireland. He has written on the subject of photography and Ireland for journals including Photography and Culture, Source and The Journal of Popular Visual Culture.
'Photography and Ireland challenges the widespread view that Irish life escaped visual representation and only found adequate expression in literature.When Yeats wrote that 'masterful images' began in disenchantment, he could have been referring to the hidden history of photography in Ireland. In this breakthrough survey, Justin Carville shows how the camera questioned not only familiar romantic images but also illusions of the 'real' as Ireland moved into the modern world.' – Luke Gibbons, National University of Ireland
'Dedicated to an exploration of photography's capacity to induce "geographical imaginings" of Ireland and the Irish, Justin Carville's thoughtful book highlights a history that has been insufficiently understood by outsiders. Addressing the complexities of national history, revealed here as a discourse simultaneously impossible and necessary, Carville offers a meditation on photography of interest to all.' – Geoffrey Batchen, Professor of Art History, Victoria University ofWellington, New Zealand
'Justin Carville's Photography and Ireland is much more than a national survey book. In his hands, photography tells us a great deal about the way in which the Irish have been perceived and the example of Ireland is employed to ask questions of photography.
Carville demonstrates why his subject matters. There can be no doubt that photography in Ireland has found its historian.' – Steve Edwards, Open University
Photography & Ireland is published by Reaktion Books as part of their Exposures series.
Signed copies will be available on the evening priced €20.
Thursday 17 November
Meeting House Square
Temple Bar, Dublin 2
Telephone: +353 1 6714654
Opening hours / start times:
Tuesday - Saturday 11am - 5pm. Mondays by appointment for education, artists archiving and training. Closed Sundays
Admission / price: Free