Phillip Toledano: Maybe: Life & Love
Friday 16 March – Sunday 24 June 2018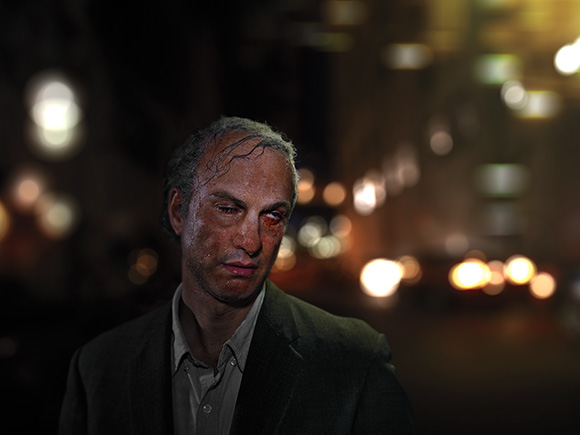 This exhibition brings together two key bodies of work by New York based artist Phillip Toledano, Days with my Father (2010) and Maybe (2015), in which he  balances the emotional pull of the decline of his father's illness with dementia, with his obsessive exploration of potential scenarios of his own future.
Days with my Father and the artist's corresponding texts, poignantly detail his father's dementia.  In using the camera, father and son created a different relationship, with the process providing Toledano a way of communicating and coping with his father's dementia.
Having experienced the death of close family members in the span of a few years,Toledano became consumed and distracted by his own mortal fears. Over three years (2012-2015), he created Maybe and confronted such fears in excruciating detail, aided perhaps with a healthy dose of narcissism.
In an effort to reassure, the viewer – and himself – that his worst-case scenarios for living and dying are not the only scenarios available, the exhibition explores our innate fascination and repulsion of imagining our own futures whilst providing a platform to discuss the often difficult subject of ageing and dying.
Talks & Events:
Phillip Toledano: 10am-4pm, Thursday 12 April – photography workshop
Phillip Toledano: 1pm, Friday 13 April – public talk
Theresa Nanigian: 1pm, Thursday 10 May, artist response – public talk (in partnership with Bealtaine Festival)
Padraig Spillane: 5:30 pm, Thursday 31 May,  artist response – public talk
Phillip Toledano was born in 1968 to a French Moroccan mother and an American father. He grew up in London and Casablanca and lives and works in New York City.
Toledano's work is socio-political and often draws on his personal experience working with a variety of medium including photography, film and installation. He has exhibited widely,  including solo shows at The Deutsche Hygiene-Museum, Dresden (2016); Diechtohallen, Hamburg (2015) and East Wing Gallery, Dubai (2015). His work has appeared in Vanity Fair, The New York Times Magazine, Le Monde and Wallpaper amongst others.
We are grateful to Joshua Seftel and Smartypants NYC, for the screening of The Many Sad Fates of Mr. Toledanowhich documents the Maybe project from concept to realisation.
Image: © Phillipp Toledano from Maybe (2015)
Friday 16 March – Sunday 24 June 2018
Emmet Place, Cork
Telephone: +353 21 4805042
Opening hours / start times:
Monday 10:00 - 17:00
Tuesday 10:00 - 17:00
Wednesday 10:00 - 17:00
Thursday 10:00 - 20:00
Friday 10:00 - 17:00
Saturday 10:00 - 17:00
Admission / price: Free