Philip Taaffe: Anima Mundi
Wednesday 23 March – Sunday 12 June 2011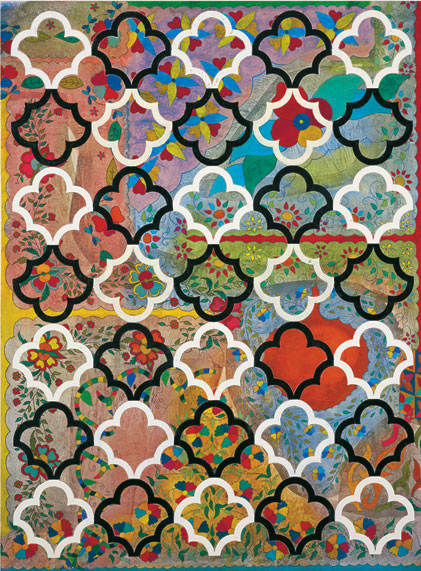 A survey exhibition of the work of the Irish-American artist Philip Taaffe, one of the most significant painters working in America today, opens to the public at the Irish Museum of Modern Art (IMMA) on Wednesday 23 March 2011. Philip Taaffe: Anima Mundi presents more than 30 abstract paintings from the past ten years, including many of the most striking examples of the vivid, complex imagery that characterises Taaffe's highly individual practice. The exhibition also underlines the degree to which Taaffe, together with a handful of other artists, is responsible for the continuing international interest in abstraction which re-emerged in the 1990s. Other artists who have contributed to this revival include American Terry Winters and Spaniard Juan Uslé, who have also shown at IMMA.
Taaffe's work is a veritable cornucopia of symbolism drawn from many different cultural and historical sources, including Islamic architecture, Eastern European textile design, calligraphy and information technology. His work has evolved significantly over the years since his first solo exhibition, mainly of collage works in 1982. However, his distinctive style using multiple references to create layered images of great complexity and beauty has been evident from quite early in his career. For example, although the exhibition focuses exclusively on paintings from the last ten years, echoes of earlier works, such as those from the mid-1980s that pay homage to abstract artists Bridget Riley and Barnett Newman, can be seen in Rose Nocturne (2002) and Port of Saints (2007).
Taaffe's influences stem from his extensive travels and from his encyclopaedic knowledge of the history of image making. The titles of his works frequently refer to places, through words such as port, cape and passage. Porte Amur (2001) takes its name from the white shapes which dominate the composition, inspired by stencilled patterns on bark created by the people of the Amur River in Mongolia, one of the most northerly locations where Buddhism became established. Cape Siren (2008), the fourth in a series with imaginary capes in the title, features decorative motifs used by the native population of western Canada, where capes are a dominant geographical feature. Forms from this shamanic culture are alternated with Chinese heads and heads of mermaids and sirens of Greco-Roman origin. This work was donated to the National Collection at IMMA in 2008 by Irish collectors Lochlann and Brenda Quinn, as a Heritage Gift under Section 1003 of the Taxes Consolidation Act, 1997.
Devonian Leaves (2004) represents a further large body of work incorporating botanical references, a subject which first became important in Taaffe's work in the 1990s. Here we see a floating, constellation-like arrangement of images of fossilised leaves from extinct plants of another geological epoch. The enamel marbled background gives the work a magma-like quality, bringing to mind the Big Bang and the origins of the universe. Other works refer to different forms of decoration. Cosmati (2007) takes its title from the Roman family who, in the 12th and 13th centuries, invented decorative, geometric designs for church floor mosaics using minute pieces of stone and coloured glass.
Although diverse in their inspiration, Taaffe's paintings make up an unusually coherent, rewarding whole. In an essay in the exhibition catalogue, IMMA's Director Enrique Juncosa, the curator of the exhibition, explains how Taaffe's methods "have allowed him to develop a body of work that is visually extremely rich and highly individual. He is capable of harmoniously intermingling diverse ideas and cultural phenomena in a very open, inclusive, and seductive way, that leaves room for irony and political commentary while remaining open to interpretation by the viewer."
Taaffe does not see style as an end in itself but rather as a means of transporting us to another perhaps more ordered and inviting place. Shortly before the first works in the current exhibition were painted he explained: "I would say that to look at a painting means that one is taken up with another reality, a pictorial fictive reality, and as such that picture represents an imaginary location. So that if one is fed up with the mundane and pedestrian experiences of life, and instead stands in front of a painting, that is a place, an imaginary construction to inhabit with one's sensory being. To be lost inside of a painting is the crucial experience here, as an alternative to other places in the world."
Born in 1955 in Elizabeth, New Jersey, Philip Taaffe studied at the Cooper Union in New York City. His first solo exhibition was in 1982, and his work has been included in numerous museum exhibitions, including the Carnegie International, two Sydney Biennials and three Whitney Biennials. In 2000 the IVAM museum in Valencia staged a retrospective survey of his work. Taaffe's work has also been acquired by some of the world's leading musuems, including The Museum of Modern Art, the Guggenheim Museum and the Whitney Museum of American Art, all in New York, and the Reina Sofía Museum in Madrid.
The exhibition is curated by Enrique Juncosa, Director of IMMA, and is accompanied by a fully-illustrated catalogue featuring texts by Enrique Juncosa and novelist and writer Colm Tóibín and an interview with Philip Taaffe by David Brody, art critic and Professor at the School of Art in the University of Washington in Seattle.
Limited Edition:
Twenty signed and numbered limited edition prints by Philip Taaffe are available for sale from the opening night of the exhibition, visit www.immaeditions.ie.
Lecture:
Tuesday 22 March 2011, 5.00pm, Lecture Room, IMMA
To mark the occasion of the survey exhibition, Philip Taaffe presents an artist's talk that is followed by a wine reception and exhibition preview.
Wednesday 23 March – Sunday 12 June 2011
Royal Hospital, Kilmainham
Dublin 8
Telephone: +353 1 612 9900
Opening hours / start times:
Tuesday 11:30 - 17:30
Wednesday 11:30 - 17:30
Thursday 11:30 - 17:30
Friday 11:30 - 17:30
Saturday 10:00 - 17:30
Sunday 12:00 - 17:30
Admission / price: Free
Bank Holidays open 12:00 – 17:30.