Philip Moss / Paki Smith
Friday 6 June – Saturday 21 June 2014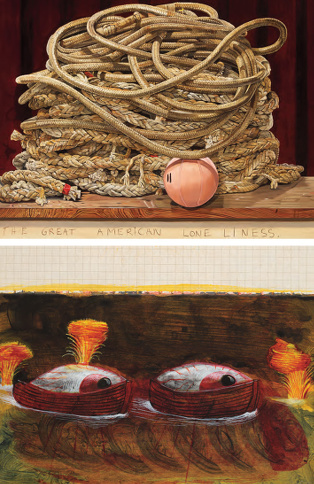 Opening Reception Thursday 5 June, 6 – 8pm
Taylor Galleries is delighted to present a two-person exhibition of recent paintings by Philip Moss and Paki Smith that runs at the gallery from 6 to 21 June 2014.
Rather than consciously being connected stylistically or thematically, the work in this exhibition is primarily linked by familial ties. Moss and Smith are second cousins – their grandmothers, Muriel Moss and Elizabeth Watson, were sisters in a family of ten whose father, James Weir, owned the well-known jewellers Weir's of Grafton Street and they spent happy childhood holidays together in Donegal, where Moss now lives.
Their evolution as artists and their current practices are not as different as they may at first seem. Both began painting at a young age and went on to study at the National College of Art & Design, Dublin, graduating in the mid-1980s. Since then each has gone on to develop his own idiosyncratic visual language and while, by and large, they work on vastly different scales and often in different media, they both use personal symbology and art historical references while attempting to make sense of elusive concepts in pictorial form.
They also share an interest in constructing a tension between figuration and abstraction, both in their own minds and the eyes of the viewer; creating assemblages of images of 'things' that occupy indistinctly defined landscapes and shallow spaces.
Friday 6 June – Saturday 21 June 2014
16 Kildare Street, Dublin 2
Telephone: +353 1 676 6055
Opening hours / start times:
Monday 10:30 - 17:30
Tuesday 10:30 - 17:30
Wednesday 10:30 - 17:30
Thursday 10:30 - 17:30
Friday 10:30 - 17:30
Saturday 11:00 - 15:00
Admission / price: Free