Philip Mackey: Partes Corporis
Originally from 8 December 2020; reopened 12 May 2021 – Saturday 29 May 2021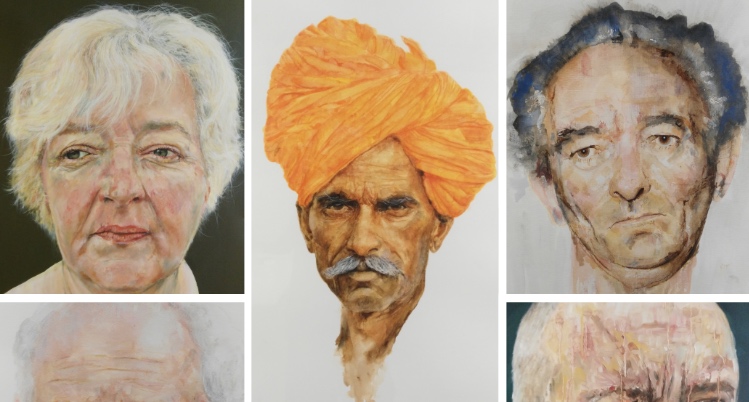 ――― Reopened ―――
This exhibition, titled 'Partes Corporis' (Body Parts), features both new and older works by Letterkenny artist, Philip Mackey. Although the show is primarily a portrait exhibition, as the title suggests, the artist aims to get the viewer into thinking about the other parts of the human anatomy that we all possess. It is not a retrospective as such but since Philip's work is continually gaining a new and larger audience he felt it right to combine previous work with the new work specifically created for this exhibition.
Phillip's portraits have been selected for exhibition in the Royal Ulster Academy Annual Exhibitions on eight occasions and for the Royal Hibernian Annual Exhibitions on five occasions.
In 2014 and again in 2018 Philip was selected to take part in The Sky Arts Portrait Artist of the Year Competition, where he got to paint Colin Meaney and Noel Fielding respectively.
In 2016 he was the recipient of The Derek Hill Foundation Award having been selected as the Overall Winner at The Glebe Gallery Annual Easter Art Exhibition.
His portraits have been bought by private collectors throughout Ireland and abroad, most notably Martin Gale (Artist RHA), An Grianan Theatre, Letterkenny and by Dublin City University for their Contemporary Art Collection.
Originally from 8 December 2020; reopened 12 May 2021 – Saturday 29 May 2021
Port Road, Letterkenny
Co. Donegal
Telephone: +353 74 912 9186
Opening hours / start times:
Monday closed • Tuesday 11:00 - 17:00 • Wednesday 11:00 - 17:00 • Thursday 11:00 - 20:00 • Friday 11:00 - 17:00 • Saturday 13:00 - 17:00 • Sunday closed Admission is free
Admission / price: Free