Philip Booth, Matthew Lanyon and Tony Lattimer: West Meets West
Saturday 3 June – Saturday 8 July 2017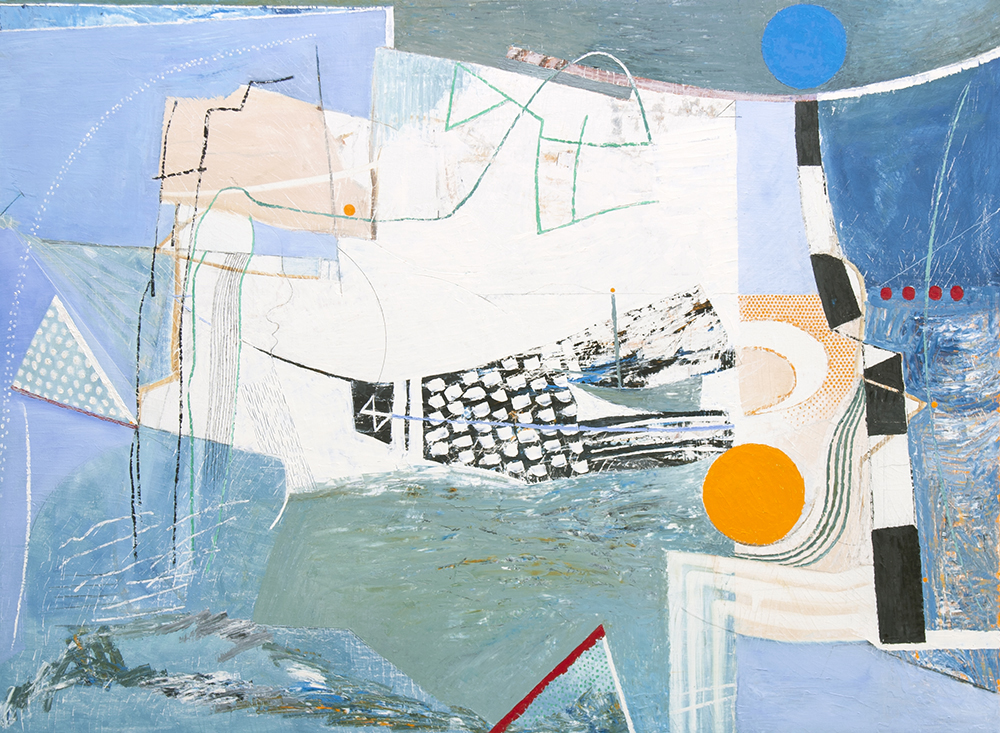 West Meets West is an initiative by Uillinn, launching in 2017 with an exhibition of the work of three leading artists from the west of Cornwall, Philip Booth, Matthew Lanyon and Tony Lattimer. The initiative will explore the historic links and similarities between the two seaboards – of Cornwall and west Cork – beginning with a shared megalithic culture, Bronze Age metal mining and trading, medieval fish processing and – in the late nineteenth century – the establishment of the Newlyn colony of artists by Alexander Stanhope Forbes, who was born in Dublin. Stanhope Forbes' early 20th century painting Goodbye – Off to Skibbereen depicts fishing boats setting out from Newlyn, Cornwall to follow the herring to the west coast of Ireland and, particularly, Roaringwater Bay. The Newlyn school was based around West Penwith and was followed by the St Ives School, started  in the 1920s and 30s by Ben Nicholson, Barbara Hepworth and Bernard Leach. In Cornwall it was the quality of light, the natural beauty of the landscape and a way of life based on nature and the elements that attracted the artists. These same elements were replicated in the Atlantic peninsulas of the west of Ireland, but this was a remoter landscape and it was only in the 1950s that artists and craft workers began to travel and settle here in numbers, founding a colony which exists today.
In Cornwall art tourism is the major industry, bringing substantial investment and funding to the local economy. This process is waiting to happen in the west of Ireland, and the focus will be on Uillinn and the many smaller galleries that showcase working artists here. Historically, the art colonies of Cornwall have included and influenced artists from Ireland. It's time for a two-way traffic flow: the West Meets West programme in Uillinn will be followed by artists from west Cork visiting Cornwall with their work and furthering their reputations there.
Philip Booth is based in Lamorna and produces inventive multi-media constructions, often dramatically geometrical, which recall the techniques of Ben Nicholson and Peter Lanyon. Philip has his own language and the layered works display tension, colour and movement: everything is fully considered in the design process – nothing is left to chance. The exhibition includes six of these wall mounted sculptures. He has been Professor at Nagoya University of Arts since 2002, and has also taught at The National College of Art and Design, Dublin. For more information and images see his website HERE
Matthew Lanyon who sadly passed away late last year, was a son of Peter Lanyon, one of the most influential artists of the St Ives School. Matthew lived at the end of a remote lane in West Penwith and there produced enormous works in paint and in laminated glass. Like his father a prime inspiration was Cornwall and the Cornish landscape. Several of his very large paintings, a new glasswork designed by Matthew and assembled after his death, and a tapestry, Matthew's first finished work in this new medium, are included in the exhibition. We are grateful to Matthew's family for ensuring his work will be exhibited at Uillinn as he would have wished.  Matthew's work is in private and corporate collections in the UK and abroad. For more information and images see his website HERE .
Tony Lattimer is a sculptor who lives in Penzance. His large works are made using a coiling technique and are fired in his own constructed kilns on his holding close to The Land's End. Initially inspired by Leach and Cardew, Tony has a sense of the artist as a shaper of material through the physical movement of gesture. He has exhibited widely in Cornwall and abroad – from Tate St Ives through to the International Museum of Ceramics, Faenza, Italy, where he won the Emilia-Romagna Prize in 2005 and where, also, he was Invited Master to represent Europe in the Exhibition of Three Masters, 2007. West Meets West includes nine of his large scale clay sculptures. For more information and images see his website HERE
A number of events will take place during the exhibition. Including a panel discussion on Saturday 3 June at 12 noon with Philip Booth, Tony Lattimer and Judith Lanyon; an illustrated talk, Chasing the Light – Why the Artists Moved West, on Saturday 10 June at 12 noon by Robert Harris; and a guided tour of the sites in West Cork with connections to Cornwall.
Robert Harris of the Roaringwater Journal has been writing about the links between West Cork and West Cornwall in the run up to West Meets West. See links below for more information.
Off to Skibbereen
West Meets West
A Watery Tale
Ways West
Image: Matthew Lanyon
Saturday 3 June – Saturday 8 July 2017
Skibbereen, Co Cork
Telephone: +353 28 22090
Opening hours / start times:
Monday to Saturday, 10am to 4:45pm
Admission / price: Free