Phil Collins: Ich esse keine Bananen mehr und trinke natürlich keine Coca-Cola
Saturday 23 October – Saturday 20 November 2010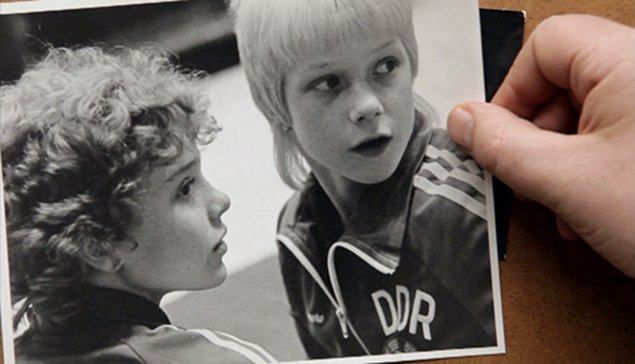 Kerlin Gallery is delighted to announce an exhibition of new work by Phil Collins. Informed by visual traditions of cinema and television, Collins' diverse practice explores lens-based media from a singularly performative and personal perspective. A comparison to documentary is recurrently made in regard to Collins' work. This connection is instructive more in terms of its discrepancies rather than analogies. In counterbalance to Dziga Vertov's Kino-eye, which posits man as an extension of the scopic machine, in Collins' hands the camera itself acquires a form of subjectivity. It acts as an agent both of emancipation and exploitation, desire and betrayal. Ranging from a disco dance marathon and a soap-influenced melodrama, to castings, karaoke sessions and press conferences, Collins' works often provide a platform for the disregarded and the overlooked. Deftly dissecting the political and aesthetic implications of popular visual formats, they indicate that the meaning of a picture — be it still or moving — resides neither in its form nor its subject-matter, but in the transferences it establishes between the producer, the subject and the viewer. This will be the artist's third solo exhibition at Kerlin Gallery, and will comprise of two new works, a video entitled marxism today (prologue), and free fotolab (berlin), a large scale photographic composition.
Presented to critical acclaim at the recent 6th Berlin Biennale for Contemporary Art, marxism today (prologue) is the starting point of an ongoing project which looks at the continuing relevance of Marxist ideas in the present day. The video is a collaboration with former teachers of Marxism-Leninism in the GDR. A mandatory feature of East German education, after the fall of the Berlin Wall this subject was swiftly abolished. The collapse of the ideological foundation which underpinned society for more than a generation resulted in a crisis of identity for an army of unemployed teachers. From a number of contributors who came forward, Collins chose three women to be the subject of his film. He talks to them in their homes and former workplaces about the changes in their daily lives and belief systems that occurred post-1989. Intercut with the interviews are personal mementoes and archival footage from the heyday of the socialist state, including propaganda films, TV programmes, sporting rallies and choreographed mass spectacles. Adopting a contemplative and quietly observational approach, Collins' involvement is less direct that in his previous work, yet it remains decisive. An intimate and decidedly empathetic tone, unobtrusive formal interventions and subtle manipulations of the core material, all push against the supposed objectivity of documentary, and point to the artist's unmistakable presence. The archival elements are selected and integrated in such a manner that they correspond to individual stories as if relating directly to the people or events in question, thus creating a sense of the past that is both vivid and bygone. An inspired soundtrack, composed by Lætitia Sadier (of Stereolab/Monade) and Nick Powell (Oskar), is applied evocatively and with non­-diegetic intent. It desolately chimes over the discussion of exploitation and surplus value in an excerpt from an educational film, or bursts into an Open University-style talk show to drown out a contributor's bureaucratic monotone. Transforming the sections of the film into alluring poetical abstractions, the editing and soundtrack produce a disorientating effect, at the same time affecting and distantiated. Possibly Collins' most accomplished work to date, marxism today (prologue) moves away from the apparatus of representation towards an imaginative act of listening, proposing a view of an embodied history and a lived reality.
The same experiential impulse permeates free fotolab (berlin), a photographic project which continues the participatory aspect of Collins' practice. Drawing on an exchange between strangers, the work is the latest manifestation of an itinerant service and archive which Collins has been running for the last six years. He invites the inhabitants of a city in which the project takes place to submit undeveloped rolls of 35mm film, which are processed and printed for free, on the understanding that they relinquish the universal rights to the artist, so he may select and present any of the images as his own work. free fotolab is a love letter to 35mm film in the face of its demise in our digital era, and a collective family album of pictures which, despite the differences in their visual style and content, create a rare sense of solidarity. Also developed in the context of the Berlin Biennale, free fotolab (berlin) constructs an improbable portrait of a city which prides itself on its cosmopolitan credentials yet still remains, in its many local neighborhoods, surprisingly close-knit and provincial. Collins purposefully initiated the project in areas such as Marzahn, Spandau and Wedding, outside the comfort zones of tourism and the creative industries for which Berlin is internationally renowned. At Kerlin Gallery, the resulting selection takes the form of a 2.4 x 4.8 m composition comprised of 52 photographs of different sizes organised in eight individual panels. Unassertive and tender, fascinatingly varied and often displaying an enviable visual eloquence, these anonymous images are a captivating tribute to ordinary lives, and their all too easily forgotten moments of beauty and wonder.
Phil Collins is currently based in Berlin. Recent solo exhibitions include daadgalerie, Berlin (2010); Tramway, Glasgow (2009); Dallas Museum of Art (2007); San Francisco Museum of Modern Art, and Tate Britain, London (both 2006). In 2010 his works were shown at the 39th International Film Festival Rotterdam and the 60th Berlin International Film Festival, and included in group exhibitions at the Walker Art Center, Minneapolis, and the 6th Berlin Biennale for Contemporary Art. At the Temporäre Kunsthalle Berlin Collins recently co-organised (with Siniša Mitrović) Auto-Kino!, an extensive programme of contemporary and historical film and video. marxism today (prologue) is currently on view at the Cornerhouse in Manchester, as part of Collins' solo exhibition. From next year, the project will relocate to Manchester, a place of great significance in the history of radical thinking, in which a group of selected former teachers will work with local high schools to teach an introductory course in Marxist theory to teenagers. Collins will follow the process for a feature length film, due to be completed in 2011.
For further information please contact Darragh Hogan
Image: Phil Collins: marxism today, video still
Saturday 23 October – Saturday 20 November 2010
Anne's Lane
South Anne Street, Dublin 2
Telephone: +3531 670 9093
Opening hours / start times:
Monday 10:00 - 17:45
Tuesday 10:00 - 17:45
Wednesday 10:00 - 17:45
Thursday 10:00 - 17:45
Friday 10:00 - 17:45
Saturday 11:00 - 16:30
Admission / price: Free