Peter FitzGerald: Artist's Talk
Tuesday 22 March 2011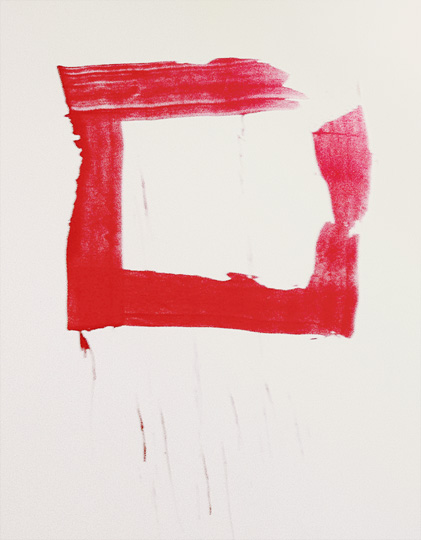 In conjunction with his show at Queen Street Studios in Belfast, Peter FitzGerald will give a talk on his wall paintings at 2pm, Tuesday 22 March
On the show, which finishes 26 March:
"Any line breaks a surface, any deliberate line commences the shift from nothing to form, from silence to message. But a rectangle has a little more: like us it has an inside and an outside – though the ground on either side of the rectangle's walls may be the same, just as the ground on which our subjectivity rests goes beyond our inner workings…Our stationary world is rectangles. They frame our lives, they frame art, they frame art spaces, they frame numbers on spreadsheets, and they frame this text."
Peter FitzGerald is editor of Circa Art Magazine and co-founder of Dnote. He has exhibited widely in Ireland as well as abroad, and his work is in a number of collections. He is the recipient of studio awards at IMMA and the RHA.
Show reviewed by James Merrigan here: billionjournal.blogspot.com/ and Slavka Sverakova here: www.huma3.com/huma3-spa-reviews-id-539.html
QSS Gallery opening times for 'Wall Works' by Peter FitzGerald are as follows: Tuesday – Thursday 10am – 5pm (1pm – 2pm Closed for lunch) or alternatively arrange for an appointment. Tel: 028 90 24 31 45
Tuesday 22 March 2011
31-33 Bedford Street
Belfast BT2 7GH
Telephone: +44 28 90 24 31 45
Opening hours / start times:
Tuesday 10:00 - 17:00
Wednesday 10:00 - 17:00
Thursday 10:00 - 17:00
Friday 10:00 - 17:00
Saturday 10:00 - 17:00
Admission / price: Free