Peter Burns: Biblical Paintings
Friday 17 February – Sunday 23 April 2023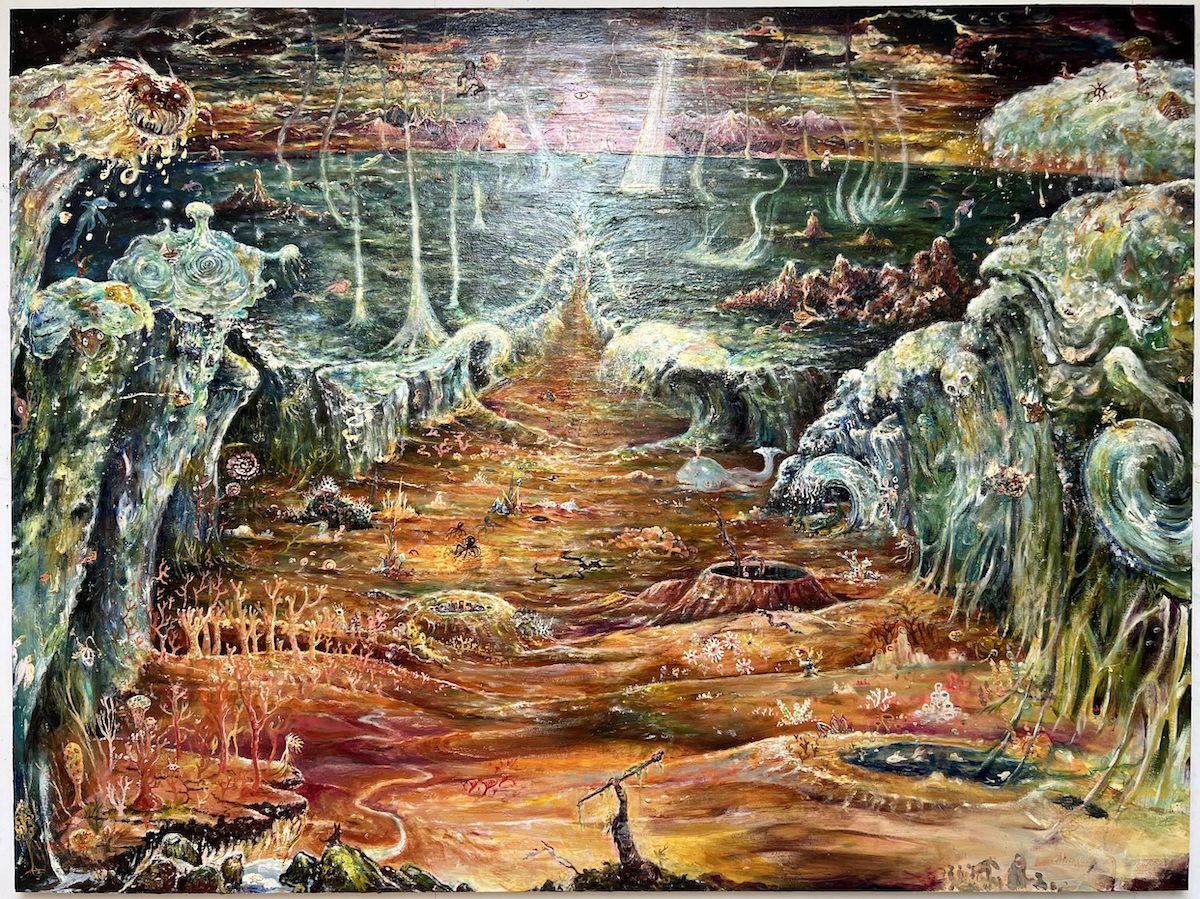 Peter Burns paintings are playful re-workings of myths, Biblical stories, art historical, literary and musical themes.
Burns has always combined the classical, biblical and science fiction to present narrative paintings that are both seductive and unsettling. His protagonists are nearly always minute and threatened. They are figures caught up in awesome myth and legend, their presence incidental to the power and scale of the world he conjures. And he has achieved this in densely packed and intensely painted small scale works. What sets this new series of works apart is the enlargement of scale. And he has done so without compromising any of the powerfulness of his approach.
A total of eight works compromise this new series of biblical scenes – the project resulting from a single commission. Whereas some of these passages are familiar – The Garden of Eden, Noah's Ark,  The Parting of the Red Sea – others such as, The Baptism of Melchizedek, Elijah and Elisha have us reaching for the search engine.
These paintings are a masterly advancement for Burns' work, literally moving him from the short story to the novelistic. His painting still evokes reference to historical figures such as Brueghel and Bosch and to contemporaries like Marcel Dzama and Verne Dawson. Burns is comfortable at this scale, as he is now at any scale. He is a visionary who embraces the mundane amid the fantastic. He holds a moral stance on our human status within the hierarchy of the world (known and unknown) with a ferocity of vision and facility of execution that is simply, astonishing.
Peter Burns presented new paintings and sculptures with Gibbons & Nicholas at Art Projects, LAF 2018 and Context NYC & Miami  (2017). He participated in Fables of the Reconstruction at David & Schweitzer Contemporary, NY (2017).
Other recent exhibitions include, Futures Anthology at The Royal Hibernian Academy, Dublin (2015), Self Portraits at BravinLee Programs, NY, (2016) Works on Paper at Exhibition A, NY, (2016) coinciding with the release of a limited edition print. Past solo exhibitions were held at Fenderesky Gallery Belfast, Hillsboro Fine Art, Dublin and Claremorris Gallery. Selected group exhibitions include Last, Douglas Hyde Gallery, Making Familiar, Temple Bar Gallery and None went Mad, None Ran Away, Rubicon Gallery. Burns has been featured in Wall Street International Magazine, The Sunday Times and ArtForum among others. He is a recent recipient of the Pollock Krasner Foundation Grant. He earned his BA in Sculpture and MFA in Painting from The National College of Art & Design.
Image: Peter Burns, Parting of the Red Sea, 2022, oil and mixed media on canvas, 59 x 79 inches. Image courtesy of the artist.
Friday 17 February – Sunday 23 April 2023
15 Ely Place, Dublin 2
Telephone: +353 1 661 2558
Opening hours / start times:
Monday 11:00 - 17:00
Tuesday 11:00 - 17:00
Wednesday 11:00 - 19:00
Thursday 11:00 - 19:00
Friday 11:00 - 19:00
Saturday 11:00 - 19:00
Sunday 14:00 - 17:00
Admission / price: Free