Percent for Art Opportunity: Scoil Nioclais
Registration by 12 noon on Friday 29 January 2016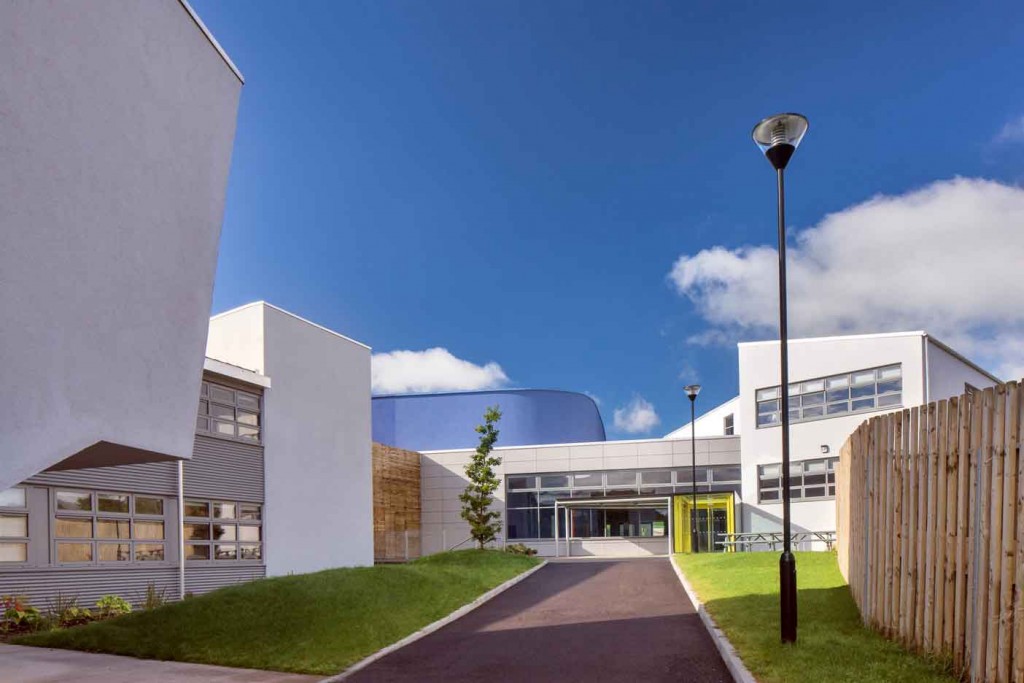 Percent for Art Opportunity: Scoil Nioclais, Frankfield, Douglas, Cork. Managed by the National Sculpture Factory
Scoil Nioclais intend to commission a public art work/s under the Percent for Art Scheme funded by the Department of Education and Science on the occasion of its significant redesign and redevelopment by Ed Rafferty of Reddy Architecture.
Scoil Nioclais primary school was established in September 2000, and is a co-educational, Catholic primary school, which strives to provide a progressive educational environment for its pupils and staff. While Scoil Nioclais is a school with a Catholic ethos, it also accords full due recognition to all other religions. The school motto is: Doras Feasa Fiafrai- The Road to Learning is Enquiry.
The School has a school enrolment of approximately 880 students aged between 4 and 13 years of age.
It is intended that the commissioned art work/s will be site specific will be integrated into the redevelopment and or sited in and or around the building or grounds.
The new facility, which is in existence since 2004 provides Scoil Nioclais with a coherent contemporary learning facility with extra facilities including:
More classrooms
New Computer Laboratories
Larger library facilities
An increase in the number of meeting rooms and offices
Increased Wireless Capacity
The brief asks the artist to:
Reflect the ethos and ambition of the School; its commitment to education and knowledge sharing
Respond to the redeveloped site and its redevelopment
Reflect the meaningful interaction between staff and students
Key Considerations
The context – the site and its renewed space and environment and its core constituency, its staff and students (ranging in age from 4 – 13) are considered of key significance in developing a vision for the commission. Bare in mind it's a busy environment with circa 880 students.
The external grounds surrounding the School are also an option for the work(s).
Budget €32,000 inclusive of all artists' fees and costs including installation; VAT, insurance etc.
Commissioning Process
This is a two-stage open commission and will be managed by the National Sculpture Factory, Cork
Contact Elma O'Donovan elma@nationalsculpturefactory.com
Mark all correspondence Scoil Nioclais Commission.
The opportunity is open to all professional artists.
Registration of Interest
To register your interest in the project you must email elma@nationalsculpturefactory.com
expressing your interest in the project by Friday, 29 January 2016
Please mark all correspondence Scoil Nioclais Commission.
Once registered you will receive details of site visits, which will be on 10/11 February.
Please provide your name, address, and email and phone number and indicate if you can attend the proposed site visit (date TBC).
All correspondence will be by email unless you state otherwise.
No access will be permitted to the site unless registered and it is encouraged that you attend the briefing where possible.
If you cannot attend we will forward images / plans and notes
STAGE 1
Artists will then be required to submit the following (please do not submit anything other than what's listed below)
Brief description of your concept and how you would work in the context of the brief (i.e., how you would approach the commission), outline proposed materials, scale and high-level budget breakdown
Relevant curriculum vitae
Images of past works that may be relevant in this context (N.B max 12 with image credits
PLEASE NOTE MAQUETTE/MODELS ARE NOT REQUIRED AT THIS STAGE!
The selected Artist will be invited to meet with staff representatives to explain and aid the understanding of the work at the projects initiation.
Artists are asked to confirm interest by email to Elma O'Donovan at the National Sculpture Factory by Friday, 29 January 2016.
STAGE 2
A maximum of up to 3 artists will be short listed and invited to develop their proposal to Stage 2.
Short listed artists will receive a fee of €500 to further develop their proposals.
Competition Jury
There will be a five member Jury Panel that will include two representatives of the School, the project architect, and two nominees of the National Sculptural Factory.
Standard of Entries
The panel reserve the right not to make any award if, in their opinion, there are no suitable entries.
Post Competition
The role of the National Sculpture Factory is limited to the administration of the Competition and will have no further role once the selected artist has been selected and the contract signed.
Summary of deadlines:
Registration by 12noon on Friday, 29 January 2016
Site visits – Wednesday, 10 & Thursday 11th February at 11am (sharp).
Closing date for receipt of submissions is 12noon Thursday, 24 March (late submissions will not be accepted!).
Application(s) to be sent by to:
All applications will be acknowledged
(Clearly marked Scoil Nioclais Commission)
Elma O'Donovan,
Administrator,
The National Sculpture Factory,
Albert Road,
Cork.
E-mail: elma@nationalsculpturefactory.com
More information on http://www.scoilnioclais.ie/
Please note all correspondence is through the National Sculpture Factory!
Registration by 12 noon on Friday 29 January 2016
Albert Road, Cork City
Telephone: +353 21 4314353