Paula Rego: Obedience and Defiance
From 18 September 2020; reopening 11 May 2021 –  Tuesday 25 May 2021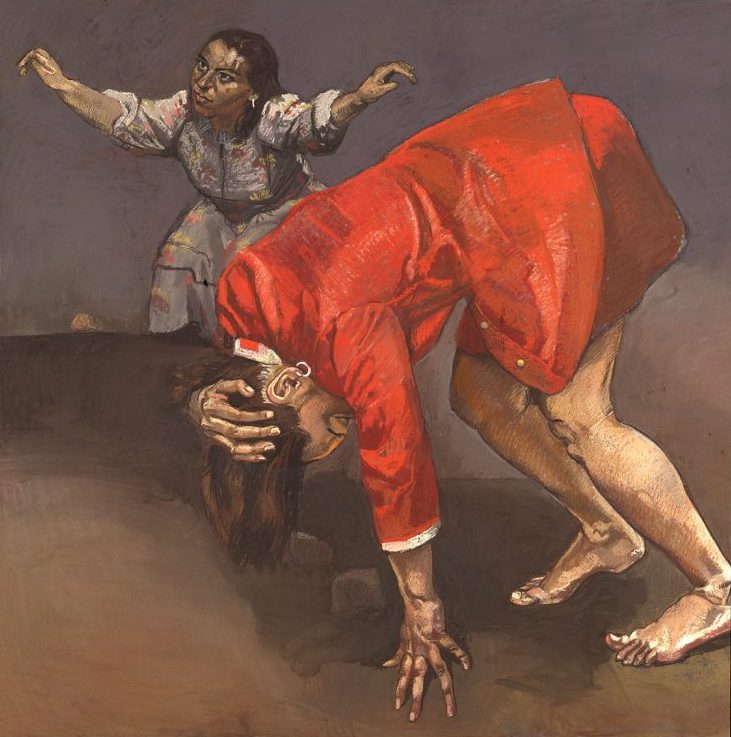 ――― Reopened ―――
Paula Rego, Obedience and Defiance is a major retrospective of the work of Portuguese artist Paula Rego. Spanning Rego's entire career from the 1960s, comprising more than 80 works, including paintings never seen before and works on paper from the artist's family and close friends.
The selection of works focuses on the moral challenges to humanity, particularly in the face of violence, gender discrimination and political tyranny. There are paintings and etchings related to children sold into slavery in North Africa (1996-98), abortion (1998-2000) and female genital mutilation (from 2009). Many of the images begin with the artist's Portuguese roots and childhood experiences or respond to current affairs.
Paula Rego, Obedience and Defiance is curated by the distinguished art historian and former director of Whitechapel Gallery, Catherine Lampert.
The exhibition premiered in the MK Gallery, Milton Keynes (15 June – 22 September 2019); was then shown at the Scottish National Gallery of Modern Art, Edinburgh (23 November 2019 to 17 March 2020) before traveling to IMMA.
An exhibition organised by MK Gallery, Milton Keynes with the National Galleries of Scotland, Edinburgh and IMMA, Dublin.
Tickets will be available to purchase from 7 September 2020. 
Please note that this exhibition addresses challenging subjects and includes images of a suggestive and/or graphic nature. Parental and carer discretion may be required.
Image: Paula Rego: Two Women Being Stoned, 1995, pastel on paper laid on aluminium, 150 x 150 cm; Private Collection, Courtesy of Marlborough Fine Art. © Paula Rego, Courtesy of The Artist and Marlborough, New York and London
From 18 September 2020; reopening 11 May 2021 –  Tuesday 25 May 2021
Royal Hospital, Kilmainham
Dublin 8
Telephone: +353 1 612 9900
Opening hours / start times:
Tuesday 11:30 - 17:30
Wednesday 11:30 - 17:30
Thursday 11:30 - 17:30
Friday 11:30 - 17:30
Saturday 10:00 - 17:30
Sunday 12:00 - 17:30
Admission / price: Free
Admission €8 • Students Free • IMMA Member Free • Concession €5 • Under 18 Free 
Bank Holidays open 12:00 – 17:30.