Paul Winstanley: Art School
Friday 15 November 2013 – Tuesday 7 January 2014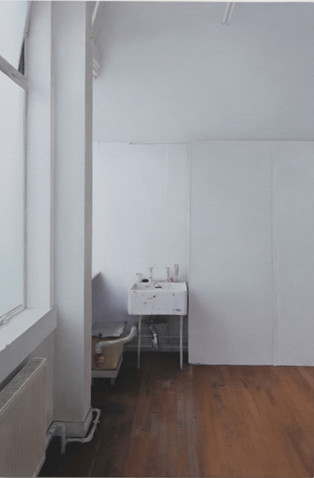 Opening Reception Thursday 14 November, 6 – 8 pm
Kerlin Gallery is delighted to present an exhibition of new work by Paul Winstanley.
'Art School' is Winstanley's fourth solo show at Kerlin Gallery. This show of paintings derives from his archive of photographs depicting nearly all the fine art degree studio spaces of Britain.
Winstanley spent two Summers meticulously documenting the empty studio spaces of Art Schools throughout England, Scotland and Wales. These spaces, previously overlooked and undocumented, have resulted in photographic images which present minimal spaces of creative potential. This photographic project is presented in a new publication to accompany this exhibition.
The paintings in this exhibition, drawn from this photographic archive, closely subscribe to this minimal experience of place that is both documentary and sublime. They describe place and yet become, themselves, objects of space defined as much by the transience of light on surfaces as place articulated. Painted on panel, they physically reflect the hard surfaces of walls and screens within the imagery and re live the memory of place as both illusion and object. The visual language approaches abstraction and yet these paintings never lose sight of their social and political content.
Winstanley, born in Manchester in 1954, now lives and works in London. He has been exhibiting since the late 1970s and over the past two decades he has had regular solo exhibitions in London, Paris, Munich, New York, L.A., and Hamburg. His first retrospective was held at the Auckland Art Space in New Zealand in 2008 and was accompanied by a fully illustrated catalogue. Other solo shows include 'Driven Landscapes' 1993 at Camden Arts Centre, London and 'Annexe', Tate Britain, 1998.
Recent group shows include 'Window to the World', Fondation de l'Hermitage, Lausanne (2013) and Museo Cantonale d'arte and Museo d'arte, Lugano (2012); 'Lifelike', Walker Art Center, Minneapolis and 'The Deer', Le Consortium, Dijon (2012); 'Out of focus. After Gerhard Richter', Kunsthalle Hamburg (2011); 'Sea Fever: From Turner to today', Southampton City Art Gallery (2010); 'Terror and the Sublime: Art in an Age of Anxiety', Crawford Art Gallery, Cork (2009); 'Conflict Tales: Subjectivity', Burger Collection Berlin (2009); 'Self as Selves' Irish Museum of Modern Art Dublin (2009); 'Inside Architecture', Museum of Contemporary Art, Los Angeles (2008); and '8 Visions, One Dream', Today Art Museum, Bejing (2008).
Winstanley's work is represented in numerous public and private collections, including the collections of the Tate Gallery, the British Council, the European Parliament, the New York City Public Library and the Museum of Contemporary Art, Los Angeles.
A fully illustrated publication to accompany this exhibition will be launched in the gallery on Thursday 14 November.
Image: Paul Winstanley: Art School 14, 2013, oil on panel, 81 x 54 cm
Friday 15 November 2013 – Tuesday 7 January 2014
Anne's Lane
South Anne Street, Dublin 2
Telephone: +3531 670 9093
Opening hours / start times:
Monday 10:00 - 17:45
Tuesday 10:00 - 17:45
Wednesday 10:00 - 17:45
Thursday 10:00 - 17:45
Friday 10:00 - 17:45
Saturday 11:00 - 16:30
Admission / price: Free