Paul Seawright: Volunteer
Friday 25 February – Saturday 2 April 2011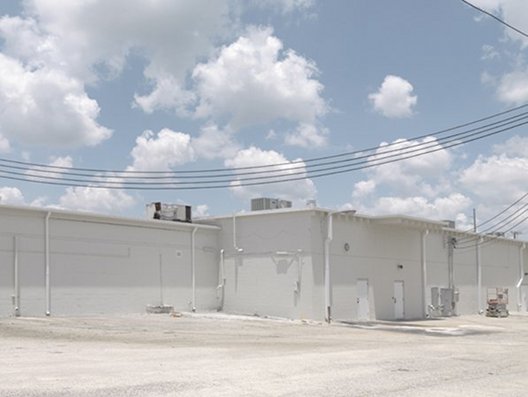 Paul Seawright's new photographic works bring together the two major themes of his practice, contemporary cities and the representation of conflict. Volunteer extends his previous work, interrogating how contemporary conflict might be represented and discussed beyond the battlefield, without recourse to drama-centric imagery. He presents the landscape of the American city as a type of battlefield where the spectre of war in the Middle East is tangible on every street corner, college campus, town-square and front yard.
Volunteer is a survey of sorts, landscapes from today's fraying, centre-less post 9-11 North American cities. Each photograph made at the location of a military recruiting station, where a different battle is being fought – to find young men and women to volunteer for service in Afghanistan. Starting in Texas, the highest recruiting state in the US, Seawright visited over 500 military recruitment offices in fourteen states including Georgia, Alabama, Louisiana, Tennessee, California and Mississippi. These new works comment not just on the ongoing war and the battle to recruit new soldiers, but the contemporary North American city, a landscape littered with thrift stores, gun dealerships, fast food outlets, nightclubs, car dealerships, strip malls and pawn shops. It is in these spaces on the margins of small towns and cities that the recruiters move amongst the unemployed, immigrants, ethnic minorities and students to find the volunteers of tomorrow.
Seawright often abstracts the locations he photographs, closing the frame and excluding the obviousness of the recruitment office from the image. His eye settles on the surface of buildings, the corners of car parks or adjacent premises, which are often abandoned. Volunteer rejects the colourful optimistic and clichéd representation of America and re-imagines it as achingly prosaic, a landscape and a country in turmoil.
Seawright has exhibited in many venues throughout Europe and North and South America including the Tate, London, the Nederlands Foto Instituut, Rotterdam and the Albright-Knox Art Gallery, Buffalo. His recent solo exhibitions include National Centre of Photography Thessiloniki, Greece 2004, Seoul Photo Triennale, The Seoul Museum of Art, Korea 2005, 'Field Notes' Foto Museum Antwerp 2005. Selected group shows include 'Autowerke', Mueseum der Bildenden Kunste, Leipzig 2005, 'Beautiful Suffering', Photography and the Traffic in Pain, Williams College Museum, Boston 2006, 'How we are: Photographing Britain', Tate, London 2007, Teaching Photography, Museum Folkwang, Essen, 2010 and 'Fall Out: War and Conflict in the British Council Collection', Whitechapel Gallery, London 2010
Awards include the prestigious Ville de Paris Artist Award in 1999 and the Irish Museum of Modern Art/Glen Dimplex Prize in 1997. He is represented in the collections of the Tate, the San Francisco Museum of Modern Art, the Irish Museum of Modern Art, the British Council, the Imperial War Museum, London, the Art Institute of Chicago and the International Center of Photography, New York among others and in numerous private collections.
Kerlin Gallery in association with MA Art in the Contemporary World at the NCAD, Dublin Presents:
Paul Seawright in conversation with Professor Colin Graham, NUI, Maynooth
Friday 25 February 2011, 5 – 6 pm, at the Kerlin Gallery, Dublin
Friday 25 February – Saturday 2 April 2011
Anne's Lane
South Anne Street, Dublin 2
Telephone: +3531 670 9093
Opening hours / start times:
Monday 10:00 - 17:45
Tuesday 10:00 - 17:45
Wednesday 10:00 - 17:45
Thursday 10:00 - 17:45
Friday 10:00 - 17:45
Saturday 11:00 - 16:30
Admission / price: Free